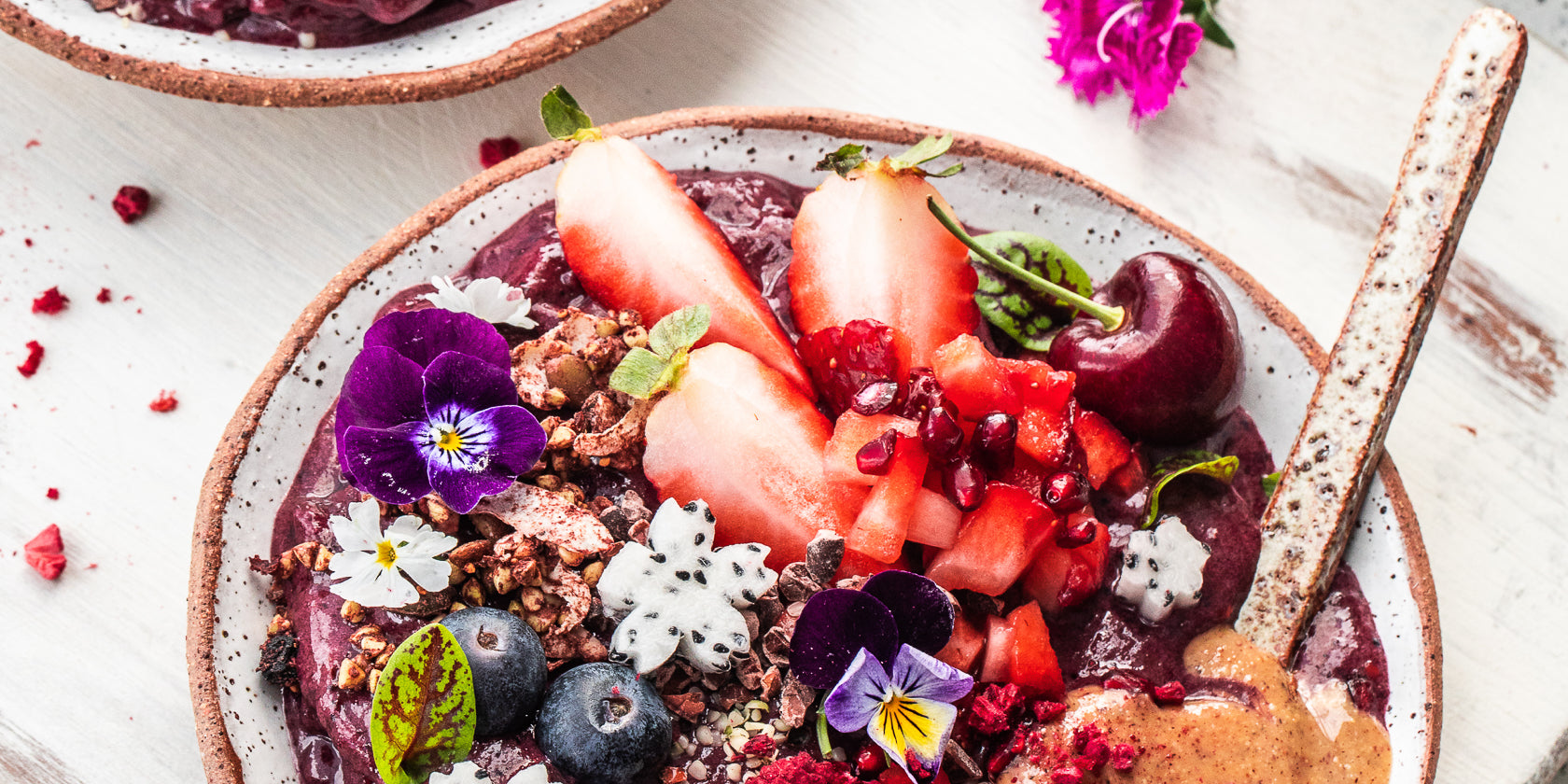 Açaí bowls look like ice cream, almost taste like ice cream, and make you feel good about your breakfast choice. It's what breakfast dreams are made of. An açaí bowl is basically a really thick antioxidant rich smoothie filled with good vibes and topped off with granola, fresh fruit, any of your favourite superfoods and a dollop of nut butter.

Prep: 15 minutes  |  Equipment: blender | Serves: 2

Ingredients
• 2 bananas, fresh
• 3 bananas, frozen
• 2 cups berries, frozen
• 2 tablespoons açaí powder

To garnish 
• fresh seasonal fruit
• granola
• 1–2 tablespoons hemp seeds
• 1 tablespoon Nut Butter
 
Instructions
Place the fresh bananas in your blender first. Add the remaining ingredients. Blend until smooth and thick. You want a sorbet like consistency. Use your plunger to help blend this to a nice consistency. Add a splash of water or nut milk if you find your blender is struggling to blend the mixture.
Spoon out into two bowls, top with fresh fruit, blueberry and açaí granola and hemp seeds. Add a dollop of nut butter (trust me, you don't want to miss this step!).

Note
Açaí (pronounced ah-sigh-EE) is native to the Amazon rainforest. The açaí berry is a grape-like dark purple fruit harvested from the açaí palm. It's been touted as a superfood, courtesy of its antioxidant properties, and lots of other nutrients such as omega-3, 6 and 9. I like to use the powder in the bowls as it is the purest form without any additives; the frozen açaí pulp quite often contains sugar and other unfavourable ingredients.

Enjoy!



 thanks to our buddies at Earth To Table for this scrumptious recipe.