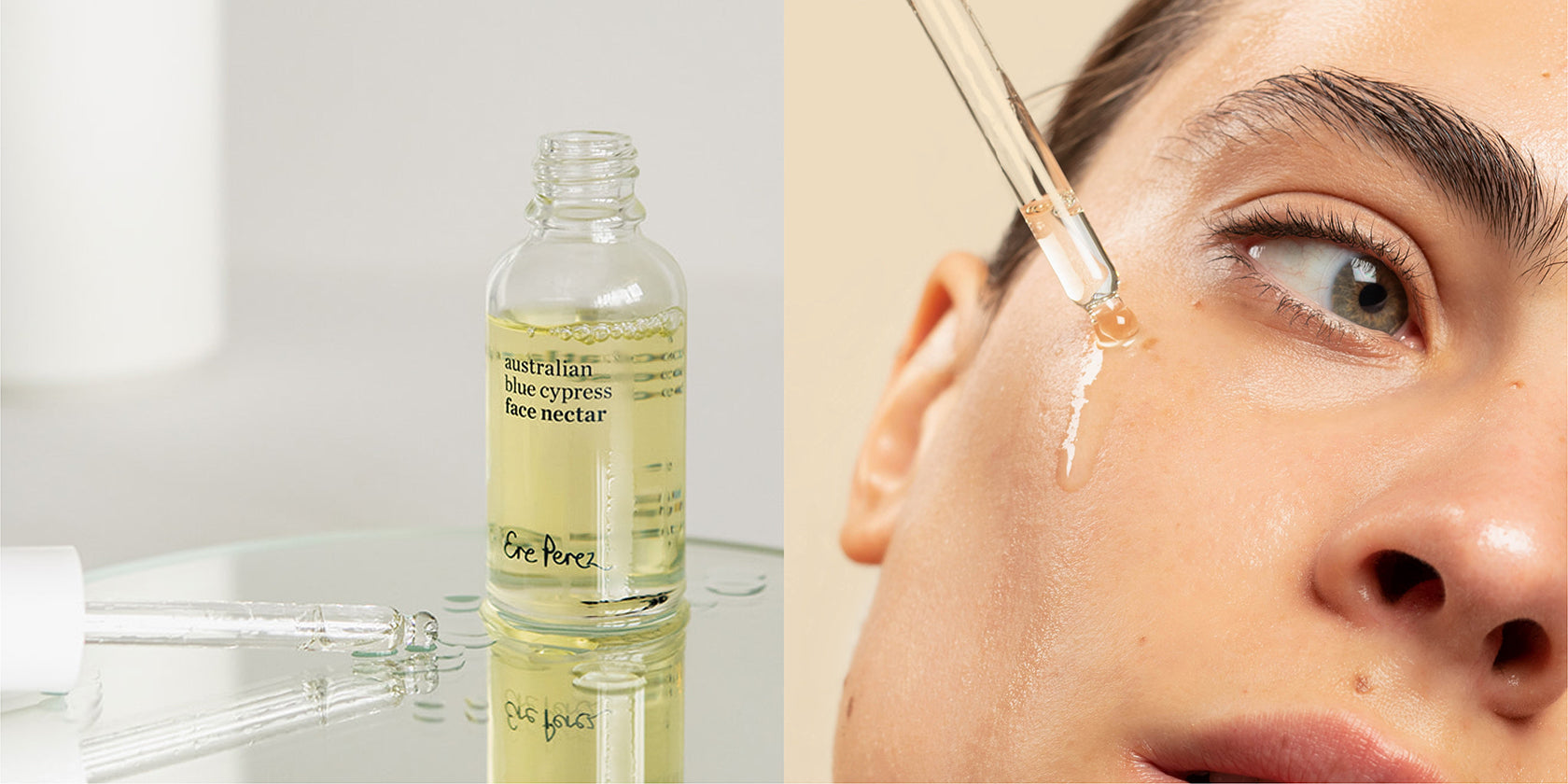 Here at Ere Perez we love a multi-tasking product, which is why we rate a facial oil so highly. Not only are they incredibly hydrating and an essential product to combat dehydrated skin all year round, they're also incredibly versatile, and super easy to incorporate into your existing beauty routine. Oh, and did we mention that a facial oil can be used on all skin types, such as dry, combination and oily? It really does do it all.
Now, we might be biased, but one of our favourite facial oils on the market is our very own australian blue cypress face nectar. The texture is ultra lightweight, but is packed with seven skin-loving oils, including Australian blue cypress, frankincense, jojoba, rice bran, grapeseed, cedarwood atlas and camellia to deliver skin-protecting antioxidants, reverse signs of inflammation, and moisturise the skin.

Here are three ways to use a facial oil.
Use it on its own
The obvious way to use a facial oil is by using it on its own. Distribute a few drops from the pipette to your fingers, then massage the oil into your skin. Don't be afraid to use your fingertips and knuckles to really push the product around your face; this will improve blood circulation which can lead to better absorption.
Another trick to keep in mind here is to use a little at a time - it's always easier to add more product to your face than to take it away. As for the order of application, you should always start with skincare that has the lightest texture, then follow with anything heavier. So, if you are using a facial oil in conjunction with a water-based serum, you should apply the serum first, wait a few minutes for it to dry, then follow with some facial oil.
Add a few drops into your foundation
Want to achieve a luminous base? One way to up the glow-factor of your foundation is by adding a drop of facial oil to it. The best way to mix the foundation with facial oil is either on the back of your hand or on a mixing palette, if you have one in your beauty stash. Then, use a foundation brush to mix the formulas together, and sweep the foundation in small circular motions from the centre of your face outwards.
Supercharge your face mask
If you have dry skin, one way to up the ante on your face mask is with a few drops of facial oil. If you're using a cream face mask, use the foundation method above - add a small scoop of face mask onto the back of your hand or onto a mixing palette, and add one to two drops of facial oil to it. Or, if you're using a sheet mask, open the packet, add two drops of facial oil inside, press the package together to mix it up, then pop the sheet mask on your skin. Post-application, you'll be left with skin so glowy, it looks like it's lit-from-within!