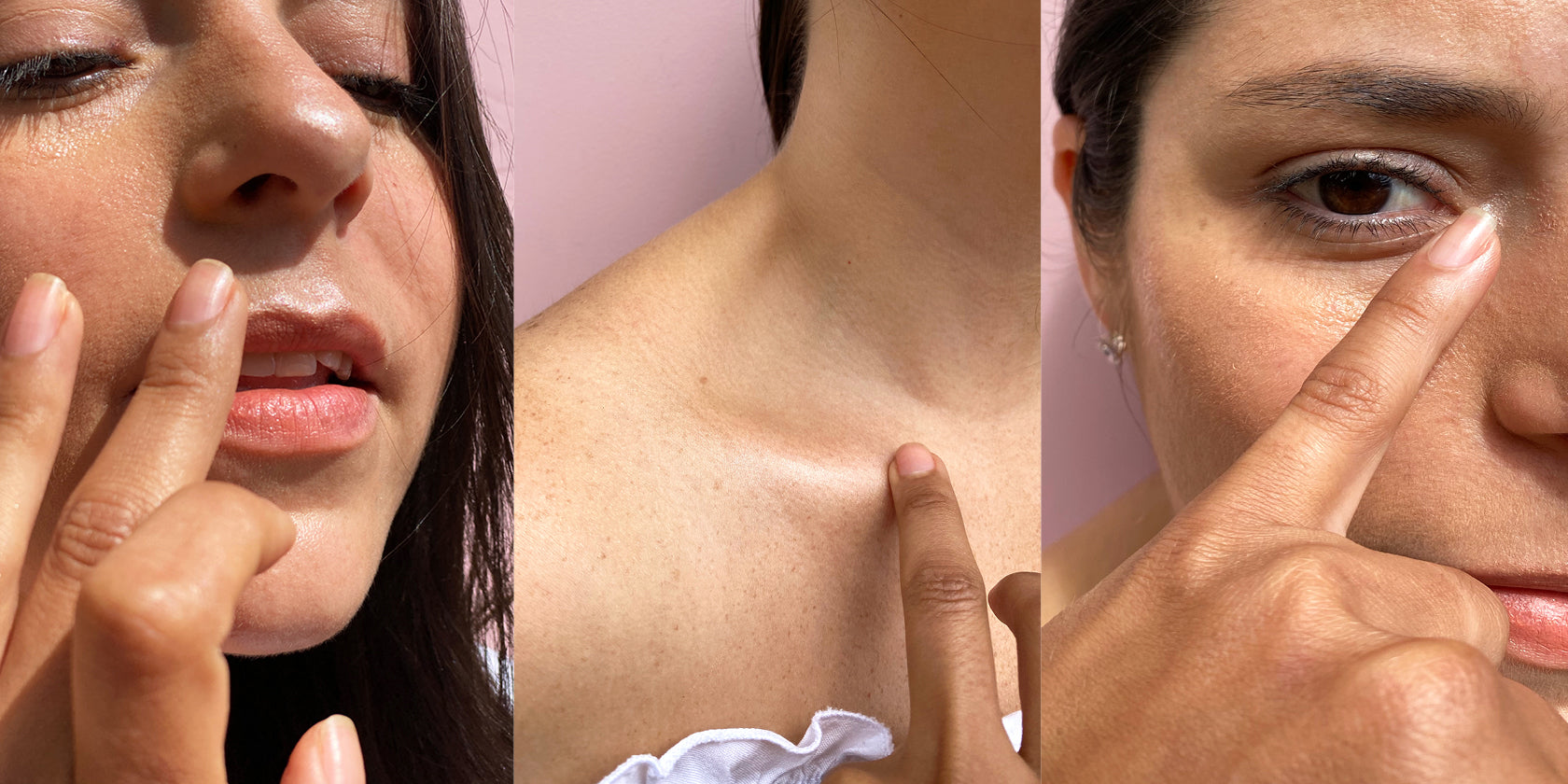 how to use cream highlighters
Highlighters take our skin to the next level, adding a subtle sheen to specific areas of our face and body. They help illuminate our best features and give our complexion a little extra glow. Highlighters can be used on both our face and body, and highlighters come in many forms — as creams, sticks, liquids or powders. Cream highlighters are easy to use and can easily be layered. Not sure how to use them? Here's how and where to apply cream highlighter to give your skin some lovely shimmer.

What is a cream highlighter? 
Cream highlighters are the easiest way to achieve a dewy beautiful complexion. This beauty product can be applied either with your fingers or a damp sponge to specific areas. It's best to slowly build the level of desired luminosity you want to achieve rather than applying a large amount of cream highlighter at once. You can apply cream highlighter to a clean moisturised face or use it as a final step of your makeup after foundation application. Our vanilla highlighters help create a beautiful glow on your skin and come in two shades, sun halo and falling star. It's made with vanilla which is calming and soothing on skin.



Where to Apply Highlighter

Cheekbones - This is probably the number one area to apply highlighter with good reason, it helps make your cheekbones pop! You can use your finger or a brush to apply cream highlighter in a diagonal line from your temple to the area under your eye. Make sure to blend into your skin well as this area of your face catches a lot of light. The cream highlighter on your cheekbones will give you a beautiful, radiant sheen.
Bridge of Your Nose - Applying cream highlighter to the bridge of your nose will help give it more definition. Many people apply cream highlighter to their nose in combination with contouring the tips and sides of the nose to refine its appearance.
Cupid's Bow - Applying cream highlighter to your cupid's bow can help your lips appear fuller. Use your fingers to apply right above the lips, illuminating their area makes your lips look slightly plumper. The highlighter should be applied after your lip liner and lipstick or gloss to help attract light to that area of your face.

Inner Eyes and Brow Bone - Cream highlighter can add a lot of dimension to your eyes especially when applied to your inner eyes and brow bone. Applying a small amount to your inner eye area helps make your eyes appear larger in size and can help you appear more alert. If you're looking for a little lift in your eye area, apply cream highlighter just under your brows. This attracts additional light to your eyes helping them appear more open.
Décolleté - Cream highlighter can also work magic on your body. Use cream highlighter to accentuate your collar bones especially if you're wearing something strapless or off the shoulder. Apply some cream highlighter along your collarbones and blend well for a beautiful gleam.
hand & product image: @naturalyan