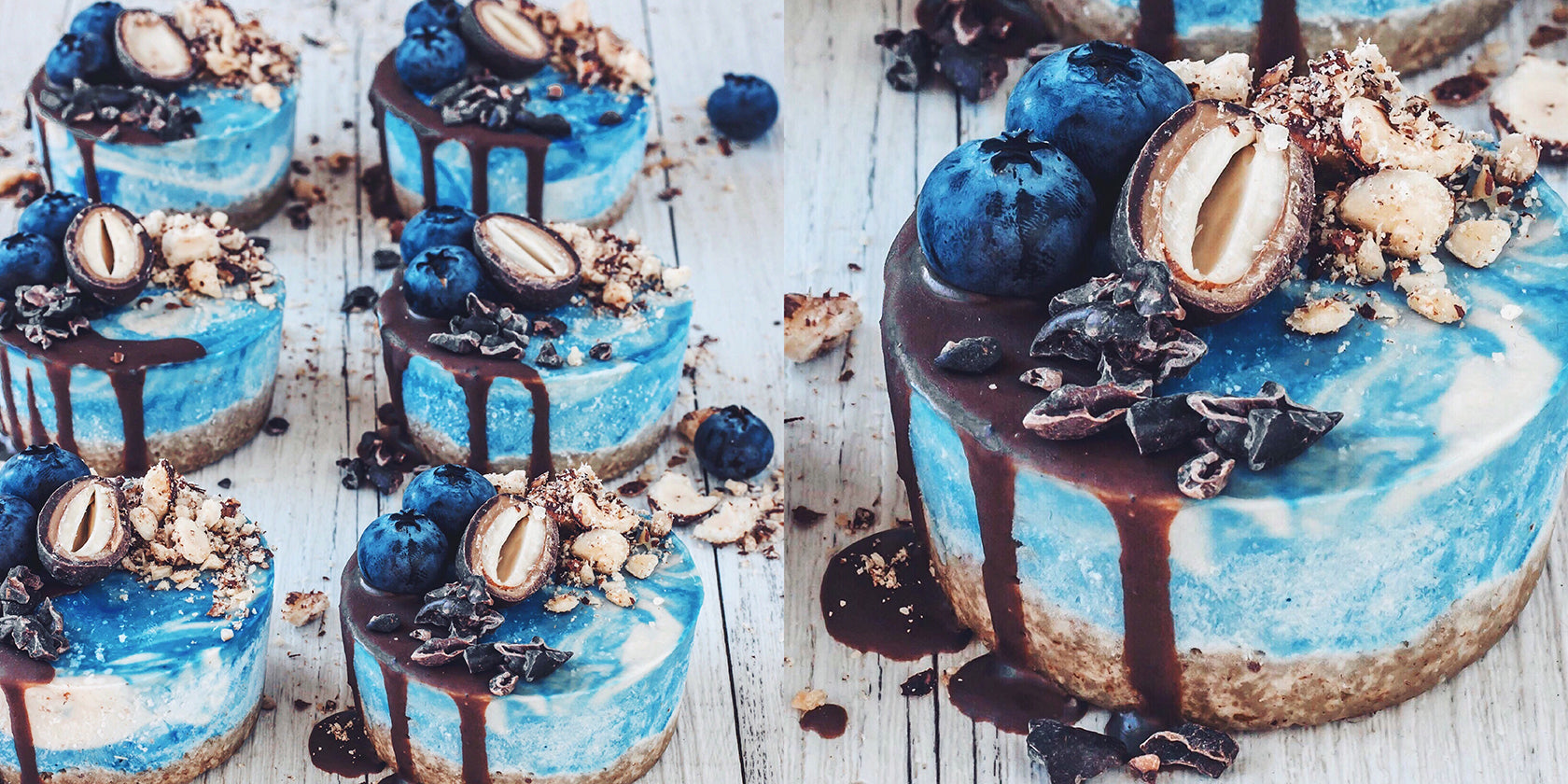 MAKES: 6 LARGE SERVINGS     PREP: 15 MINS     SET: OVERNIGHT
INGREDIENTS: 
BASE:
◦ 1 1/2 cups almond meal
◦ 2 tbsp rice malt syrup
◦ 2 tbsp coconut oil, melted
◦ 1/8 tsp salt
FILLING: 
◦ 1 cup raw cashews, soaked overnight
◦ ¼ cup coconut cream (white solid part from a chilled can of coconut ◦ milk/coconut cream)
◦ ¼ cup coconut yogurt 
◦ ½ cup maple syrup 
◦ ¼ cup coconut oil, melted (and slightly heated) 
◦ ¼ cup lemon juice
◦ Zest of 1 lemon
◦ 1 tsp vanilla extract
◦ 1-2 tsp blue spirulina *
METHOD: 
1. Add base ingredients into a bowl and mix well until a crumbly and sticky mixture forms.
2. Press into the bottom of your cake moulds and pop into the freezer while you make the filling.
3. Add all filling ingredients (except for the spirulina) into a blender. Blend until smooth, lump-free and creamy. Pour out half of the mixture and set aside. 
4. In one half, add in the spirulina and mix well. Add dollops of the white mixture and blue mixture to your moulds, alternating between the two to form nice layers of contrasting colours. Use a skewer to then swirl them and create a nice pattern. 
5. Place in the freezer overnight to set. 
6. When set, pop out of the moulds and decorate with your favourite toppings. Because these are ocean cheesecakes, adding some ground peanuts will be perfect in replicating the look of sand & other ingredients like macadamias or choc coated almonds (as I've used here) create the look of shells on the beach! Be creative and go nuts with it... (pun intended). 
7. Allow them to thaw at room temperature for 5-10 minutes before serving. Enjoy!
this delicious recipe is by cherie tu.
discover more of her plant-based creations.