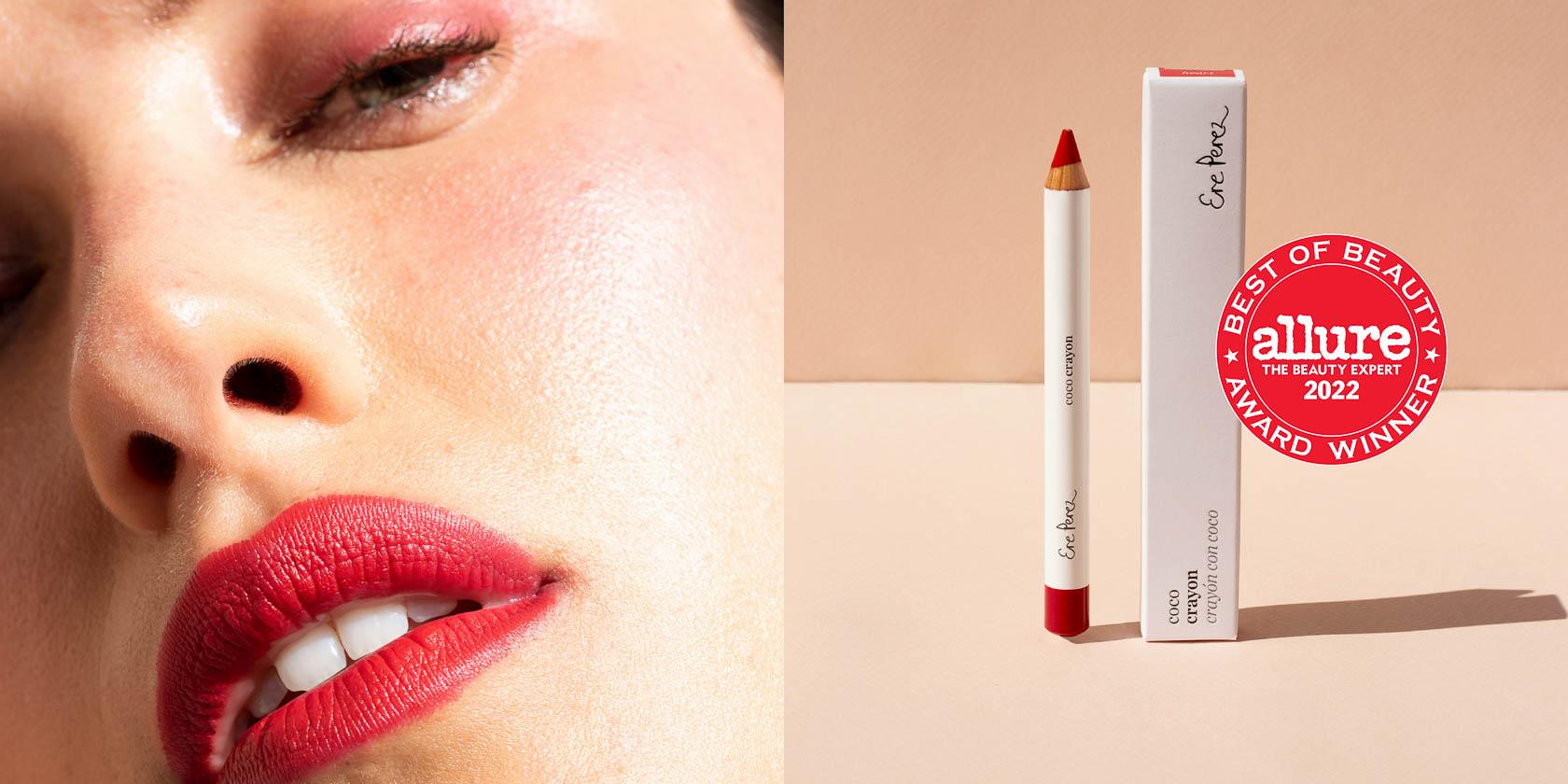 coco crayon has won allure's best of beauty 2022!

Every year, the Allure team spend months testing (and retesting) thousands of incredible products to identify the very best in beauty. This year, we're honoured to receive Best Lip Crayon in Allure's Best of Beauty 2022 for our best-selling Coco Crayon.

"Why it won: With its fine-point tip, Ere Perez Coco Crayon makes it easy to color inside the (lip) lines. Or you can venture outside them and use this creamy formula (available in six rosy shades) as blush: Dot it directly on your cheeks, then blend using your finger." check it out!

Ere Perez Coco Crayons are a great alternative from your usual lipstick purchases, as this creamy & pigmented multitasker is a lipstick, lip liner, cream blush & all over colour all-in-one!

It's a lipstick, minus the plastic. (A sustainable beauty hero, if we say so ourselves!)

Enriched with conditioning & anti-inflammatory coconut oil to help protect and heal dry chapped lips. Plus, antioxidant rich baobab oil, packed with vitamin A, B, C and fatty acids to plump & nourish skin, leaving lips juicy all day long.



The 6 versatile shades are effortless to apply a creamy comfortable matte formula, suitable for all complexions and skin types.

grace – rosy taupe
charm – burnt peach
brave – tawny toffee
wild – deep saffron
heart – pomegranate red
rebel – berry burgundy

As seen on you!

Coco Crayons are an affordable makeup bag essential with long-wearing nutritive colour with no unnecessary plastic casing. Made from a sleek wooden pencil and infinitely recycled aluminium lid.

Match your waste free chubby sticks with Ere Perez' earth friendly Eco Duo Sharpener. Made from biodegradable corn resin which is an incredible sustainable alternative to plastic.

At Ere Perez Natural Cosmetics, we pride ourselves on producing healthy, natural make up made from only clean and nutritive ingredients.

Coco Crayon is now available at The Detox Market, Goop, The Iconic, Mecca, and ereperez.com. Plus many many more of your favourite retailers here.