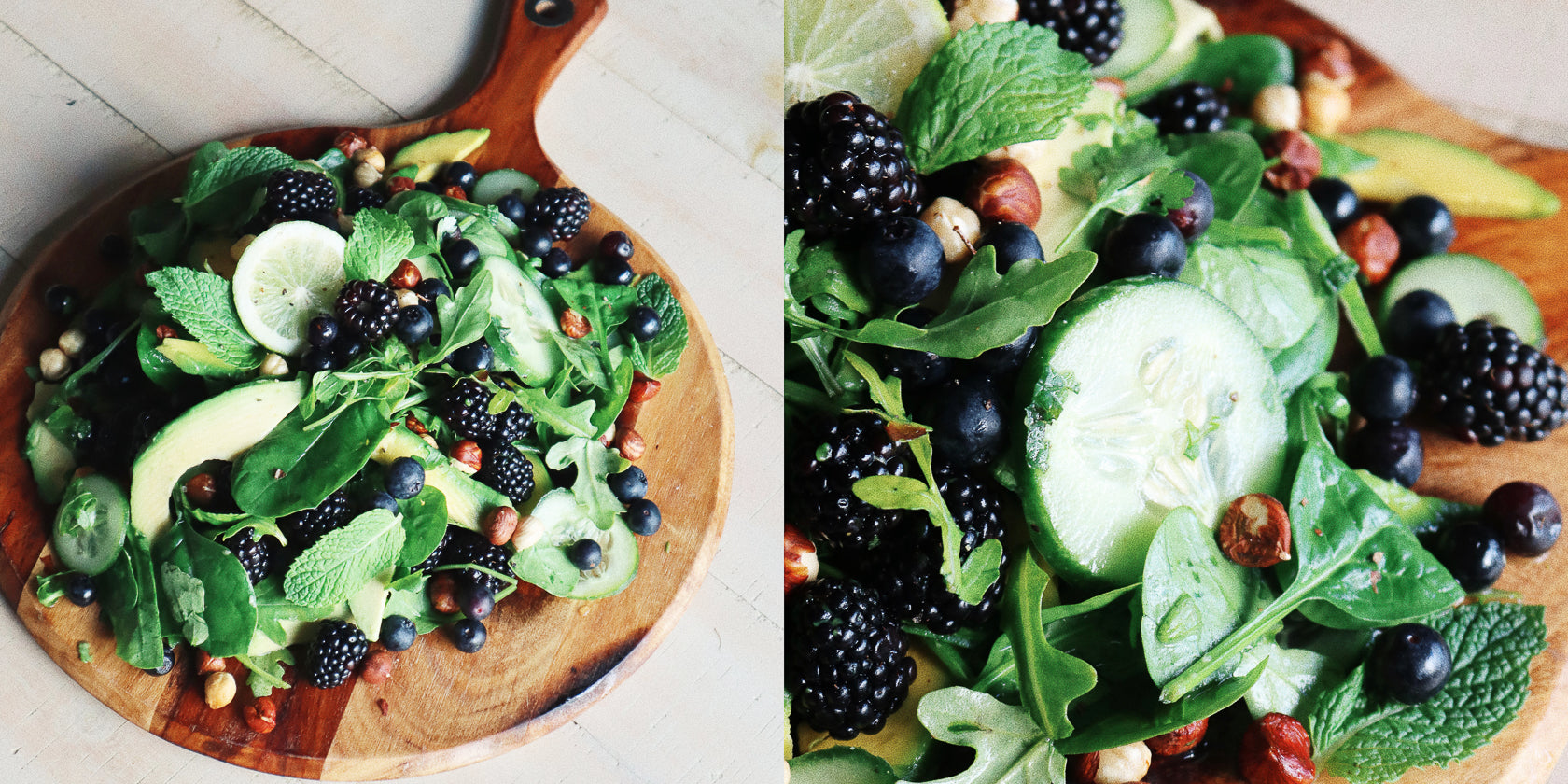 blackberry hazelnut salad

I loveeee a good salad with plenty of flavourful and textured components. This leafy and fresh salad features rocket, blackberries, blueberries, roasted hazelnuts, avocado, cucumber, mint, spinach, parsley, and a delicious zingy dressing.

If you haven't tried putting berries in a salad before, you have to give it a try! They add texture and the perfect amount of sweetness.

Dark berries also contain resveratrol, a plant compound that acts as an antioxidant. The anti-inflammatory effects of resveratrol have been shown to deliver exciting benefits for brain function, skin health, immunity, and even an ability to improve gut barrier function and increase levels of good gut microbes! How cool is that?

In this recipe, blackberries and blueberries pair particularly well with refreshing cucumbers, creamy avocado and zesty rocket. The roasted hazelnuts add crunch and a refreshing lime mint vinaigrette brings it all together.

For a more filling meal, you can add a grilled protein, beans (white beans or chickpeas), or a grain (quinoa, wild rice). I actually really love to add baked sweet potato to this salad on the side. If you plan to prep this salad ahead of time, wait to add the dressing until just before serving.

Continue reading for the recipe!

Ingredients
Produce:
• 4 cups rocket
• 1 cup spinach
• 1 avocado
• 1 cup blackberries
• 3/4 cup blueberries
• 1 1/2 cup cucumber
• 3 tbsp fresh mint
• 1/3 cup roasted hazelnuts
• Optional - 1/4 cup fresh parsley

Dressing:
• 2 tbsp lime juice, freshly squeezed
• 1 tbsp maple syrup
• 1 tsp white wine vinegar
• 1/2 tsp sea salt
• 1/4 tsp black pepper
• 2 tbsp fresh mint, crushed

Substitutions
Feel free to substitute the rocket or spinach with baby kale, or another leafy green. Blackberries and blueberries can be swapped with strawberries, raspberries, cranberries, peaches, nectarines, apricots, or just about any other summer fruit. If you're not a fan of hazelnuts, that's totally fine! Try swapping with pine nuts, walnuts, pistachios, or pecans.

Method:
1. Place your hazelnuts on a lined baking tray and roast on a medium heat for about 20 minutes or until crispy. (TIP - try soaking your hazelnuts first in water for a few hours before roasting to activate them and make them easier to digest if you have a hard time digesting nuts or seeds).
2. Whisk together all ingredients for the vinaigrette. Taste and adjust seasoning as desired.
3. Wash all salad produce.
4. Thinly slice the cucumber into rounds and the avocado into long strips.
5. Assemble salad ingredients and toss in vinaigrette.

Enjoy fresh!


Thank you Olivia Harper,
@olivia.harper
olivia-harper.com