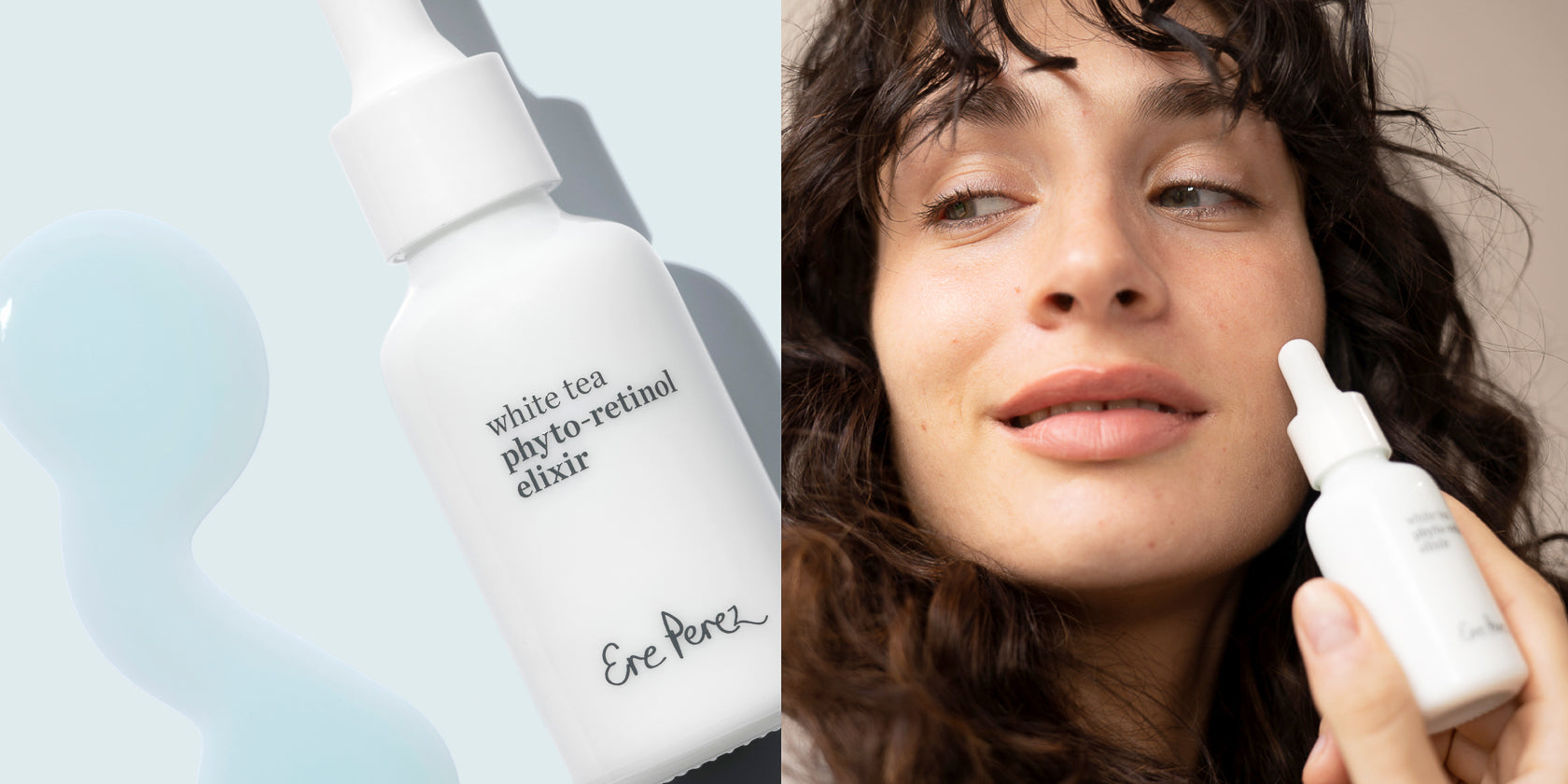 meet our most active skincare yet!

We did it! We've made a game-changing (sensitive safe) retinol alternative! An elixir to transform skin, overnight.

Introducing Ere Perez White Tea Phyto-Retinol Elixir.
It's retinol, but not as you know it!

A lightweight vegan retinol packed with botanical actives that increases collagen production & improves skin texture for a youthful complexion.

The White Tea Phyto-Retinol Elixir is a gentle but powerful serum, for all skin types, that brilliantly rejuvenates delicate skin to feel softer, smoother and visibly firmer. Like retinol, but without the harsh side-effects to the skin.

Meet the skincare hero ingredients behind the magic elixir:


White Tea
A natural antioxidant that reduces signs of ageing, strengthens both collagen & elastin for smoother, plumper skin
Bakuchiol
A natural alternative to retinol that stimulates skin cell turnover to help improve tone & texture and gently reduce pigmentation
Resveratrol
Powerful against premature ageing, this potent antioxidant boosts skin elasticity & keeps delicate skin supple
Copper
Gives the serum it's stunning blue colour. An anti-inflammatory that tightens pores and improves skin firmness & reduces fine lines
Niacinamide (vitamin B3)
Helps build skin's natural protein, improve blemishes and strengths skin's natural barrier. Amazing for all skin types including sensitive acne prone


The White Tea Phyto-Retinol Elixir is fast-absorbing, lightweight and loaded with actives & plant-derived goodness in every drop.

In the evening, after cleansing, apply 3-4 drops to face, neck & décolletage and wake up to noticeable smooth complexion. Team with Wild Tomato Riche Crème for the ultimate overnight skin rejuvenation. 






SHOP WHITE TEA PHYTO-RETINOL ELIXIR