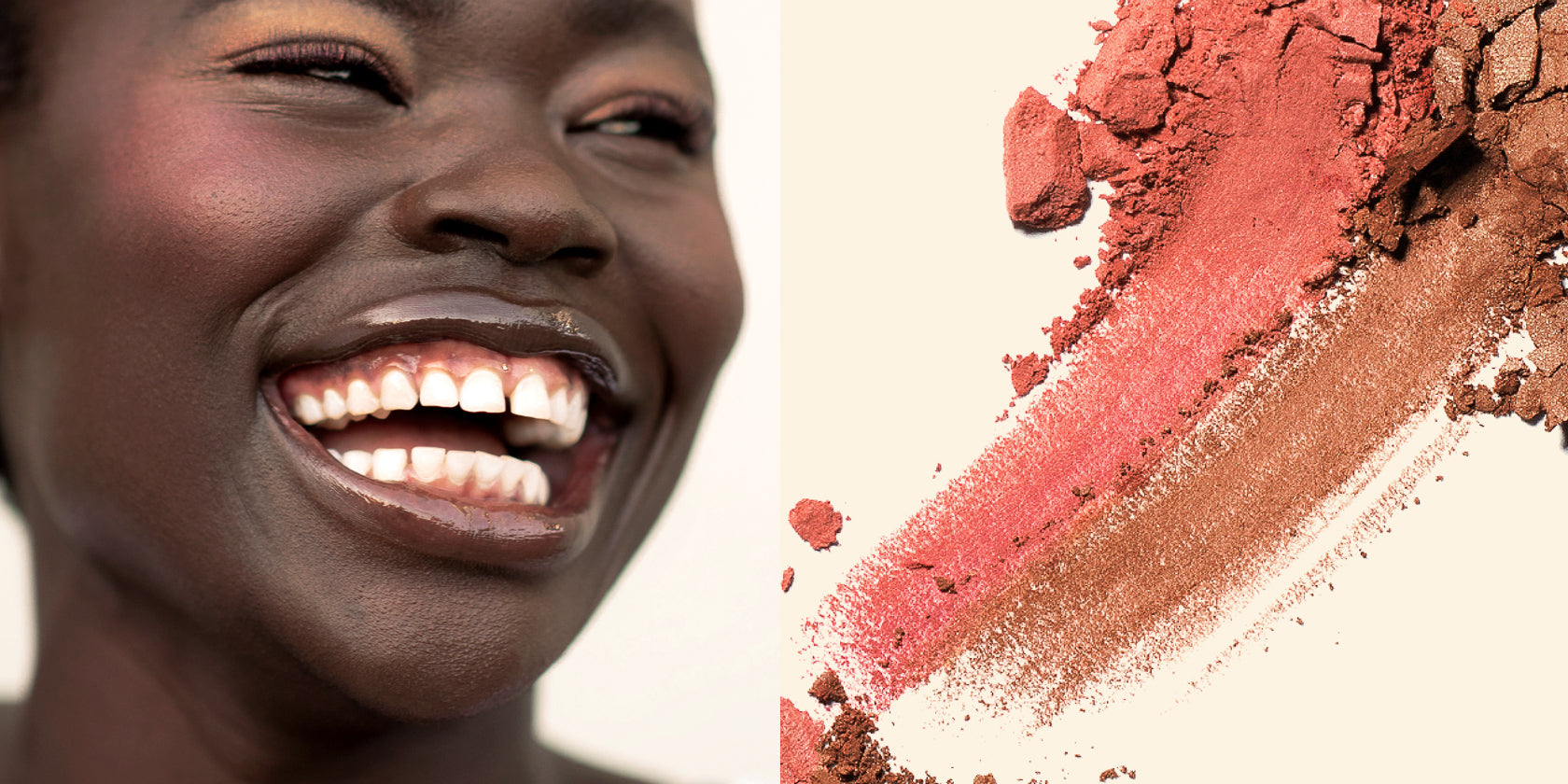 beauty bag essentials: blush v bronze

Although blushes and bronzers are both applied to our cheeks to give colour and dimension, they enhance our complexions in very different ways. Whether you're adding radiance to the skin, or a natural flush of colour, a bronzer or blush can elevate your makeup look, naturally.

So, what's the difference?

Bronzer can also be blush, but blush is most definitely not bronzer.

In a nutshell, bronzer (typically brown/golden in colour) adds an extra radiance of golden tan on contours of the face, while blush (variations of pink/red) gives our cheeks a flush of colour.

Ere Perez have a number of powder complexion options, that are non-comedogenic and safe for sensitive skin. They are designed to add healthy natural colour to your face, formulated with breathable botanical ingredients that doesn't clog pores and even help to absorb impurities.

We use rice starch and tapioca to hydrate and sooth inflamed skin and help skin breath. Plus acne-safe sunflower oil, and added vitamin E and chamomile for calming and brightening benefits.

So let's break these beauty bag essentials down, and find the right blush and bronzers for you and your makeup look.




Tapioca Cheek Colour
Radiant healthy pop of colour.
Effortless matte cheeks with a touch of shimmer to mimic the natural undertones of your complexion. Made with tapioca starch for its beautiful hydrating & brightening qualities. Available in two individual flattering shades for natural rosy cheeks.

Rice Powder Blush – Bondi 
Peach blush duo.
Half mandarin, half pink glimmer for that subtle pink natural blush. Applied to the apple of the cheeks to bring out the best of your face shape. Made with antioxidant rich, anti-inflammatory and anti-ageing ingredients that protects & nourishes skin.

Rice Powder Bronzer – Tulum 
The original universal golden bronzer.
Formulated with non-GMO rice to give skin a breathable & healthy golden bronze, year-round. It's velvet duo shimmer gives skin a beautiful, sun-kissed colour, without the glitter. Perfect for all over skin bronzing or contouring and shaping the face.

Rice Powder Blush & Bronzer 
Two-in-one duo complexion colour.
A pigmented hybrid of blushed cheek colour and bronzed tan for a rosy healthy golden glow all in one! Formulated with the same oil-absorbing rice starch as the bronzer but offers duo colour. Use each shade individually or together for an all over cheek pick me up.

Did we mention they're all refillable too?

Ere Perez clean powder blushes and bronzers are all eco friendly. You can replace your favourite rice powder or tapioca insert when it runs out, without tossing away the beautiful mirrored compact. Simply pop out the empty colour insert and swap with a new one!



Okay, so what tools best apply blush and bronzers?

Bronzer is normally applied with a large fluffy brush, like our Eco Vegan Blush & Bronze Brush, and is swept across your face where the sun would catch you. So across your cheekbones, hairline, and also around your jawline as well for easy warmth and glow.

Blushes are best applied with a smaller but equally fluffy brush for more precision but bendability. Brush your favourite blush along the apple of the cheeks, blended towards the ear to softly widen and shape the face. Or directly to the roundest part of the cheek to add a glow and frame the face.

The Eco Vegan All-Beauty Brush is tapered for precise colour application while being soft enough for broad powder strokes. A perfect match for powder blushes.

Top tip: Why not double up your favourite complexion powders as eye shadows for an affordable and space saving product. We love a multipurpose makeup product!