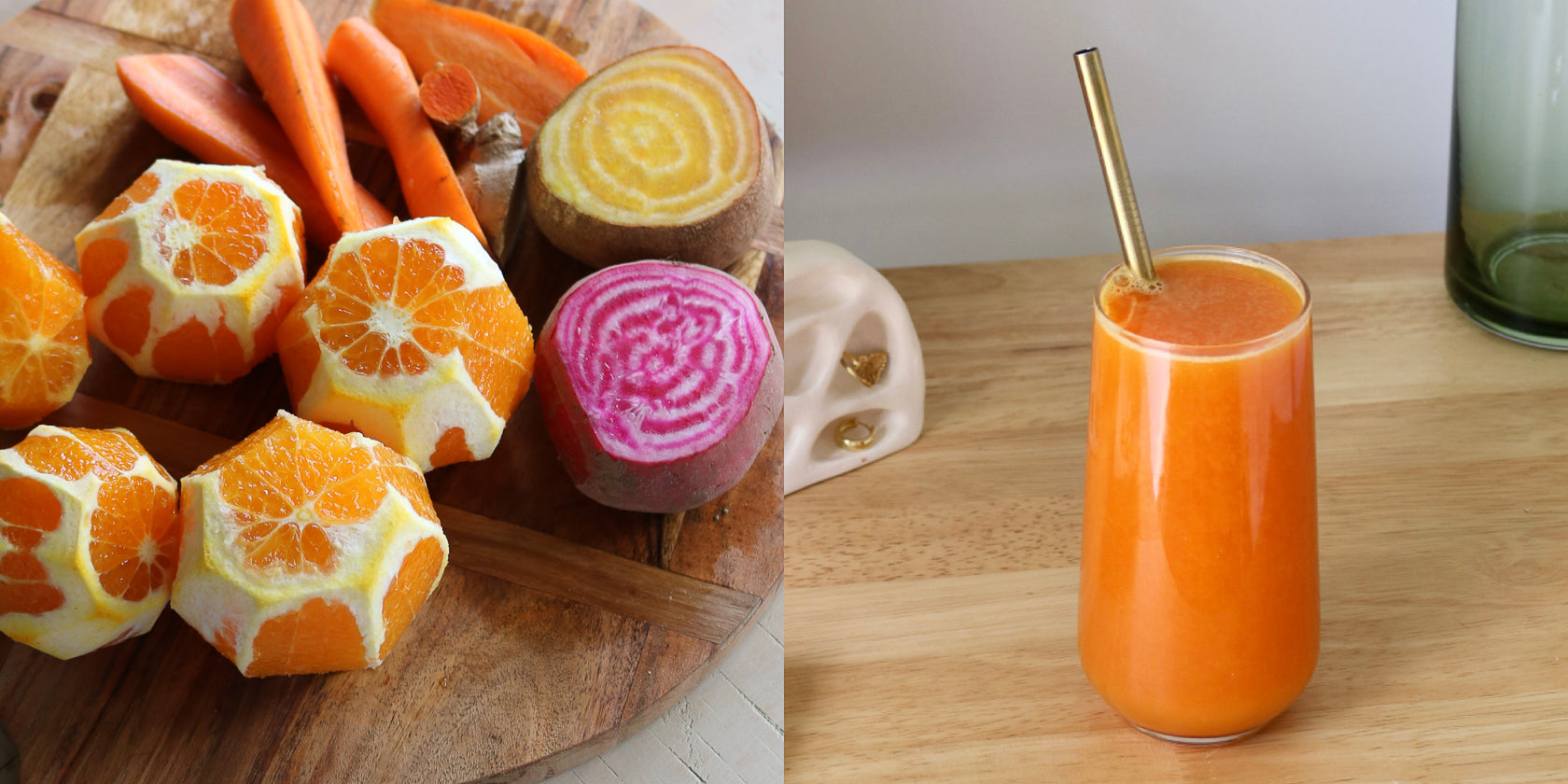 immune boosting carrot juice recipe

Here's a delicious and deeply hydrating carrot juice with orange, ginger, turmeric and beets to boost your immunity and bring some zing into your morning. 

The flavours of these root veggie and citrus ingredients work incredibly well together. The zesty, vibrant orange combines beautifully with the earthy, sweet carrots and beets. Ginger and turmeric add a spicy medicinal punch to this already anti-inflammatory, antioxidant rich, skin-loving elixir. 

Why we love carrots 
Carrot juice is highly nutritious, providing potassium, several carotenoids, and vitamins A, C, and K. Enjoying this juice consistently may also help improve eye health, boost your immune system, and strengthen your skin! 




At Ere Perez we are passionate about skin health, and for a glowing, youthful complexion it is vital to nourish yourself inside and out. The antioxidants vitamin C and beta carotene in carrot juice are necessary for the production of collagen, which strengthens your skin and can even protect it from damage. So many wins!
 
We love carrots so much that we've even made it the star ingredient of our Carrot Colour Pots, to bless your skin, lips and eyes with all the nutritive benefits carrot has to offer. 

Continue reading for the recipe! 

Ingredients 
• 3 carrots 
• 4 oranges 
• 2 beetroots – choose from golden, striped, or red! 
• 1 thumb ginger 
• 1 thumb turmeric 
 Method 
1. Wash all of your produce. Cut it into pieces small enough to fit through the feeding tube of your juicer.
2. Feed the chopped produce into the feeding tube of your juicer. Alternate hard and soft pieces of orange and veggies to help get the most juice out of your fruits and veggies. 
3. Serve the juice immediately. It is best served right after you make it! 

Enjoy! 
Thank you Olivia Harper, 
@olivia.harper, olivia-harper.com