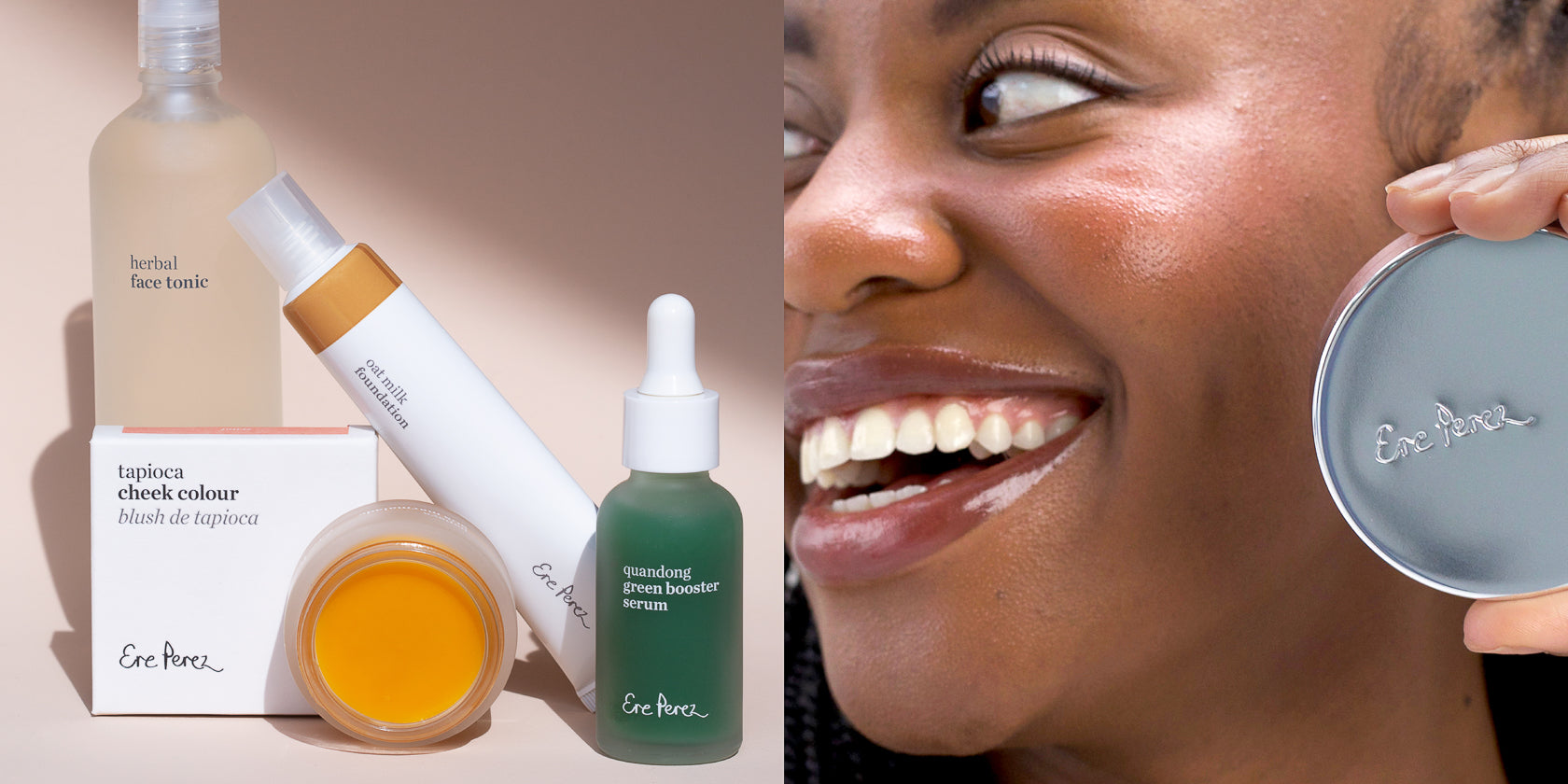 The future of the beauty industry spans further than natural formulas.

At Ere Perez, we are pioneers of natural beauty but proudly leaders in sustainable beauty. We're embracing a new era of beauty, that people and the planet can thrive together, committing to climate positive changes.

Waterless beauty
Water responsible beauty, or "water footprint" is an important conversation not enough of us are having!

While it's essential that we drink plenty of h2o, we need to solve our water crisis in other ways, and that includes reducing its purpose in beauty products. You'll tend to find water (or "aqua") at the top of your ingredients list, and it can typically take up 60% of your favourite skincare and makeup products.

Rather than diluting the botanical ingredients in our formulas with water, we're opting for nourishing oils and plant-based "butters" to give skin extra boost and nourishment we all want.
Shop waterless favourites:
Australian Blue Cypress Face Nectar | Corn Setting Powder | Tapioca Cheek Powder | Carrot Colour Pot | Avocado Waterproof Mascara | Jojoba Eye Pencil | Coco Crayon | Mango Lip Honey

Read more about our eco commitments




Biodegradable beauty
Get flawless airbrushed complexion, without costing the earth, with our high-quality biodegradable makeup tools.
Our new Bio All-Beauty Sponges is made entirely from plant-based materials: corn, cassava and sugarcane juice, that you can dispose in your compost responsibly! Plus, all of our brushes and pencil sharpeners are made with high quality biodegradable corn resin handles.
Carbon neutral beauty
Did you know, Ere Perez are accredited carbon neutral? Yes - this applies to our shipping too!
Since 2016, we've been certified carbon neutral by The Carbon Reduction Institute. As a carbon neutral business, our products are made in a way that minimises & offsets the amount of carbon emissions emitted throughout the entirety of their life cycle - from their production, right down to their delivery!​​​​​​​​
​​​We choose to offset our company's greenhouse emissions by funding carbon-neutral wind energy initiatives in Mexico.​​​​​​​​ We're on our way to be climate positive too. So amazing!
​​
Refillable beauty
Over the years we've been improving our makeup packaging, to more earth friendly solutions. If you're conscious of the environment, you want your purchases to make as little impact as possible. Can I reuse this container? Is the packaging refillable?
Repurposing a makeup compact not only helps reduce your emissions and protect the earth, but also protects your wallet too.

IKYMI, Ere Perez evolved the traditional powder compact case and created the revolutionary Makeup-Wheel Refill Case that free from multiple materials like plastic, mirrors and metal hinges to 100% recyclable aluminium. Read more here.
Recyclable beauty
With a huge number of plastic free products & refillable options within our range, we are continually pushing ourselves to reinvent our products & their packaging to be as eco conscious & sustainable as possible.
See what we've done and where we're going
• Eco changes we made in 2022
• Eco goals for 2024
So far we have created the zero-waste pencil, introduced earth friendly refillable options, made biodegradable makeup brushes and where formulas allow, we're slowly making the switch from plastic to aluminium and glass.  
These 'mono‑elements' are infinitely recyclable & easily recycled among your household recycling! 

At Ere Perez, we take our legacy seriously as pioneers of natural beauty since 2002, and our packaging fosters our brand beliefs and identity. We lead by example so our customers & other brands can follow.

Check out "Why With Ere" to hear brand founder Ere Perez share why she's giving the beauty industry a much needed eco-conscious touch.