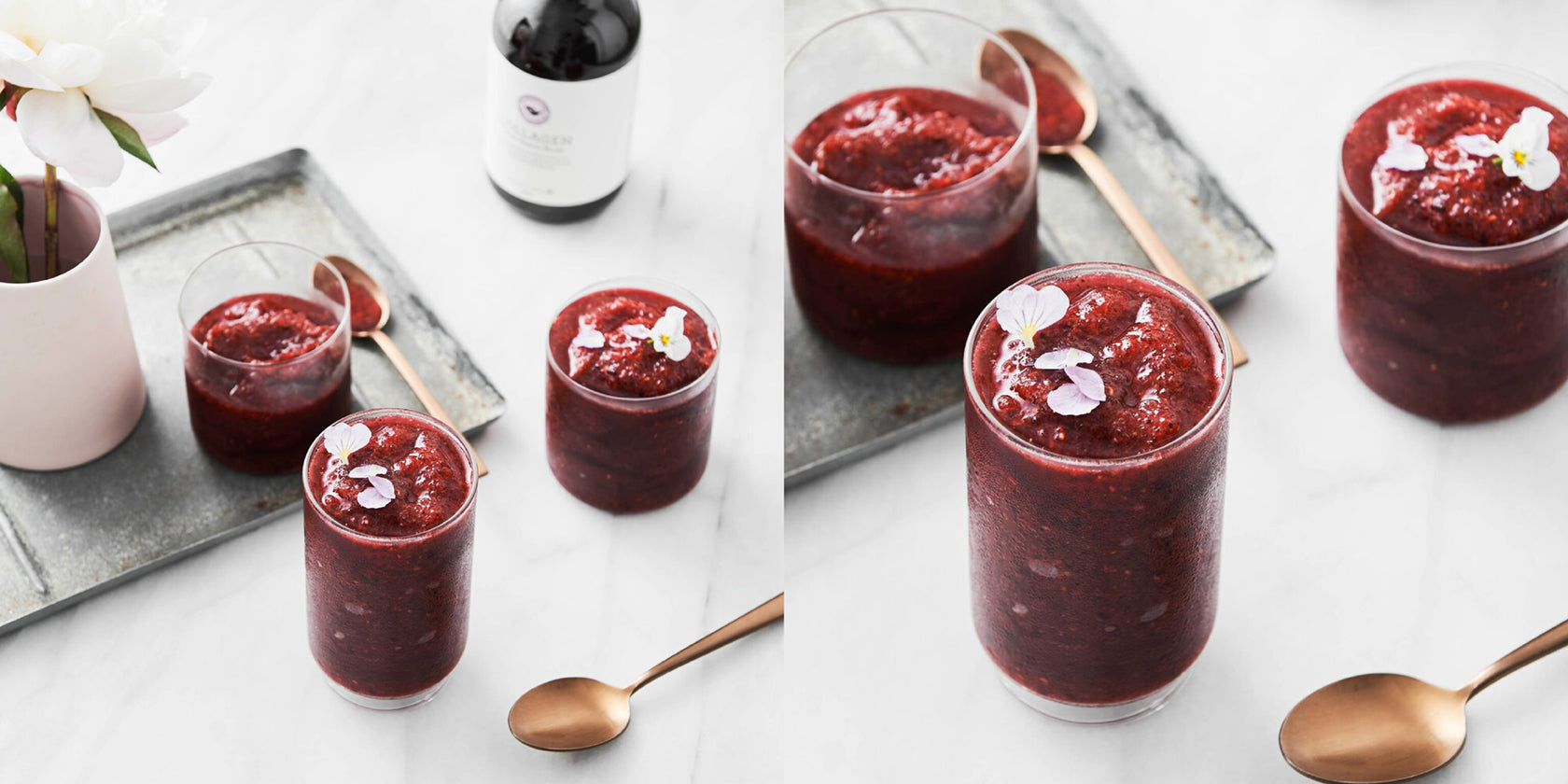 hibiscus, orange & berry frappe
As the year comes to an end we are reminded why it's important to look after your mind & body too. Since wellness can take many forms, we have teamed up with a few of our favourite health & beauty brands that also care about the world & you this Christmas. Follow our Instagram for all the info about the giveaway! And discover this festive recipe by Carla Oates, founder of The Beauty Chef.
"Sip on this refreshing frappe for a boost of berry goodness.
SERVES 1-2 (makes 2 cups/500mL)
INGREDIENTS
◦ 
1 cup (120g) frozen mixed berries
◦ 
3/4 cup (180mL) brewed hibiscus tea, chilled
◦ 
1/4 cup (60mL) freshly squeezed orange juice
◦ 
2 tablespoons The Beauty Chef COLLAGEN Inner Beauty Boost
◦ 
Finely grated zest of 1 unwaxed orange
◦ 
Edible flowers, to serve (optional)
METHOD
Place all of the ingredients in a high-speed blender. Blend until ice is finely crushed, to form a thick slushie-like consistency.
Recipe by Carla Oates, founder at The Beauty Chef. Carla learned first hand that beauty begins in the belly® when she was a teenager with troubled skin. Suffering with eczema and allergies, Carla's mother took her to a naturopath who adjusted her diet and soon cleared her skin. "My inner beauty journey began with my own skin and health issues," explains Carla. "I have seen that what I put into my mouth has a profound effect on my health."
Follow the Beauty Chef on Instagram & learn more about Carla here.