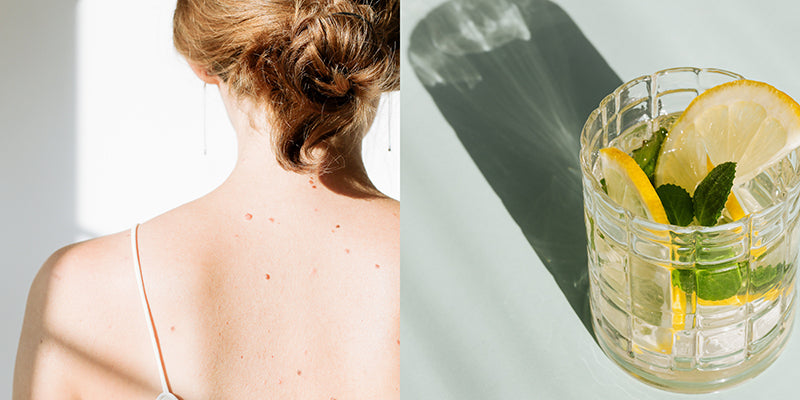 how to nurture your skin after the holidays
Want to get your skin back on track after the holidays? Look no further, here are some tips to nurture your skin in January…
try going to a sauna
We get it, the thought of going to a sauna during summer can be off-putting, but we believe that it's an excellent way to improve your overall health. To be specific, the higher temperature boosts circulation in your body, pushing out any bad toxins from your skin. Post-sauna, your skin might look slightly rosier and definitely healthier all thanks to the increased blood flow.
try green tea
Ah green tea – what can't it do? Besides being a delicious drink to have hot or cold, green tea is an excellent ingredient when it comes to refreshing your skin deep within the surface. Now, it won't detoxify – or remove toxins – from your skin as such, but it does a top job in bettering your skin with antioxidants and protecting it in the long run. Its anti-inflammatory powers can also reduce the appearance of reddened or angry-looking skin and dial down any swelling caused by excessive celebrating over the holiday break. Get a dose of green tea in our herbal face tonic; it's a refreshing all-over spray that you can easily pop in your handbag or beach bag, or even store in the fridge for a cooling mist that can soothe skin after a hot day.
add ginger and turmeric
Besides being a source of fuel, food is vital to your skin's health. This season, try adding ingredients such as ginger and turmeric to your diet. Ginger is ace for improving digestion, whilst turmeric is known for its ability to support healthy liver function. 
add coconut water
Coconuts are considered a super fruit, and it's no wonder why. In addition to having deliciously soft flesh that makes a perfect snack, the juice is also high in potassium, calcium, sodium, magnesium and electrolytes which can effectively hydrate our bodies (especially after exercising) and reduce water retention. So, say bye-bye to bloating.
and don't forget about plain water!
Drinking lots of water is a no-brainer when it comes to detoxing your skin after holidays, but did you know that the temperature of water can really affect how your body processes it? If you're looking to get hydrated quickly, go for a glass or carafe of chilled water; it's known to pass through your body faster, leading to increased absorption over time.
If drinking plain water is boring to you (we get it), go for a squeeze of lemon or grapefruit for a zingy treat, or throw in a handful of chopped berries and pressed mint for a refreshing beverage.