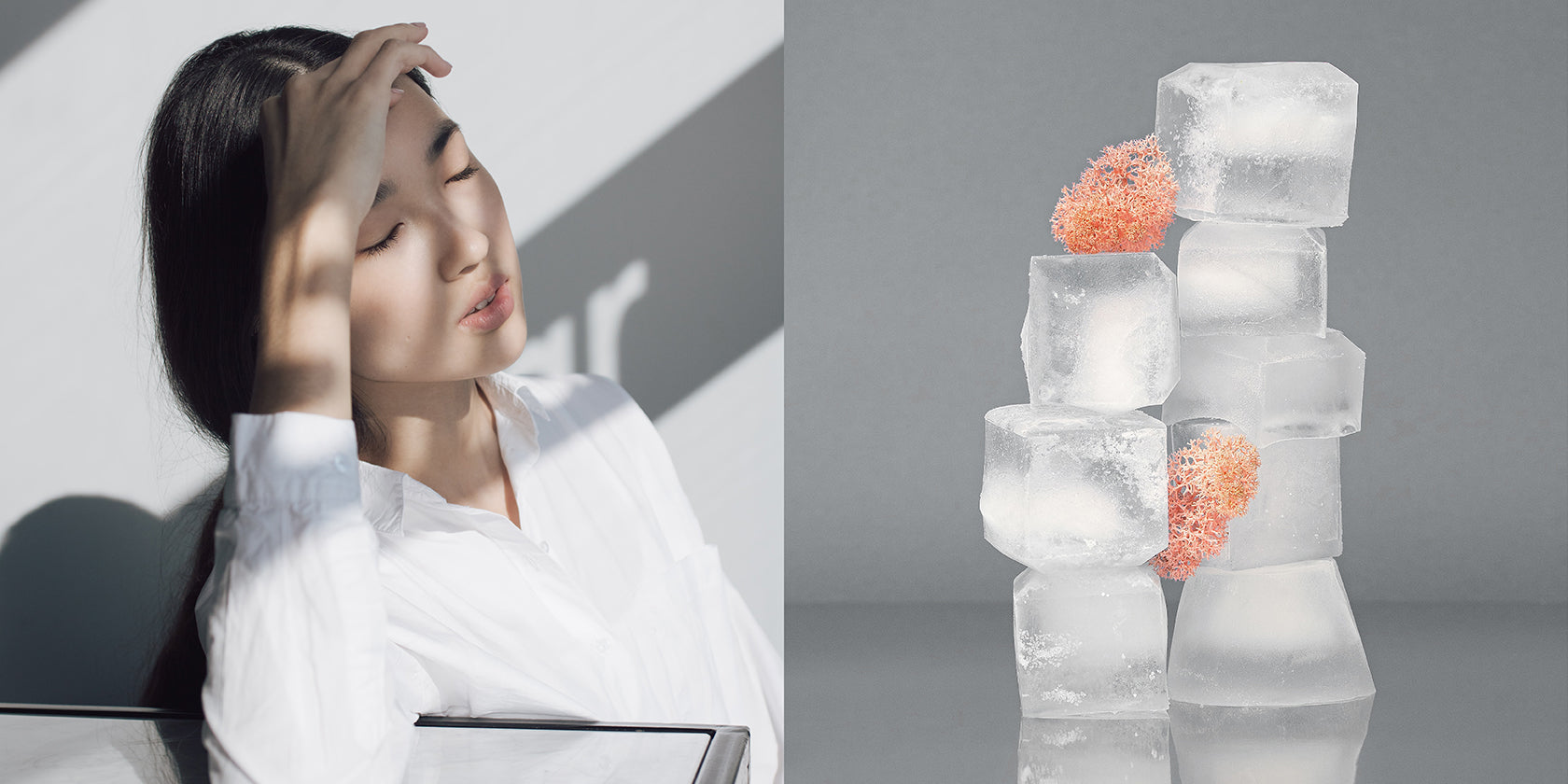 skincare fridge: which products are best used cold
Applying a cold moisturiser or serum to your face on a hot day is so simple yet so satisfying. On top of making you feel refreshed, the cool temperature also briefly constricts your skin's blood vessels making your skin appear firmer. It can also help reduce puffiness and help your complexion look more radiant. No wonder skincare fridges have become all the rage recently!
What's a skincare fridge?

A tiny version of your regular fridge which houses your skincare products. These compact fridges come in an array of colors and are a chilled treasure trove for your beauty needs. However, you can just as easily pop your beauty products into your regular refrigerator!
Here are some skincare products that thrive when they're chilled...
1. Moisturisers & Serums
Let's start with your moisturiser, one of the most used products in your skincare routine. What benefits do you get out of refrigerating your moisturiser? The cool temperature can help your skin feel soothed and balanced, particularly if your skin is easily irritated. It's also a great way to simply cool off on a hot day or after a rigorous workout. Our Moringa All-Beauty Creme already has a dreamy texture which is elevated when cooled. It melts into skin to give you a glowy complexion and features moringa, vitamins A and amino acids to help your skin look healthy and youthful. Popping your quandong green booster serum will also give an amazing chilled feel and because of it's high vitamin C content - cooling is a great idea for this one!
2. Face Roller or Tool
Rolling and massaging your face after a long day feels like a treat but you can really take things to the next level with one easy step — chill your device. Whether you have a dedicated skincare fridge or just use your regular one, storing your device at a cool temperature can up the ante. Gently roll your face to help release tension especially in areas like your brows and jawline. It can aid with lymphatic drainage and if used after applying your moisturizer can help spread product into skin. Our Quartz Sculpt & Lift Face Stone can help initiate microcirculation and encourages collagen production. Adding the cool temperature can help your skin look extra dewy after.
3. Eye Cream
Whether it's dark circles or puffiness, many people struggle with our undereye area and cool temperatures can help alleviate some of their issues. When you keep your eye cream in the fridge you can help de-puff your undereye area and also boost circulation in your undereye area. If you're looking and feeling tired with dark circles, a little chill might awaken your eye area making you look a little more alert even if you're not feeling that way. If there's one item you need to have in your skincare fridge, it's your cranberry lip & eye butter!
chill out & enjoy!