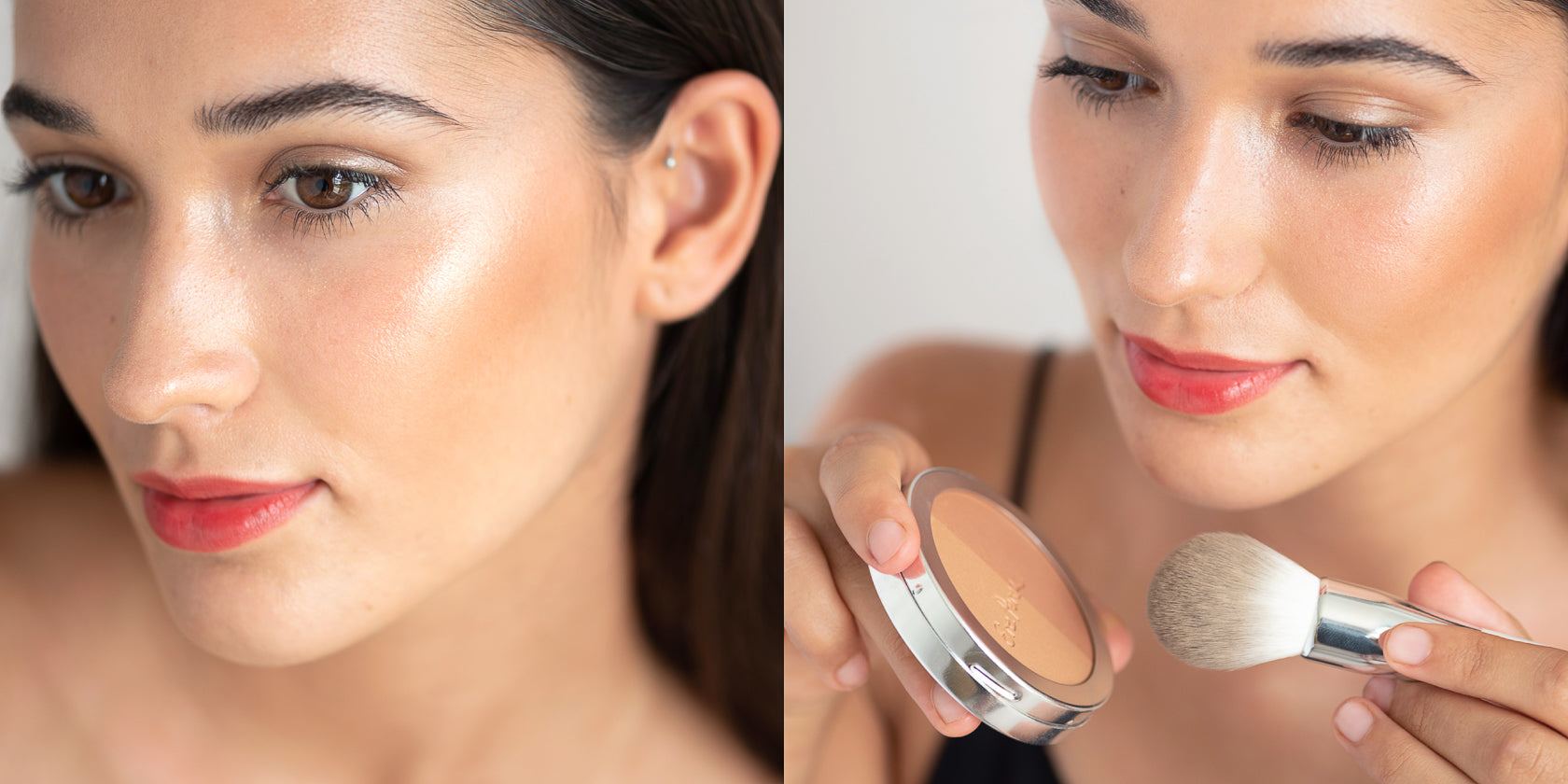 With our natural formulas and effortless multitasking creations, we love uncomplicated radiance, all year round.

As beauty and makeup lovers, we're no strangers to contouring but this can be hard to master. Achieving a natural looking contour, in particular, can be tricky. But celebrity makeup artist Mary Phillips, who works with the likes of Hailey Beiber and Kendall Jenner, has shared her viral makeup technique.

New to TikTok, but a decade long staple to MUAs, is the art of "underpainting". For a soft-focus sculpted filter to the skin, we've all been going crazy for this simple makeup tip to add dimension and shape to our face, without harsh contour lines.

The trick is to apply your bronzers (and even your blush) BEFORE your foundation for Hollywood sculpted radiance. Simply apply your favourite cream bronzer, or a deeper shade of your foundation, in the hollows of your cheeks, to achieve a much more natural makeup look.


Here's how:

1. Pat skin with 2-3 drops of
Australian Blue Cypress Face Nectar
. Double as a hydrating & conditioning hair oil, using the remainder on the ends.
2. Prep your base with a lightweight moisturiser & primer in one,
Moringa All-beauty Crème.

3. Groom, tidy and strengthen brow hair with
Aloe Gel Lash & Brow Mascara
.
4. Sculpt the face applying a deeper shade of Oat Milk Foundation to the cheek bones & hair line.
5. Apply your
Oat Milk Foundation
base on top of the bronzer.
6. Conceal & correct under eyes and any breakouts with
Arnica Concealer
.
7. Set the under-eyes with
Corn Setting Powder
, and any shiny areas like t-zone & chin.
8. Grab
Rice Powder Bronzer
and bronze skin to desired coverage.
9. Using
Beetroot Cheek & Lip Tint
, sparingly apply across cheeks and lips (you can always add more later!)
10. With creamy
Jojoba Eye Pencil
, colour the eye lid and blend with the find for effortless eyeshadow look.
11. Create shape around the eyes and tidy edges with
Arnica Concealer
, then coat lashes with
Avocado Waterproof Mascara

12. Add glow back to the skin with
Vanilla Highlighter
, across the highpoints of the cheeks, as well as over eyes to add a beautiful shimmer on the lid.
13. Finish with extra
Beetroot Cheek & Lip Tint
for a more pigmented lip.
Thank you, Bruna Reis MUA 
@brunareiss, brunareisbeauty.com