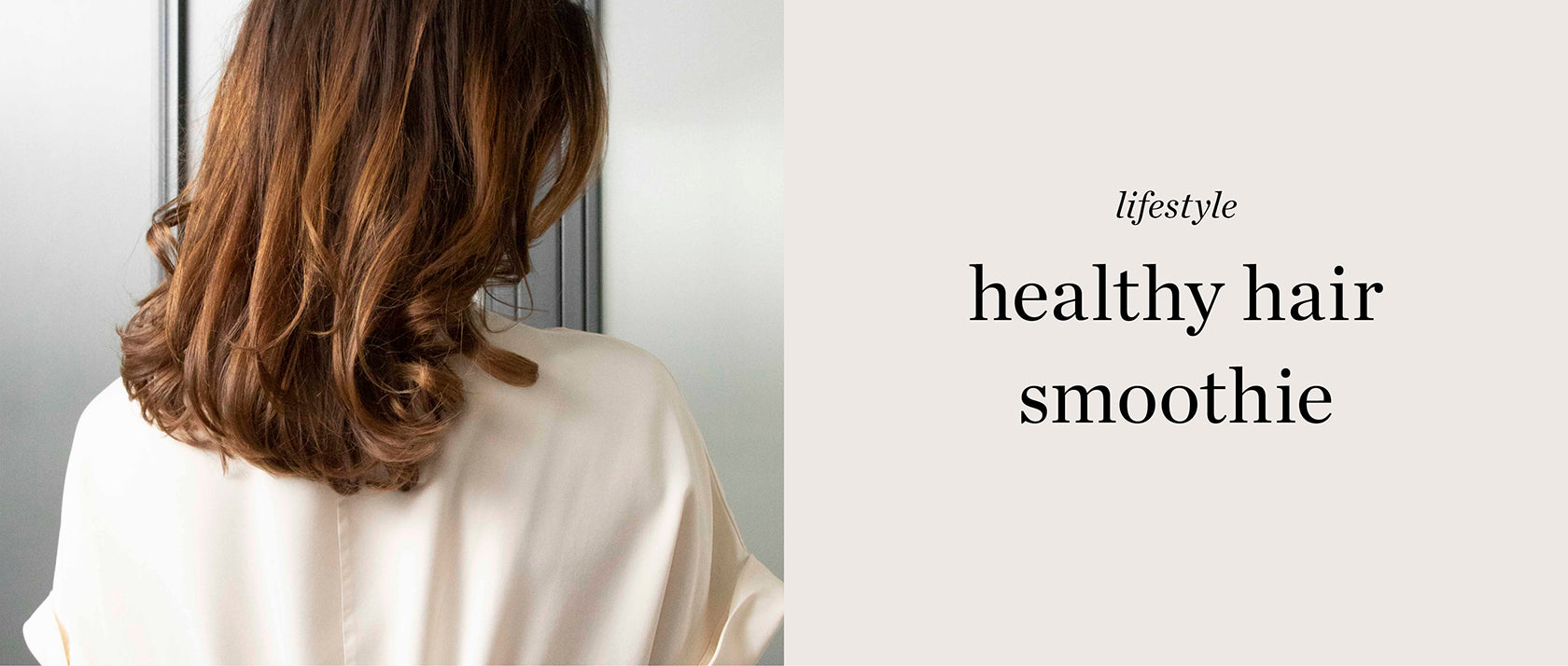 smoothie for healthy hair
Christophe Robin is a celebrity colorist & Founder of "Christophe Robin haircare",  dedicated to sensitive and color-treated hair, using natural ingredients. To boost the external action of hair hydration, Christophe Robin shares his recipe gorged in vitamins, minerals and nutrients to strengthen the hair and add shine.
"Why is my hair dull, lifeless and lacking elasticity?", "Why is my hair static?" "Why does it inflate at the slightest sign of humidity?". These are all signs of the same underlying cause: hair dehydration. Hair needs hydration, just like skin does. Wind, cold weather, sun and friction caused by hats or scarves are all factors contributing to hair's dryness on a daily basis.
"Aloe vera gel", by Christophe Robin haircare, is a hydrating cocktail of over 75 active molecules, 20 minerals, 18 amino acids and 12 vitamins. This unique combination gives it unparalleled hydrating properties to hair and skin. Originally from South and East Africa, Aloe Vera is a natural treasure, able to thrive in very arid climates by storing its vital resources inside its tough leaves.
The lengths are the driest part of the hair: the longer the hair, the drier the ends as the hair is older. A hair length a few inches below the shoulders is over three and a half years old. The lengths become rough and dull because exposed to external aggression for several years.
The scalp is connected to the liver so a healthy diet is also key when it comes to taking care of your hair. Aloe vera, used internally, offers its astringent, digestive and antibacterial properties.
Smoothie for healthy hair: Ingredients for 1 person
◦ 

5 inch piece of aloe vera to boost hydration
◦ 

1/4th of a watermelon, very rich in vitamin A to revitalize hair
◦ 

1/3rd of a cucumber, rich in vitamin E to moisturize and sooth the scalp
◦ 

1 teaspoon of chia seeds, rich in fatty acids and omega 3 to illuminate hair
◦ 

5 fl.oz almond milk, rich in zinc, iron and magnesium to strengthen the hair fiber
Fast preparation time

1. Take off the skin of the aloe vera, trim the spines then slide a knife between the skin and the gel inside to remove it.
2. Let the gel soak in water for 5 to 10 minutes to wash it.
3. Cut the watermelon, cucumber and lemon
4. Put all the ingredients into a blender, add the chia seeds and almond milk
5. Mix everything together then add the ice cubes.
Article and smoothie recipe by Christophe Robin:
Web
,
Facebook
,
Instagram
.
Formulated with natural ingredients like wheat germ oil, lavender, lemon, chamomile, blueberry, bilberry, Christophe Robin haircare is designed to nourish, moisturize and prote

ct sensitive or fragile hair by chemicals (colorations, bleaching, scans, perms, straightening) and external factors (sun, sea, wind, swimming pool …).
It restores and preserves the hair color brightness by preventing the leakage of artificial pigments in the colored hair. Each product complements and reinforces the actions of others, for optimal efficiency. All women can maintain, at home, the health of their hair and keep the brilliance of their color.
To learn more about Ere Perez, click here.
Sigue aquí el blog en español.