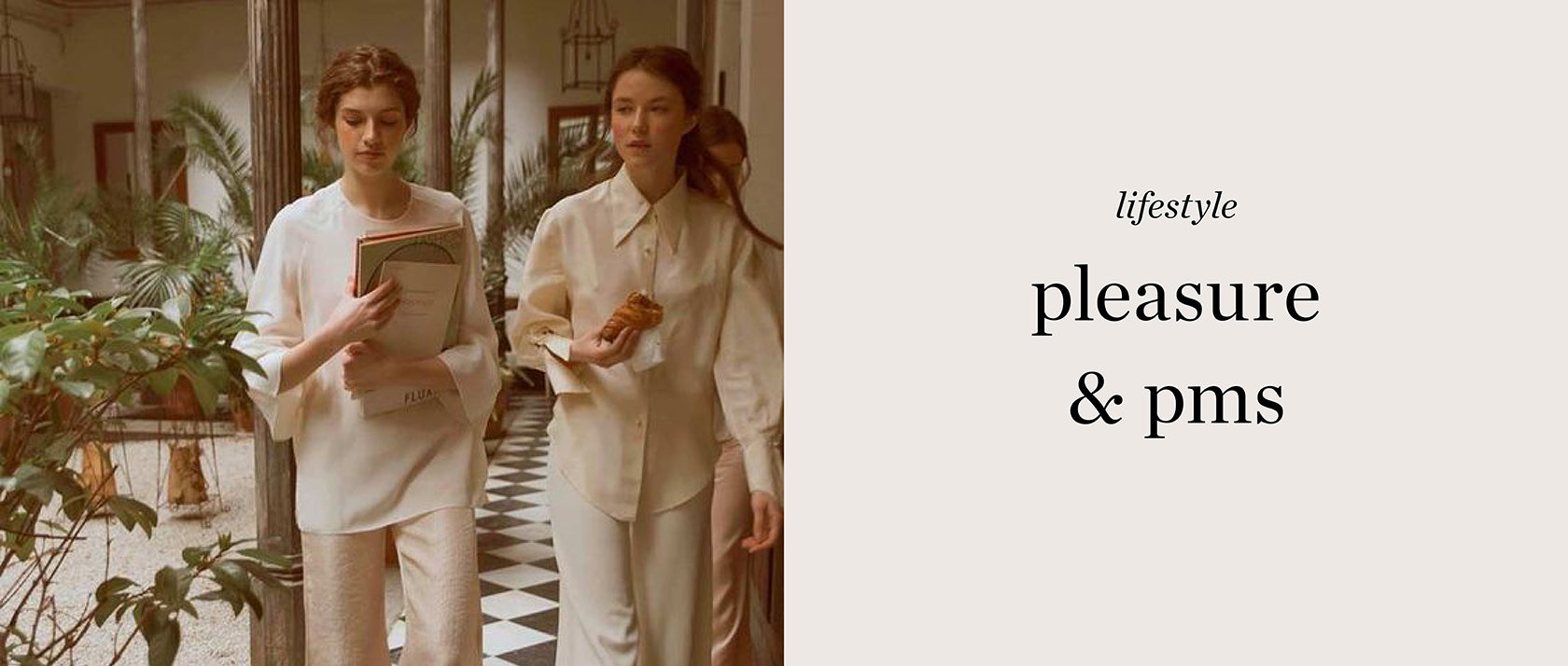 Emmie Rae is a Restorative Yoga teacher based in Sydney, Australia. She created her journal emmierae.com to share her relaxation practices and inspiration. We've been inspired by this article about pleasure and premenstrual syndrome.
"Last month will go down in history as The Month I Suffered Zero Pre-Menstrual Syndrome symptoms.
Suffering zero PMS symptoms always seemed to me, a ridiculous goal. A goal that takes an interest in health too far, that strives for perfection, that comes at the sake of having any fun or semblance of a life or personality remain.
I have noticed in myself, that PMS symptoms generally appear to be, almost directly related to how stressful the last month of my life was. And while ridding myself of them completely, only to run out into the woods as the full moon rises and bleed directly into the earth wearing a floaty white dress is not really my goal (but cool if it's yours) to be able to experience less discomfort and more chill (though crying at unrequited love between tv show characters is allowed) is generally a good thing.
Which brings me to pleasure. Wait what?
Pleasure is an interesting topic for people interested in health, wellness, yoga, whatever the thing is.
So, when thinking about minimising PMS (or with anything, really) it's less about dealing with the symptoms as they arise, and more about looking at your month as a whole layering in more rest, supportive foods and practices, and also more pleasure, fun and stuff that lights you up. Notice what happens when you look at it this way:
What small things can I add in every day?
For me, the daily things are simple, easy, enjoyable and health supporting. Its yoga practice, rest, green juice, infusion drinking & dry brushing – I layered these over years. Start with one and go from there.
What can I add in every week?
Here's where I start to struggle and go into denial. This might look like massage, sauna, a restorative or yin yoga class, a sleep in or nap, a pedicure, a facial or a meal at a super fancy restaurant with your favourite person. On a budget? Make your own scrub from coffee ground, sugar and coconut oil and do a shower / scrub / hair wash / self massage / foot bath / savasana. Look at these weekly experiences not from a place of oh I should but a I really want, love and deserve this and it's good for me so I'm going to schedule it in.
Where am I denying myself pleasure and joy?
Do you love clothes and fashion but put off buying what you really love, or taking the time to get dressed up? Maybe it's going out all night dancing. Maybe its spending four hours curled up on the couch reading a really good book. Maybe it's more massage. Maybe it's going out for a drink with girlfriends. When we get really clear, we know when it's something we really want and love and have been denying ourselves in a never-ending quest to be THE HEALTHIEST AND GOODEST PERSON EVER, not something we're doing to numb or out of habit.
Link to Emmie's full article: https://www.emmierae.com/blog/pms
NB: Of course, if you have severe and debilitating PMS, work with a professional
Link to Emmie Rae's Instagram, Web.
To learn more about Ere Perez, click here.
Sigue aquí el blog en español.