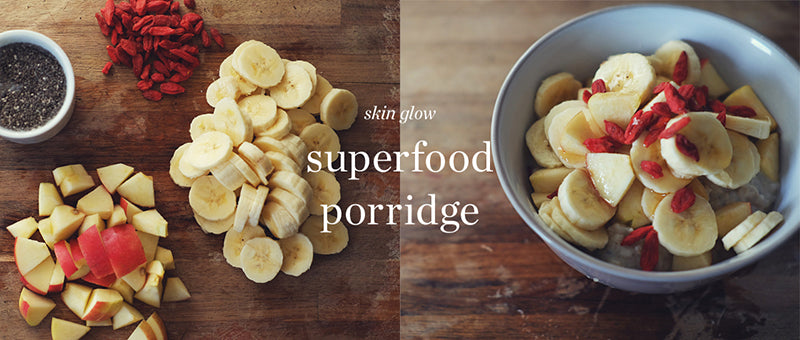 superfood porridge for skin glow
Liv Lundelius is a professional makeup artist who specializes in natural & organic beauty. She writes in Liv Life Mag, the holistic lifestyle blog. Here is her recipe for 'Superfood Porridge'.
'Porridge is my go-to breakfast and over the years I have perfected my recipe and added amazing superfoods to really help nourish that beautiful skin, I hope you enjoy!
Goji berries
They are rich in essential vitamins and minerals, including calcium, potassium, iron, zinc and selenium. These vitamins both help fight off free radicals & increase production of elastin and collagen. This means they are minimizing fine lines and keeping the skin firm and supple. These little gems also have a very high vitamin C content. Vitamin C speeds wound healing, encourages collagen production and protects skin from oxidative stress.
Oats
Porridge contains protein, zinc, iron, magnesium, antioxidants, vitamin B, vitamin E and phytochemicals. This package of essential nutrients can help boost your immune system and fight infection.
Chia seeds
Vitamin E is one of the best skin benefits of chia seeds. It is a powerful antioxidant that combats inflammation and wrinkles and it also keeps your skin supple, smooth, and soft. Omega 3 fats are found in chia seeds, just like fish, but chia actually contains more omega 3 fats than salmon! (and unlike fish chia seeds are not contaminated with toxic heavy metals like fish is!) Omega 3 fats combat acne, wrinkles, help promote smooth skin and also even keep your hair, nails, and metabolism in good shape too! Omega 3 fats are also great for depression and your hormones. Keeping your hormones healthy is so important for your skin. If you're stressed, your hormones are likely to get out of balance and your skin will suffer. Eating omega 3 fats helps to keep your hormones healthy and your skin glowing. So make sure you eat your chia seeds.
Non-Dairy Milk
Dairy often causes skin problems from acne to eczema. Replacing dairy with an all organic and sugar-free milk alternative like Rice Milk, Almond, Cashew or Coconut provides your body with nourishment without the side effects of consuming dairy.
You need: (2 servings)
◦ 2 cups organic rolled oats
◦ Milk of your choice ( We usually use Rice Milk, which is nice and light but sometimes also Almond, which makes the porridge super creamy, make sure it's free of sugar or any preservatives and additives, buy organic whenever possible)
◦ 1 tablespoon chia seeds
◦ 2 tablespoons organic high potency goji berries
◦ 1 organic apple of your choice (or banana)
◦ 2 tablespoons organic maple syrup
Pour the oats into a pot and cover with milk. Bring to boil then reduce to medium heat and cook for approx. 3 more minutes. Meanwhile, soak the chia seeds and goji berries in a bit of milk (unless you prefer them crunchy). Wash and cut the apple into small pieces.
Once the porridge is done, mix in the chia seeds and berries and give it a good stir in the pot before serving in breakfast bowls. Top with the fruit and maple syrup! TA-DA done.
Carrot Cake Porridge
I got this tip from a Swedish model I worked with on a photo shoot! To up my vegetable intake right in the morning and to keep me satisfied for longer I often grate 1 carrot into the porridge mixture while it's cooking, it tastes best with a little cinnamon added. Give it a try!
Article by Liv Lundelius: Liv Life Mag
To find more about Ere Perez: www.ereperez.com
Sigue aquí el blog en español.