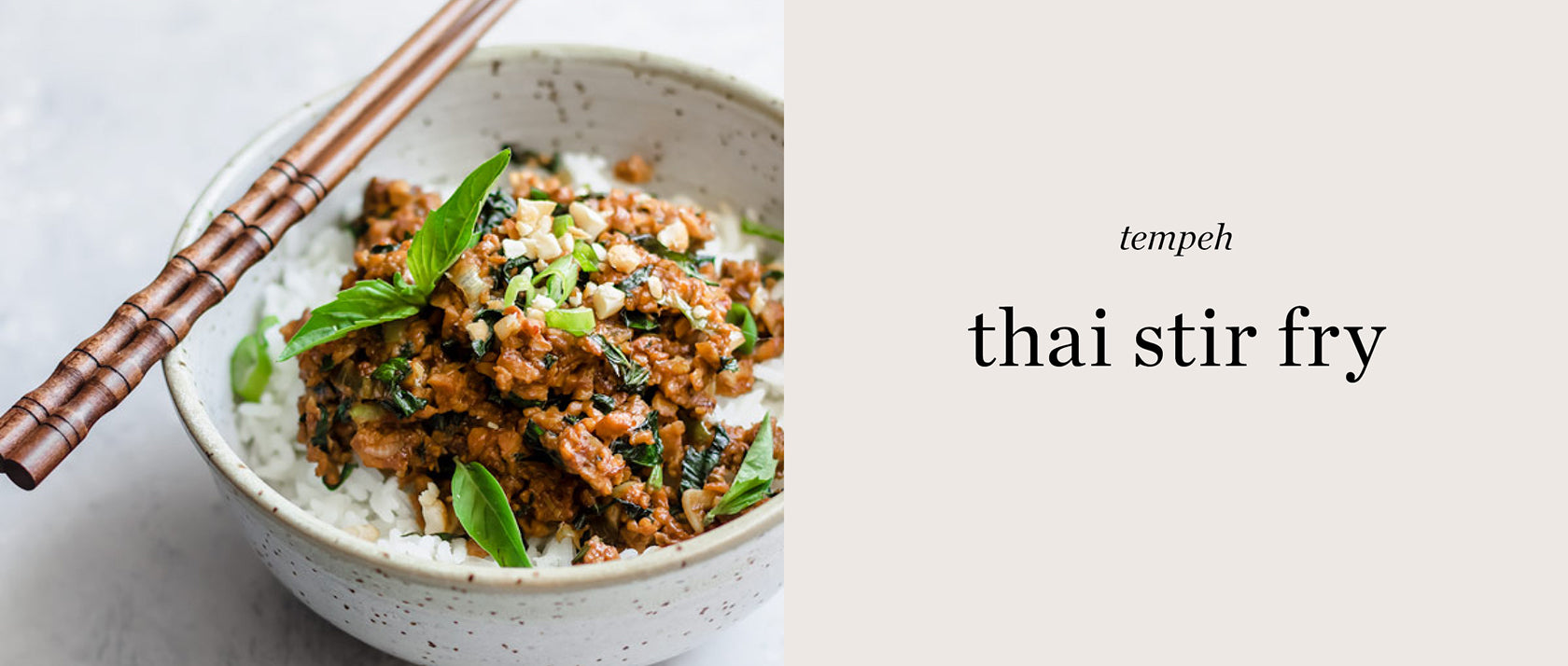 thai basil tempeh stir fry
Jessica Hoffman is a self-taught cook, peanut butter lover and yogi living in Montreal, Canada with her shiba inu pup (and #1 taste tester!). Jess started her blog "Choosing Chia" as a platform to share her healthy recipes and her love for cooking & wellness. In her blog you will find healthy vegetarian recipes with a focus on wholesome plant-based ingredients. You will also find plenty of options to suit vegan, gluten-free, and other diets too! 
"This Thai basil tempeh stir fry brings all the flavours of Thailand right into your home kitchen! This recipe is a healthy vegan version of the traditional Thai dish "pad krapow gai." (Thai basil chicken)
I'm so excited to kick off the week with this recipe for Thai basil tempeh stir fry!
This is my latest quick and easy go-to stir fry recipe for those busy days. What I love about this recipe is that it's a completely vegan, gluten-free and healthy version of the traditional dish, Thai basil chicken. I often use tofu in my stir-fry recipes, but I wanted to switch it up and use tempeh for this dish.
The tempeh in this recipe works so well for a few reasons. For one, it crumbles up nicely and resembles the look and texture of ground chicken. (what is used in the traditional dish) The tempeh also has a bit more of a meatier and nutty taste which complements the sauce and Thai basil so well!
Tempeh is the new kid on the block when it comes to superfoods, and I wouldn't be surprised if you start seeing it around more. Recently I've just started noticing major grocery store chains now carry tempeh.
So what's the deal with this superfood? and what is the difference between tofu and tempeh?
TOFU VS. TEMPEH
While both are made from soybeans, the process of how they are made is completely different.  Tofu is made by curdling fresh, hot soy milk with a coagulant, while tempeh is made through a process of fermenting the soybeans together in an incubator. Basically what you need to know is that tempeh is fermented and uses the whole soybean. It's less processed than tofu and it contains probiotics from the fermenting process. Popsugar shares a great chart comparing the differences!
Sounds pretty great right?
THAI BASIL
Next important ingredient in this recipe is the Thai basil. If you're not familiar with Thai basil it's a type of basil that has a slightly more anise (or licorice) flavour than regular basil. It is my all time favourite herb. You can find this ingredient at most Asian grocery stores, or even at some farmer's markets where you can find a plant of it to grow in your garden. If you can't find any Thai basil for this recipe, regular basil will do just fine and also taste great, but if you can find it, I definitely recommend using it! It really is the star ingredient in this dish!
SOME NOTES ABOUT THE SAUCE
Traditionally this recipe is made with oyster sauce, which well, contains oysters in it. But I've found a great vegetarian alternative to traditional oyster sauce that is made with mushrooms instead. It still has that savoury umami flavour and is perfect for vegetarian/vegan diets. If you can't find vegetarian oyster sauce, (I've linked one in the recipe you find on Amazon) you can substitute hoisin sauce in the recipe.
Another important ingredient in the sauce I want to talk about is the dark soy sauce. If you've never used dark soy sauce in your cooking, you need to get yourself a bottle and start! Dark soy sauce is sweeter and less salty in taste than regular soy sauce, and it also has a deep rich colour. It's used for many Thai recipes like pad see ew. If you can't find dark soy sauce, you can just substitute with some more regular soy sauce. Also, make sure to use a gluten-free certified soy sauce if you want to make this recipe gluten-free!
THIS THAI BASIL TEMPEH STIR FRY IS:
◦ 
gluten-free (*use gluten-free soy sauce)
I like to serve this Thai basil tempeh stir fry on top of jasmine rice, which is what is traditionally used in Thailand. Though you can serve this up on whatever type of rice you like. (Or even rice noodles!)
One thing I love about this recipe is that you can also prepare the ingredients in advance and then cook it up quickly when dinner comes around. Whenever I food prep, I usually make a few batches of quinoa and rice or have on hand to use during the week. This way, I can avoid having to cook up these grains last minute when I'm in need of a quick dinner.
If you're looking to save time on this recipe, prepare your rice in advance and store it in a container in the fridge. You can also even prepare the sauce ingredients in advance and keep it stored in a jar in the fridge. Then all you need to do is toss the tempeh and sauce in a pan and put that on top of your already cooked rice! (Just a little time-saving hack I like to use for those extra busy days when you don't have much time to cook.)
DESCRIPTION
Bring the flavours of Thailand right into your home kitchen! This Thai basil tempeh is a healthy vegan dish loaded with bold Thai flavour.
INGREDIENTS
◦ 
1 block of tempeh (approx 200g)
◦ 
2 green onions, chopped
◦ 
3 garlic cloves, chopped
◦ 
1/2 cup Thai basil, finely chopped
◦ 
1 cup of 
jasmine rice
, cooked according to package directions
Sauce
INSTRUCTIONS
1. Place the block of tempeh in a saucepan and cover with water. Bring to a boil, then cover and let simmer for 10 minutes. Remove the tempeh from the pan. (*This step is important to remove any bitter flavour the tempeh might have!)
2. Add the tempeh to a food processor and pulse until chopped into small bits.
3. Heat the vegetable oil in a non-stick pan on medium-high heat, then add the tempeh and let cook for 2-3 minutes. (Move the tempeh around with a wooden spoon so it doesn't stick)
4. Next, reduce heat to medium and add the green onions, garlic and Thai basil. Stir together.
5. Add all the sauce ingredients to the pan and mix together
6. Serve on top of Jasmine rice and top with crushed cashews.
NOTES
Remember to taste the tempeh after adding the sauce and adjust accordingly! Depending on your tempeh and amount you may need a little more soy sauce, maple syrup, spice…etc.
Sometimes tempeh can have a slightly bitter flavour. Steaming it before cooking helps to get rid of this bitterness. It also softens the tempeh so it can more easily absorb the sauce in this recipe!
If you can't find vegetarian oyster sauce you can sub hoisin sauce. (or regular oyster sauce if your not vegan/vegetarian)"
Recipe by Jessica Hoffman: Instagram, Blog.
To learn more about Ere Perez Natural Cosmetics, click here.
Sigue aquí el blog en español.