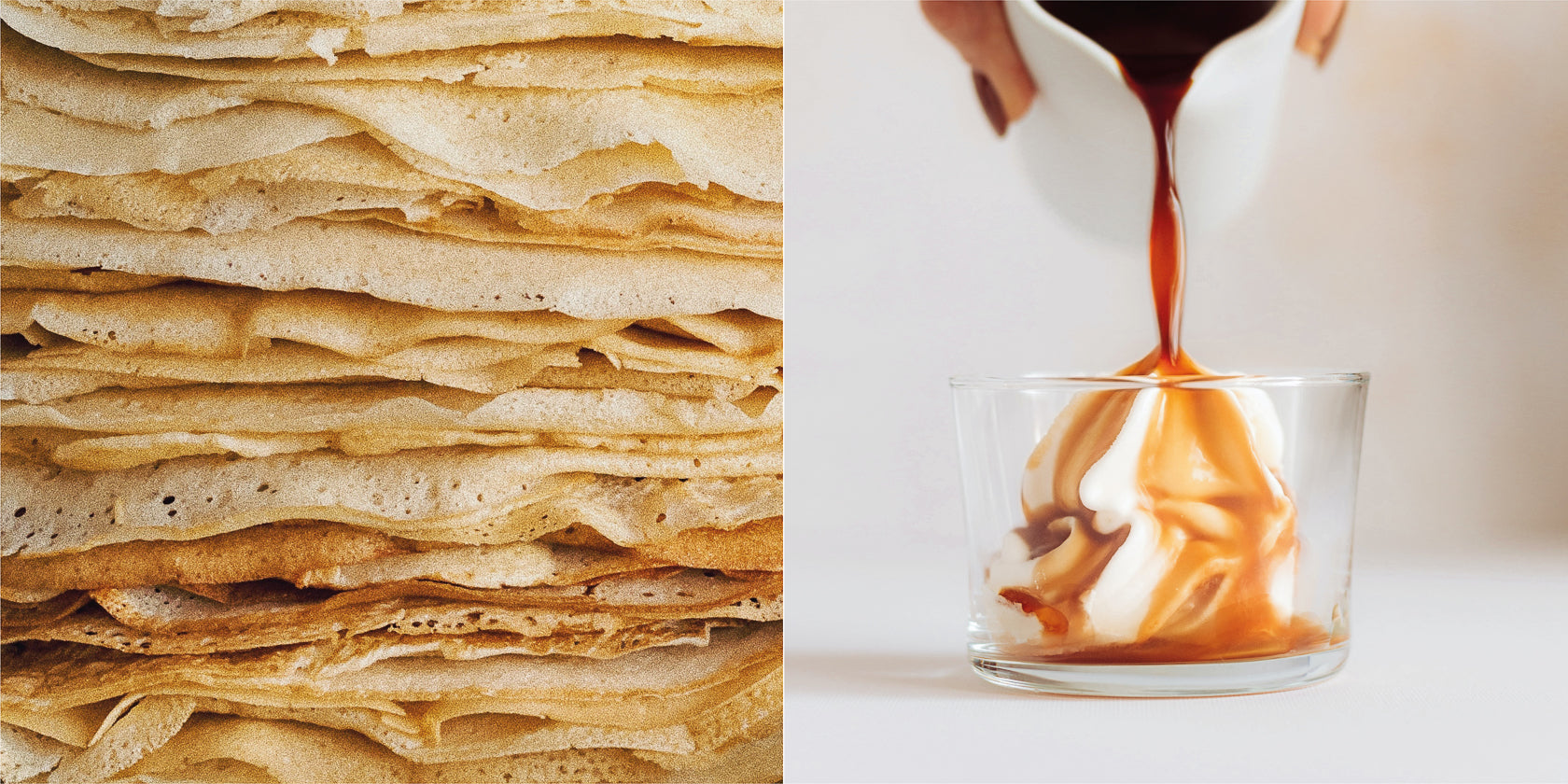 Let's get sweet! Delicious vegan desserts for this Valentine's Day + Galentine's Day.

We want to celebrate February 14th, whether you are all loved up for Valentine´s Day, relaxing into some self-love rituals or having a fun night with friends. 
If you want to add a little sweetness to the day - we have two delicious, easy and vegan recipes for you to enjoy this Valentine's Day.

Caramel Apple Crepes

Ingredients:
Crepe dough:
• 2 cups all-purpose flour
• 2 ¼ cups non-dairy milk
• 2 tablespoons of oil
• 2-4 tablespoons of sugar (to taste)
• Liquid vanilla (to taste)

Filling:
• 4 golden apples
• Cinnamon powder
• Sugar to taste)
• Pinch of salt

Toppings:
• Maple syrup
• Cinnamon powder

Instructions:
Make sure all the ingredients are at room temperature before you start. If your milk is too cold you might get lumps in the mixture.

Filling:
1. Peel the apples, remove the seeds and cut into thin pieces.
2. In a pan, add the apples with cinnamon and water. Let this boil for a few minutes and just when it starts to caramelize, change to low heat and add a pinch of salt.
3. Add your filling and decorate with maple syrup and cinnamon powder.
4. Enjoy!

Crepe Mix:
1. In a large bowl, add the flour and mix for a few seconds to get rid of any large lumps.
2. Add your vanilla, sugar, oil and non-dairy milk to the bowl.
3. Mix to get a lump-free dough. The texture should be a bit thick, but lighter than pancake batter.
4. Pre-heat a large nonstick skillet or pan over medium/high heat.
5. Rub some oil onto the pan with a piece of absorbent paper. Add a spoonful of batter into the pan and gently rotate to spread the mix as thinly as possible.
6. Let it cook for 2-3 minutes per side. You'll know you can turn it around when the bottom is crispy and is easy to peel off the pan.
7. Turn it over and cook for 1 more minute on the other side. Prepare a plate to add your filling.


 
Vegan affogato

Ingredients:
• Vegan vanilla ice cream
• Caramel sauce with peanut butter. You can easily make it at home! Just mix non-dairy milk, peanut butter, maple syrup, coconut oil and a pinch of vanilla.
• Dark vegan chocolate. Use chips, finely grated chocolate or chunky pieces.
• Coffee of your choice

Instructions:
1. Make a cup of espresso with the coffee of your choice and let it cool for a few minutes.
2. Add a spoonful of vanilla ice cream into a cup, filling it a little more than half.
3. Add a (generous!) layer of dark vegan chocolate on top of the vanilla ice cream.
4. Pour the espresso over the ice cream.
5. Use the caramel sauce to decorate and add even more flavor.
6. Enjoy!

Tell us about your dream Valentine's Day! And if you make any of these recipes, don't forget to tag us on our socials @ereperezcosmetics with your results!

Remember that even though February 14 is a very beautiful day, we can celebrate self-love, every day!