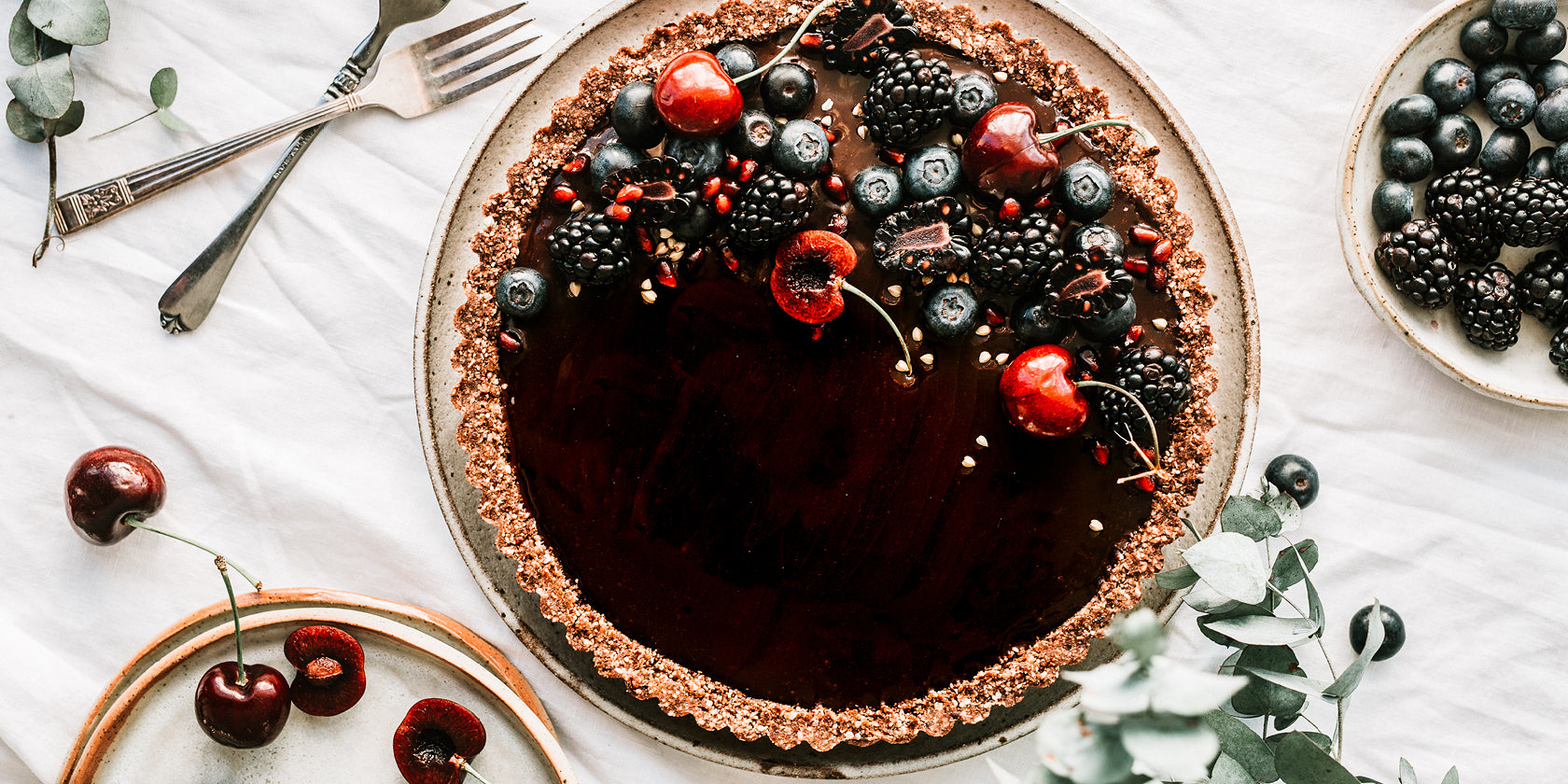 The ultimate indulgent treat that is deliciously rich and deeply satisfying. This ganache is silky smooth, creamy and decadent. It's so easy to make and pairs perfectly with fresh berries and cherries.

Prep: 20 minutes | Serves: 8 | Equipment: food processor, blender, 23 cm (9 in) round fluted pie tin with removable base | Soak: 4 hours | Set: overnight

Base
• 1¼ cups desiccated coconut
• 3/4 cup dried activated buckwheat
• 1/4 cup cacao powder
• 2 tablespoons cacao nibs
• 6 medjool dates, pitted
• 2 tablespoons coconut oil, melted
• 1 tablespoon filtered water

Filling
• 1⅔ cups cashews, soaked 4 hours
• 1/3 cup coconut syrup
• 1/3 cup cacao powder
• 2/3 cup coconut milk
• 1/2 cup coconut oil, melted
• pinch of vanilla powder
• pinch of celtic salt

To Serve
Fresh berries and cherries




For the base
Place all the dry ingredients in a food processor and process until it resembles a crumb-like consistency. Add the coconut oil and water and process until combined and the crust can hold together when pressed. Add a dash more water if mixture is too dry.

Press into the fluted pie dish and set aside.

For the filling
Place all ingredients except the coconut oil in a blender and blend until smooth. Stream in the coconut oil and blend until well incorporated. Pour into the pie dish and place in the freezer for 6 hours to set or in the refrigerator overnight.

To serve, decorate with fresh berries.

Note
You can play around with different flavours with this chocolate tart as chocolate pairs well with so many things. Once you have tried the classic version some combinations that work well are:
• chocolate and orange
• chocolate and mint
• chocolate and raspberry
• chocolate and coffee

Have fun exploring different variations – even adding some superfoods or medicinal mushrooms works really well.
enjoy more earth to table recipes.