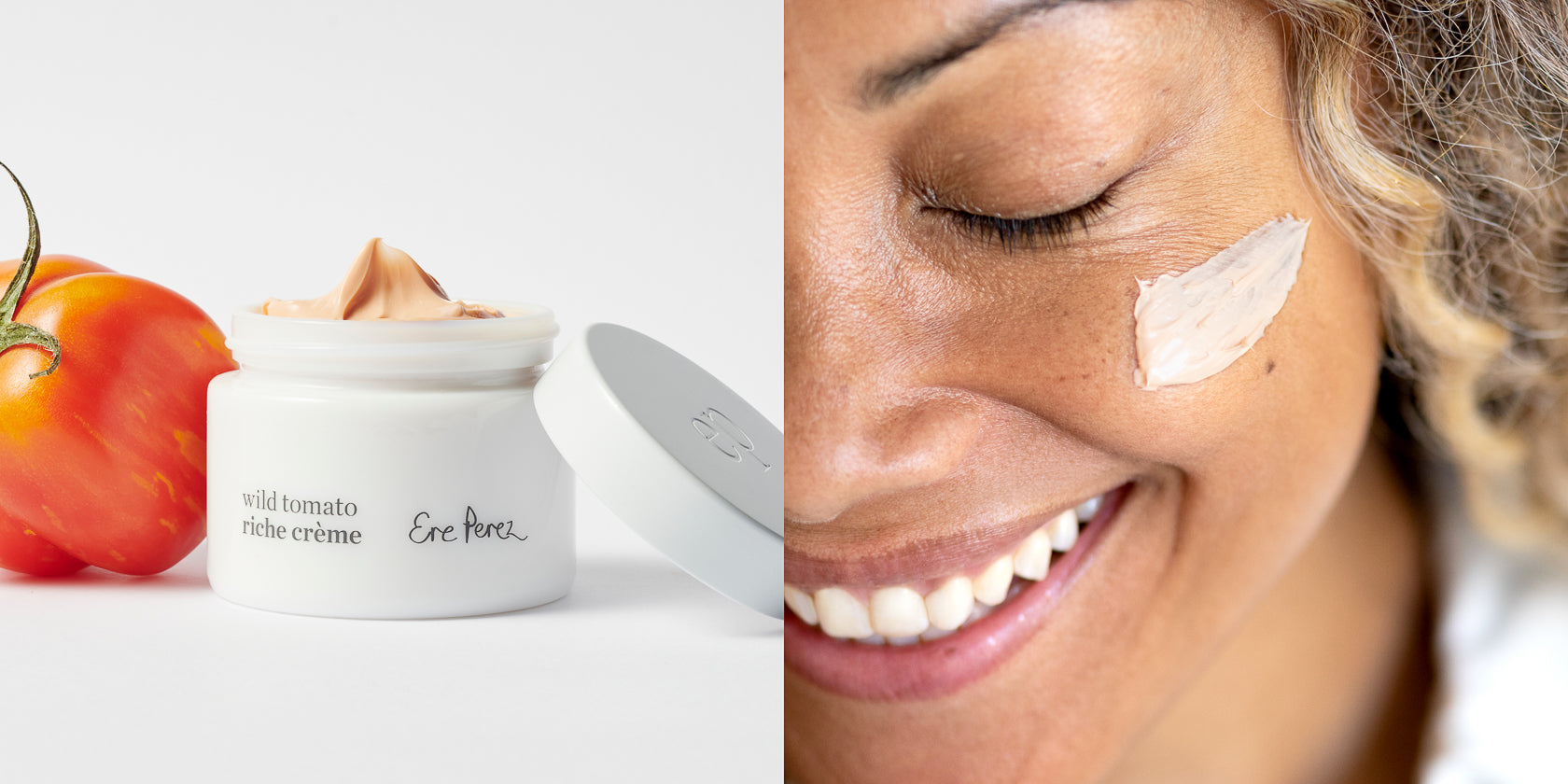 botanical youthful crème with earth friendly packaging
 
New Wild Tomato Riche Crème joins the EP skincare family with its beautiful blend of antioxidants, vitamins c & e, skin-plumping lycopene & hyaluronic acid for overnight hydration that restores, brightens & revitalises skin.

The ultra-luxe multi-use face crème brilliantly restores & quenches dehydrated, fatigued skin overnight. Use day or night as a rich moisturiser or twice weekly as a hydrating face mask, it's like a long drink of water for the skin!
 
 
Why tomato seed oil?
• full of skin-smoothing antioxidants & lycopene
• helps improve elasticity & reduce fine lines
• rich in linoleic acid to help soothe skin & tighten pores
• nourishes & deeply hydrates
• reduce excessive sebum & breakouts
• sustainably sourced

Teamed with skin loving hyaluronic acid, cacao seed butter & chamomile flower oil, skin is -plumped, de-stressed and bright. Plus, the subtle calming smell of lavender oil helps assist with reducing blemishes.

Wild Tomato Riche Crème is a rejuvenating moisturiser & hydrating face mask in one, carefully formulated with antioxidants and lycopene to help brighten complexion, reduce fine lines and reveal beautiful dewy glow.

Aside from these incredible benefits Wild Tomato Riche Crème is also 100% plastic free!

Our planet cannot digest plastic, which is why our new luxe crème is packaged in a beautiful glass pot with aluminium lids! These 'mono-elements' are purposely manufactured to be infinitely recycled, as we step towards a 90% plastic free brand by 2023.

No unnecessary waste allows our entire packaging to be recyclable from home. Even the extra liner, under the lid, is aluminium! A world first!

These sealing discs aren't just there to avoid an ugly mess after opening the jar but also helps prolong the shelf life of your moisturiser. It helps block out light, heat & oxygen that can break down the active ingredients in your creams.



Ere Perez continues to create botanical skincare & makeup that won't harm the earth, with ingredients that are made to perform & packaging that is eco conscious & as sustainable as possible. Add high performance & affordable Wild Tomato Riche Crème to your existing botanical skincare routine. ​

Sustainable crème that loves your skin & loves the earth. Always cruelty free, forever toxin free, supremely guilt free skincare.

Pair with our winning Cranberry Lip & Eye Butter for delicate skin areas. 
Shop Wild Tomato Riche Crème!