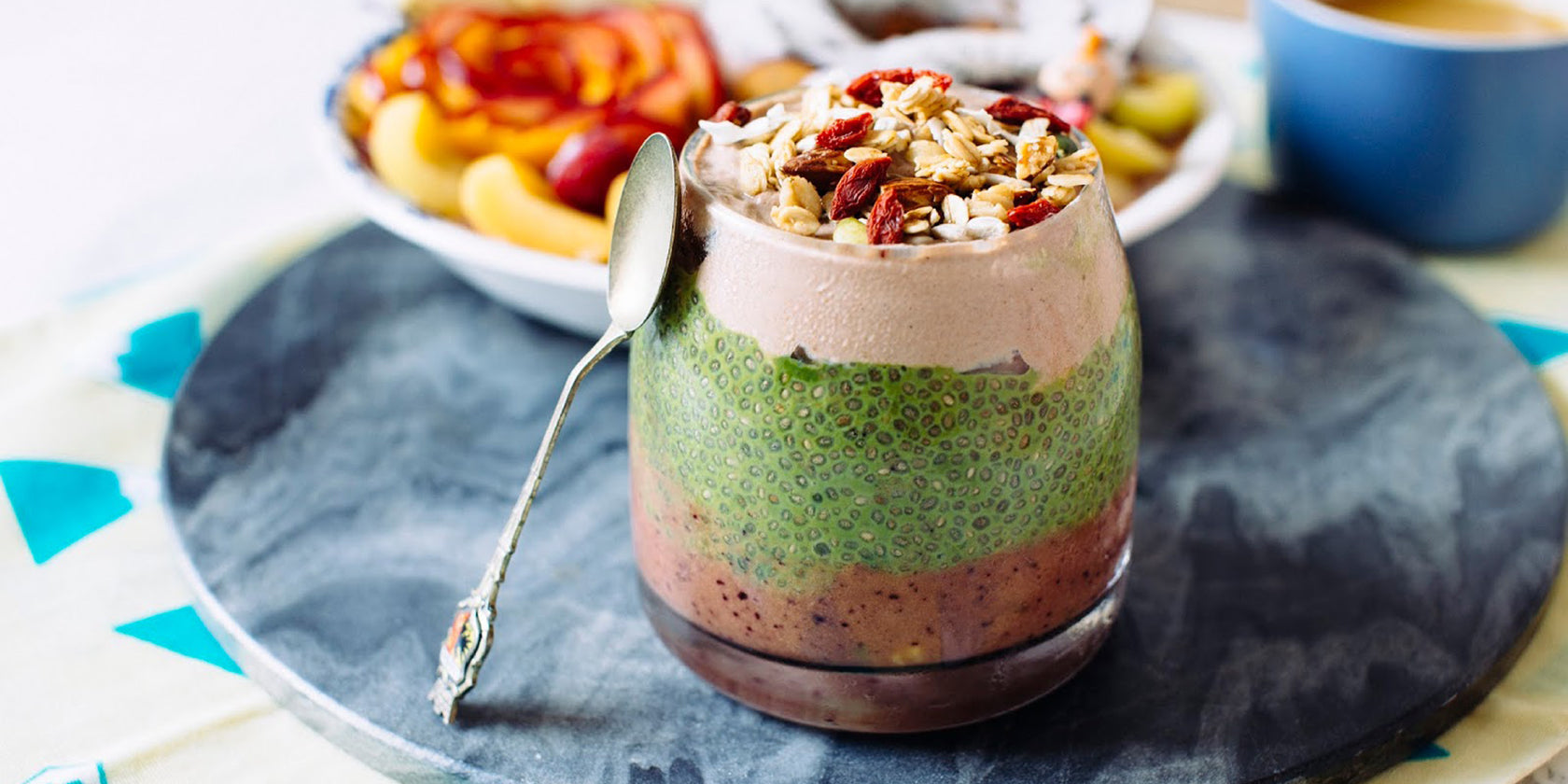 acai, cacao and moringa matcha breakfast parfait
Another beautiful, vegan and gluten-free recipe by blogger Angie Li from The Floral Vegan, using our beloved ingredient Moringa.
"Recently I have been making a lot of breakfast parfait because not only do they look pretty (who doesn't fancy a pretty breakfast?), but I also enjoy experimenting with different flavours combination! Here is one of my favourite breakfasts that I have been making A LOT lately. These recipes may look a bit more complicated than other recipes, but once you prepared all the layers, you can have these lovely parfaits whipped up within 5 minutes, and these recipes make more than one parfait too!
Ingredients ( Serves 2-3):
Acai Peanut Butter Layer (make it in the morning): 
◦ 
1/2 cup of berries (I used raspberries and blueberries)
◦ 
1/4 cup plant milk (I used 
Oatly
)
◦ 
1 cup chopped frozen mango
Moringa Matcha Chia Pudding (overnight prep required): 
◦ 
1 cup plant milk (I used 
Oatly
)
◦ 
Chocolate Tofu Mousse (overnight prep recommended)
◦ 
1 heaped Tbsp raw cacao powder
◦ 
1/2 block of silken tofu
◦ 
1 Tbsp nut butter (I used brazil but butter)
Directions:
Acai Peanut Butter Layer : Place everything into a high-speed blender and blend until creamy and fluffy. The consistency should be like ice cream, so feel free to add more liquid if it's too thick.

Moringa Matcha Chia Pudding: The night before you want to have this parfait, mix everything in a clean glass jar. Let it sit for 5 minutes, and then stir well again to prevent it becoming clumpy. Leave it in the fridge overnight for it to thicken.

Chocolate Tofu Mousse: Place everything in a food processor or blender and blend until smooth. The consistency should resemble that of yogurt. So adjust the amount of plant milk if needed. Let it sit overnight in the fridge for the flavors to develop.

Assembling The Breakfast Parfait
First, using a small spoon, carefully spoon the acai mixture to the bottom of a glass jar or cup. Followed by the moringa matcha chia pudding and chocolate tofu mousse layer. Lastly, top with your choice of toppings. Here I used goji berries and salted maple muesli from Farmer Jo ?
Recipe by Angie Li: The Floral Vegan.
Sigue aquí el blog en español.