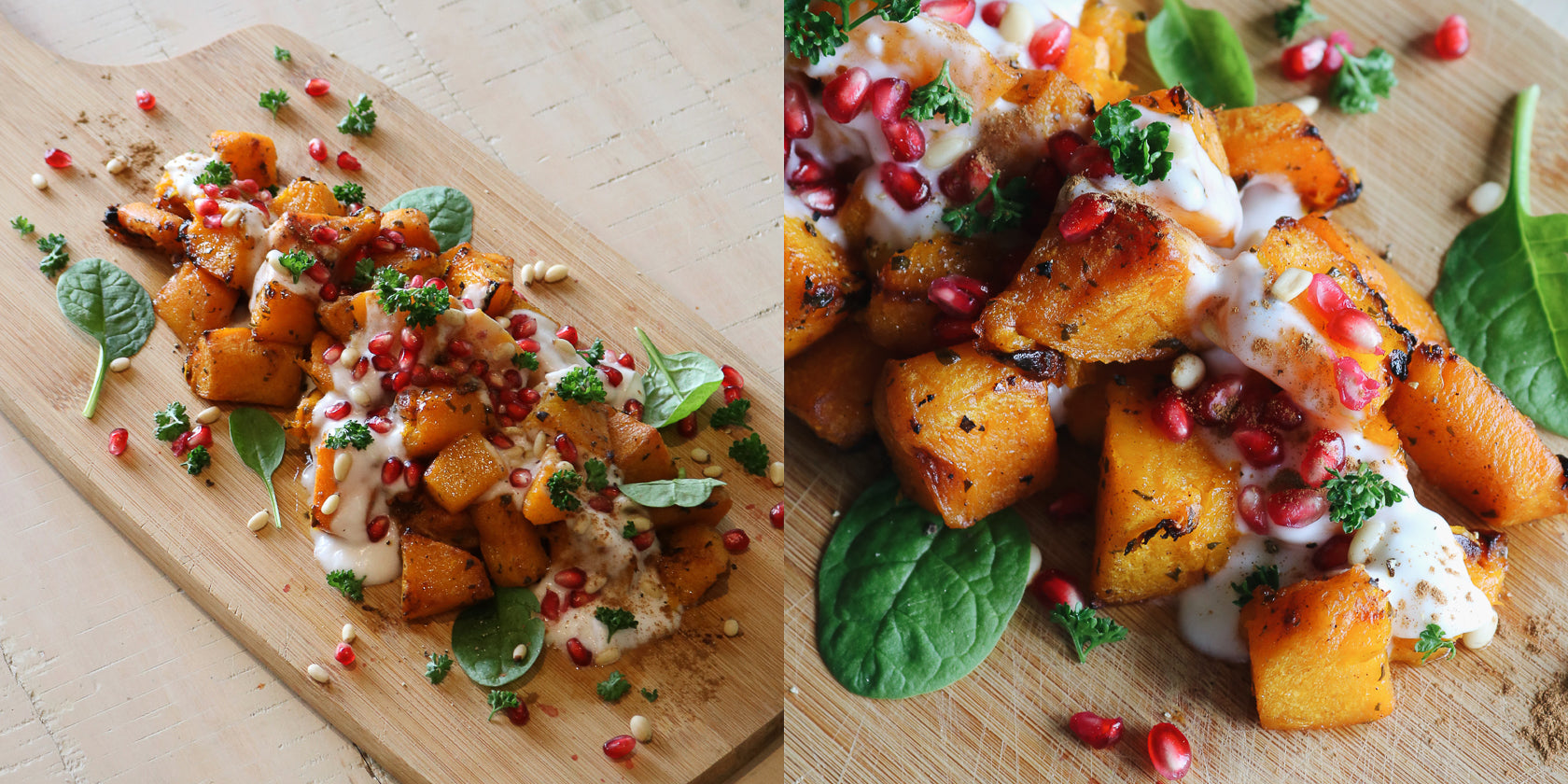 holiday-spiced roasted pumpkin with lemon sauce & pomegranate

Here's an effortlessly delicious recipe to elevate a simple vegetable — pumpkin, into a holiday favourite. Marinated in a pinch of cinnamon and nutmeg, served with a lemon yoghurt sauce, topped with crunchy pomegranate seeds, parsley and pine nuts, you have a flavourful dish with a Christmas spin and holiday colours!

Roasted pumpkin is already delightful, but you'll love it even more with these few basic elements added on top. This meal is perfect in a lunch or dinner as a side or main, and pairs quite well with a leafy salad or grain-based dish. This recipe is entirely vegan, gluten free, soy free, and refined sugar free. Continue reading for the recipe!

Ingredients
For the pumpkin you will need:
• 1 whole medium sized pumpkin or 1.2 kg of pumpkin
• 5 tbsp coconut oil
• 1 tsp maple syrup
• 1 minced garlic clove | finely minced using garlic press
• 1/4 tsp sea salt
• 1/4 tsp pepper
• 1/4 tsp cinnamon
• 1/4 tsp nutmeg
• 1 tbsp lemon juice
• 1/2 tsp lemon zest | finely grated
• 1 tbsp parsley | finely chopped

For the lemon yoghurt sauce you will need:
• 3/4 cup coconut yoghurt
• 1 tbsp lemon juice | add according to your desired level of sourness or thickness
• 1/4 tsp sea salt
• 1/2 small garlic clove | finely minced using garlic press

For your toppings you will need:
• 1/4 cup pomegranate seeds
• 2 tsp pine nuts | or other nuts of choice
• 2 tsp parsley | finely chopped




Method
1. Cut the skin off the pumpkin, then cut into thick 3cm slices.

2. For neat cubes, cut 3cm thick slices around the seeds, cutting as close to the seeds as you can to minimise wastage. We love being as sustainable in the kitchen as we can at EP!

3. In a large bowl, toss the pumpkin cubes with the coconut oil (you may have to melt the coconut oil first if you're in a cool climate), maple syrup, garlic, salt, pepper, cinnamon, nutmeg, lemon juice, lemon zest, and parsley until well combined and coated. You may need to get your hands in there!

4. Spread out the pumpkin either in a ceramic casserole dish or on a parchment paper-lined tray.

5. Roast in a hot oven at 220°C to achieve a golden, crispy coating on the pumpkin in the time it takes for the inside to cook through. (The high temperature is key – if you use a lower temperature, it is likely that by the time the pumpkin becomes golden, the inside will be too mushy, which we don't want!)

6. The pumpkin is ready when it's fully cooked through and you have some beautiful golden edges and surfaces. Cook for 20 minutes, flip the pieces, and then place them back in for another 10 minutes.

7. To create your lemon yoghurt sauce, mix the coconut yoghurt, lemon juice, garlic, and salt in a small bowl. Set aside for about 10 minutes to allow all the flavours to absorb into the yoghurt.

8. To prepare your toppings, cut open a pomegranate into sections and pull the rind backwards to release the seeds. (Tip! Doing this into a bowl of cold water will prevent the juice from splattering everywhere and reduce mess. Separate the seeds from the skin and set aside).

9. To serve, pile the roasted pumpkin in a mound on a plate. Drizzle over the lemon yoghurt sauce, then sprinkle the pomegranate seeds, pine nuts, and parsley on top!

10. This recipe is best served hot or warm, but on an Aussie summer's day, it's most enjoyable served at room temperature. Just cool pumpkin, then dress and garnish just before serving.

Enjoy!

Thank you so much for reading, we hope you enjoy this recipe with your loved ones this festive season. Cheers to health, the ending of another year, and yummy plant based meals!

To stay in the loop with our community and for more healthy recipes sent straight to your inbox, sign up to our newsletter, and enjoy 10% off on your next online order.
Thank you Olivia Harper, 
@olivia.harper, olivia-harper.com