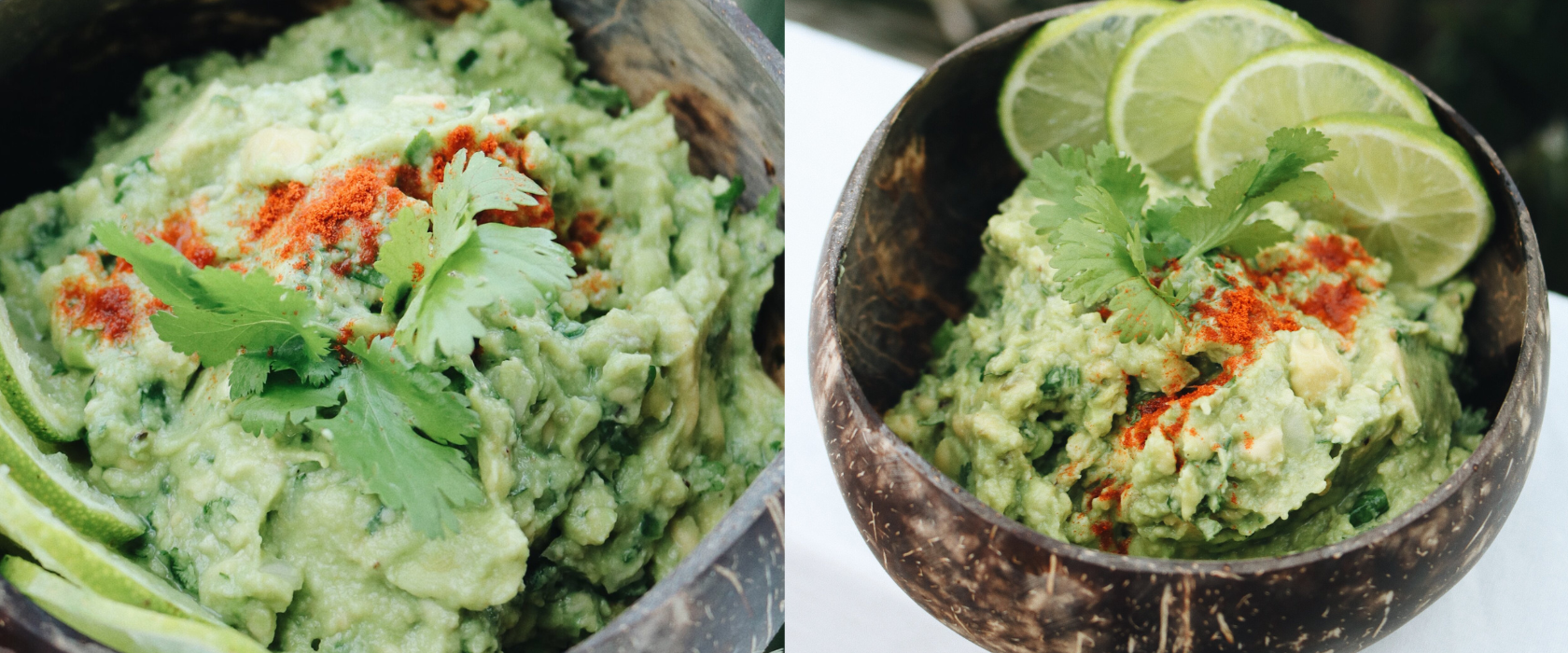 I'm not one for hyperbole, but this truly is the best guacamole recipe on the planet!

When it comes to crowd-pleasing guacamole the key is to not get too fancy. Guacamole is meant to be easy to make and delicious. Plain and simple. It's a blend of a few high-quality ingredients with flavours that melt together beautifully.

The best guacamole starts with the freshest ingredients - look for avocados that are ripe, but firm! Guacamole doesn't need oil. Just let the avocados do the talking.

Ingredients
serves 4
4 ripe avocados
Juice of half a lime
1/2 tsp flaked sea salt
1/2 tsp black pepper
1/2 tsp red chilli, seed & finely diced
1/4 cup coriander, diced
1/4 cup diced brown onion
Method
1. Slice four ripe avocados in half, remove the pit and scoop them into a mixing bowl. Gently mash with a fork.

Guac tip: If you love your guac more on the creamier side, mix for longer!
2. Add in lime juice, flaked sea salt, pepper, chilli, coriander, and onion. Stir everything together.
3. Serve with crackers, or inside wraps & burritos, on top of salads, or even as a quick and simple snack with chopped carrot, capsicum & sugar snap peas.
Keep your guac green!
On the rare occasion you haven't eaten the whole bowl, you'll need to store the guacamole in the fridge, but as we all know, avocado oxidizes and turns brown pretty quickly. The lime juice helps to slow this process, but it's inevitable that leftover guacamole will eventually start to brown.
Rather than using plastic wrap, I stumbled on this hack – and it's brilliant!
Place your leftover guacamole in a storage container and pat it down firmly with a spoon so it's nice and flat on top.
Add about 1/2 inch of water on top (I used cold water).
Place the lid on the storage container and store it in the fridge. That's it!
When you want to enjoy the guacamole, drain the water off the top, give it a stir and you're good to go.
For delicious vegan recipes straight to your inbox, beauty news and exclusive VIP gifts, sign up to EP newsletter and enjoy 15% off on your next online order.
Thank you Olivia Harper, 
olivia-harper.com