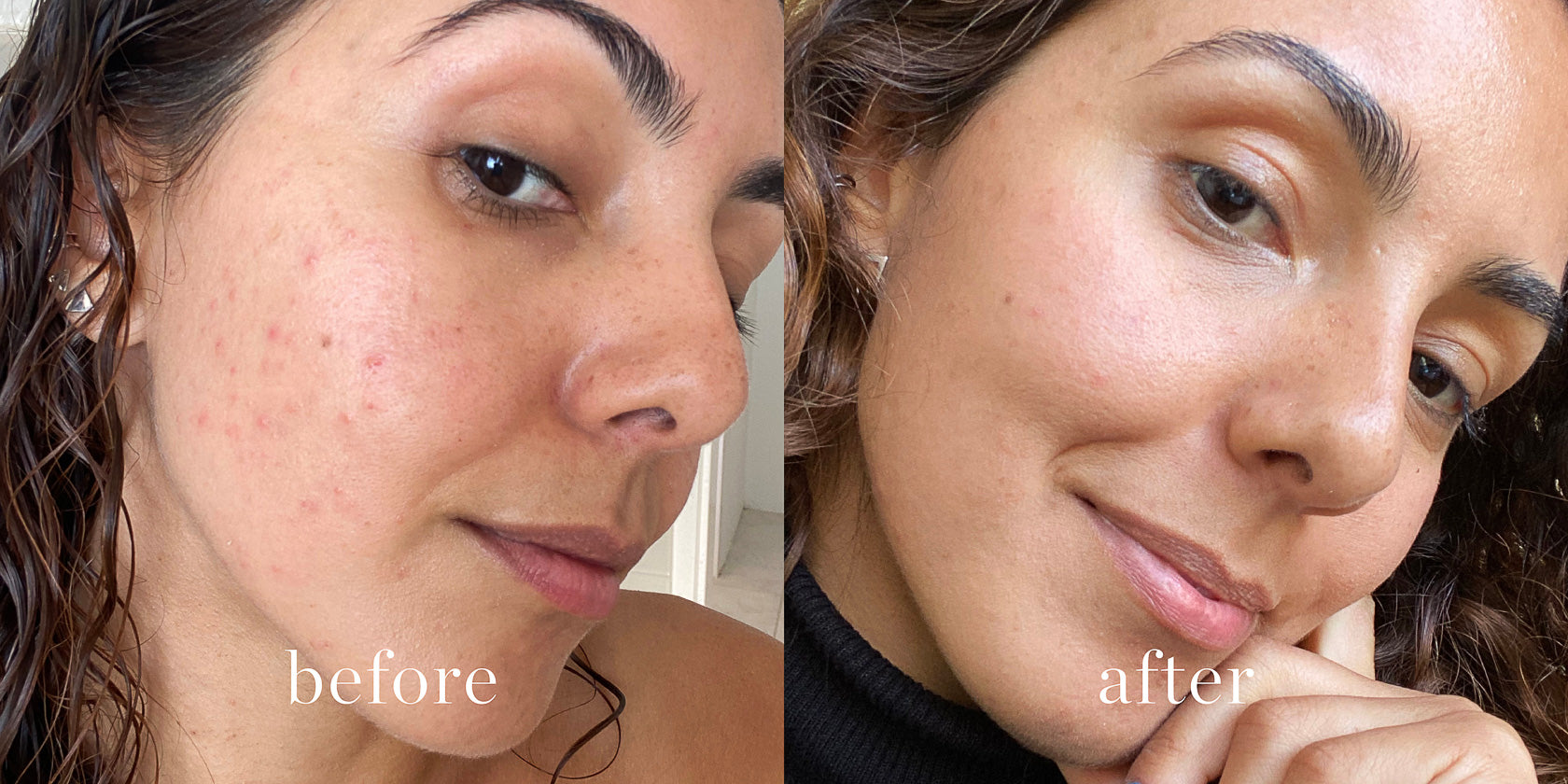 clearing acne with natural skincare products

It feels surreal to be writing this.

For years I have been battling acne, breakouts and pigmentation. Since my teenage years, I had the usual hormonal breakouts on my forehead, chin and back. But they seemed to worsen. My confidence and mood dropped, and with no way to improve my skin, I resorted to acne medical treatment - Roaccutane.

The treatment worked, and I found relief for years to come in my home of Brazil. But since relocating to Australia, my skin began to break out again.

When I moved to Sydney three years ago, I noticed a shift of my skin becoming incredibly oily, causing my acne to worsen - like before - but worse. The change of weather, my diet, my lifestyle, I knew it all contributed to my skin. I decided to make a change.
As a makeup artist, I was beginning to learn the importance of ingredients in my beauty products and what I was applying to skin. I began to avoid toxic ingredients, like parabens, SLSs and synthetic fragrances in my skincare, and in my makeup. That's how I discovered Ere Perez Natural Cosmetics.




I noticed a huge shift in my skin, and after just two weeks of using only natural makeup I observed that my acne has drastically reduced. In the winter I learned to keep my skin more hydrated, and began to change to natural skincare, and understanding the benefit of using facial oils on oily skin types.

I educated myself on natural acne fighting ingredients like hyaluronic acid, vitamin A, vitamin E and lactic acid and changed my routine. My natural vegan skincare products help balance oils, calm inflammation and regenerate my skin.




AM
1. Cleanse with a natural gentle gel cleanser.

2. After cleansing, I apply Quandong Green Booster Serum to calm inflammations & balance my skin's oils. It's packed full of an antioxidant superfoods like spinach, raspberry seed oil and lactic acid which improves my uneven skin tone and promote skin renewal. Plus it's fragrance free!

3. I then moisturise with Moringa All-Beauty Crème. Moringa is full of vitamin A, which helps renew the skin and Vitamin E to nourish, detoxify and hydrate. It's lightweight calming formula is gentle on my skin and doesn't break me out!


PM
1. Cleanse as before, then second cleanse with Ginkgo Micellar Water. The aloe vera is calming & ginkgo reduces irritation and inflammation – perfect for my acne prone skin.

2. On an evening, I feel a need more intense hydration, so I like to apply the Australian Blue Cypress Face Nectar. It's anti-bacterial & non-comedogenic formula is skin nourishing. Infused with Australian blue cypress and cedarwood to detoxify the skin and visibly improve your complexion.

3. Again, I follow with Moringa All-Beauty Crème I wake up to super hydrated and glowy skin. It doesn't feel greasy or sticky, & my skin looks clear and feels smooth - perfect before applying my makeup! 
It's been 18 months since changing my skincare routine and I now consider my acne controlled. I now focus my healthy habits on eating well, drinking lots of water and taking care of my mind.
My journey to fight breakouts has been long and not without its challenges but I'm proud of myself and working on loving the skin I'm in, naturally.

See real skin, real results using our Clear Skin Set.



Thanks Bruna Reis
@brunareiss
product photos courtesy of:
@beautyandtreasures
@ashley_alchemy