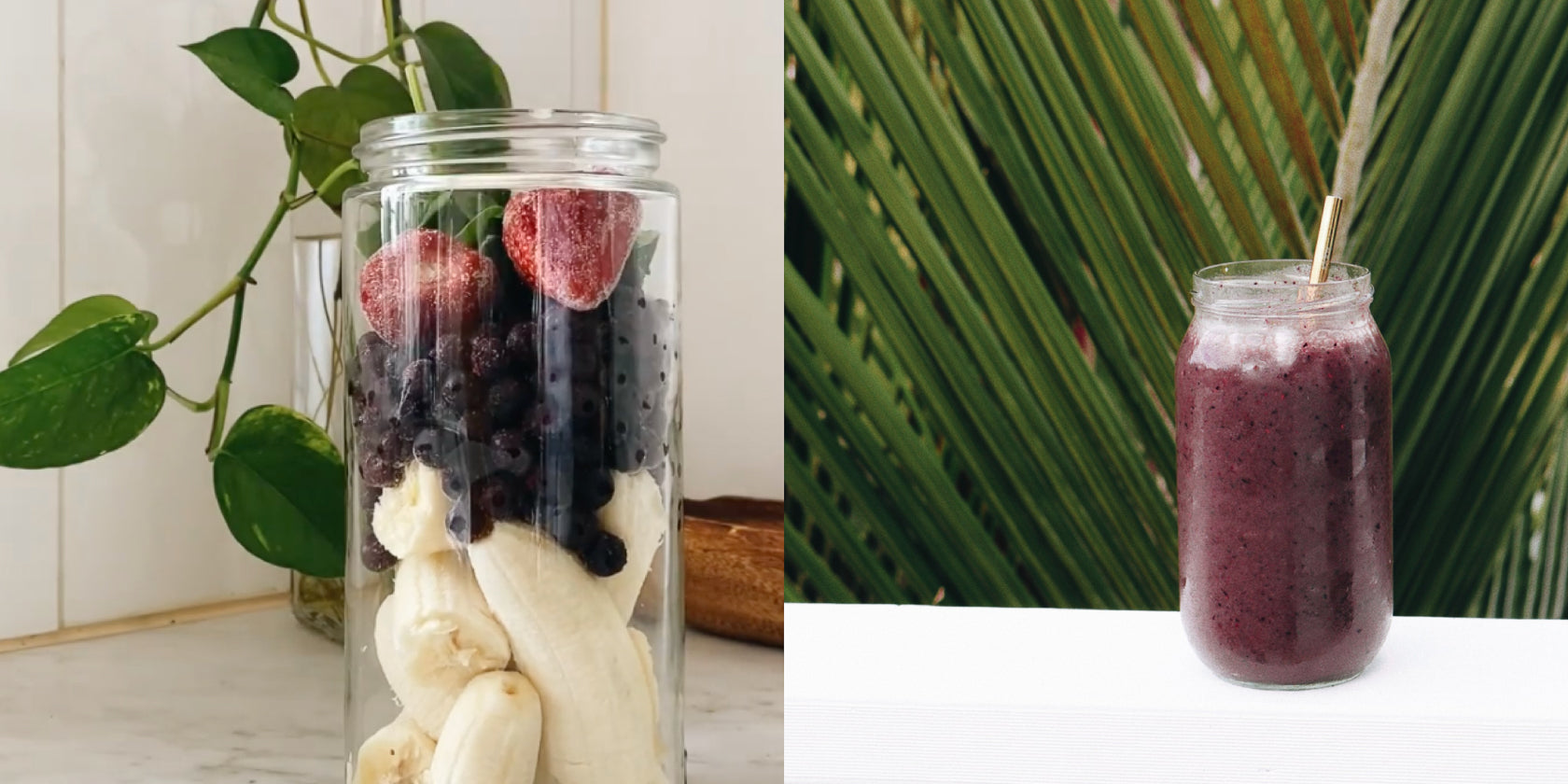 I'm so excited to be sharing this recipe with you all today because this smoothie is not only delicious, it is DENSE in nutrients from all the superfoods blended in. I make sure to have this daily and it's usually something I'll make in the afternoon… I look forward to it alllll day haha. I've tweaked and altered this smoothie recipe for a few months now, but I have finally created something that's super enjoyable and has superfoods that combine well together.

When I'm drinking this consistently, I certainly can feel the benefits in my body. My skin is brighter, my eyes are whiter, my digestion is stronger, my energy levels are optimal, and I feel stronger too!

Continue reading to learn about the nutritional value of the ingredients used in the smoothie and the recipe.✨

Some powerful superfoods I use in my smoothie & their benefits:

1. Wild Blueberries
• highest antioxidant capacities among all fruits
• supports brain health
• supports skin health
• detoxes heavy metals

2. Akau Life Irish Sea Moss Gel (use code 'olivia10' for 10% off!)
• contains 92 of the 102 minerals
• soothes digestive tract
• natural decongestant
• strengthens immune system
• nourishes skin + 'natures collagen'

3. Spirulina
• protein source
• detoxes heavy metals
• supports a healthy microbiome
• boosts metabolism
• anti-inflammatory

4. Camu Camu Berry Powder
• highest in vitamin c than any other food on the planet
• mood balancing
• strengthens immune system
• promotes eye health
• promotes clear skin


5. Kangen Water 
(to purchase a Kangen water machine, contact me here)
• concentrated with molecular hydrogen, one of the most powerful antioxidants on earth
• alkalising
• reverses oxidative stress caused by free radical damage
• most delicious water available


All Ingredients
• 3 ripe bananas
• 1 cup wild frozen blueberries
• 2-3 frozen strawberries
• 1/2 cup spinach
• 2 tsp Irish sea moss gel - I use @akaulife (they make their sea moss with kangen water!)
• 1 tsp spirulina powder
• 1 tsp camu camu berry powder
• 1 cup kangen water - learn more here

Method
1. Place your bananas, frozen wild blueberries, strawberries and spinach into a blender or smoothie jar (if using a hand-held stick blender).
2. Next, add your spirulina powder, camu camu powder, Irish sea moss gel.
3. Then pour in the liquid (kangen water) to your smoothie ingredients.
4. Blend everything together until super creamy and smooth.
5. Pour your smoothie into your favourite jar!
6. ENJOY.


Thank you Olivia Harper, 
@olivia.harper, olivia-harper.com