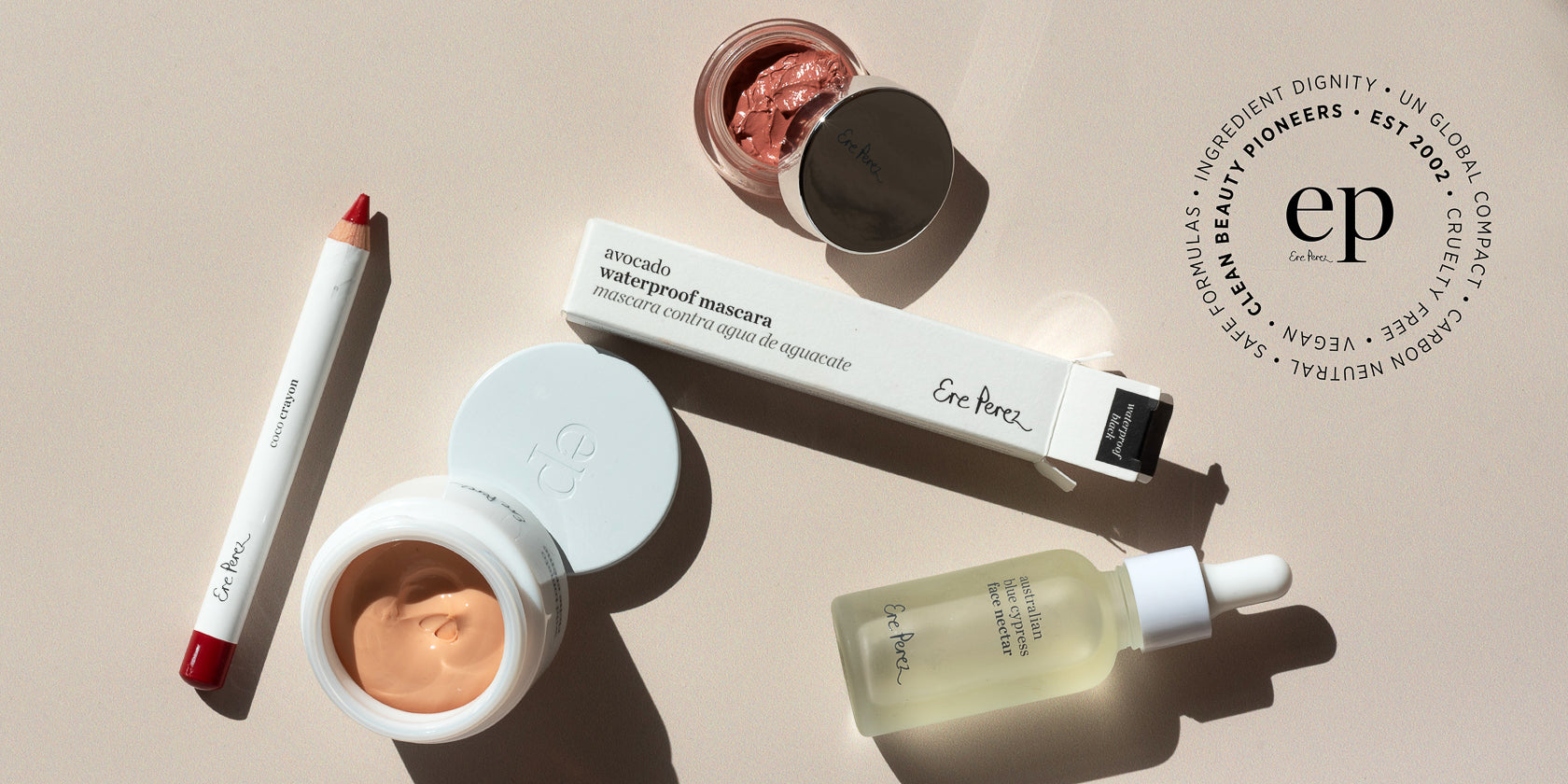 As our brand has grown over the years, and so have our knowledge of sustainable practices, and priorities. At Ere Perez, we are continuously revaluating our packaging, to reduce our waste and limit our environmental impact.

In 2022, we have made a number of waste free changes to our existing range as well as create new eco solutions to our latest launches. While these transformations may be small, they are mighty! It is a course of action that takes long hours of research, testing, re-testing, and one we will continue to follow in the years to come.

Let's break down the year's eco-lution journey


Feb 2022
Coco Crayon
Our award winning zero waste lipstick, lip liner, cream blush & eye colour all-in-one was born. We love a multitasker, especially a plastic free one! Made from wood with a metal lid!

Plus… Eco Duo Sharpener

An earth conscious alternative, made from biodegradable corn resin. Just like our makeup brushes!

March 2022
Wild Tomato Riche Crème
Sustainable crème that loves the earth and your skin! Cased in 100% plastic free packaging, the glass pot & aluminium lids can be easily recycled among your household recycling!

April 2022
Açaí Lip Pencil
Zero waste pencil & plastic free lids. There's no purpose for a pencil lid to be plastic, so we made ours aluminium, just like our Jojoba Eye Pencils!

September 2022
After the launch of Coco Crayons, we said g'bye to old faves Cacao Lip Colour & Olive Oil Lipsticks. We love these lipsticks but they were housed in bulky wasteful packaging, so we've decided to reformulate our favourite shades into new crayons, coming 2023.

October 2022
White Tea Phyto-Retinol Elixir
Stunning glass packaging to complement our other face serums in the range. Made from mono-elements that are easy to separate & then recycle kerb side, at home.

November 2022
Lychee Crème Corrector
After trialling a number of solutions, our team landed on repurposed PCR (Post-Consumer Recycled) packaging. A wand-free solution that can be safely recycled 7-9 times! We're phasing out virgin plastic across the range – new Oat Milk Foundation tubes coming soon!

December 2022
Makeup-Wheel Refill Case
Our new patent-pending design is made entirely from aluminium. No paint, glue, plastic, hinges or mirrors – this is a truly sustainable beauty solution, being phased across our pressed powders, replacing its current plastic design. A world first!


In 2022, we proudly celebrated 2 decades of Ere Perez Natural Beauty. 

Where have 20 years gone? From a single Natural Almond Mascara brought to life in the comfort of the Perez' living room, to 100 natural & clean skincare & makeup products.



We thank you for your love and being on this journey with us, whether you found us in a health food store many years ago, or have just discovered us in Australia or Mexico or one of the 40 amazing countries we are available.

For Ere Perez, clean beauty means more than formulas: it means product packaging, shipping and all elements of what goes into taking raw ingredients to your beauty cabinet.

"As a beauty brand we believe we can lead the way towards a bright and clean future. I am proud of my legacy as a beauty pioneer as my role as an eco-warrior. I am committed to individual change for the collective good to make sustainable choices as a company and as an individual."
- Ere Perez, Creative Director & Founder

This is only the start. More eco-changes coming soon.