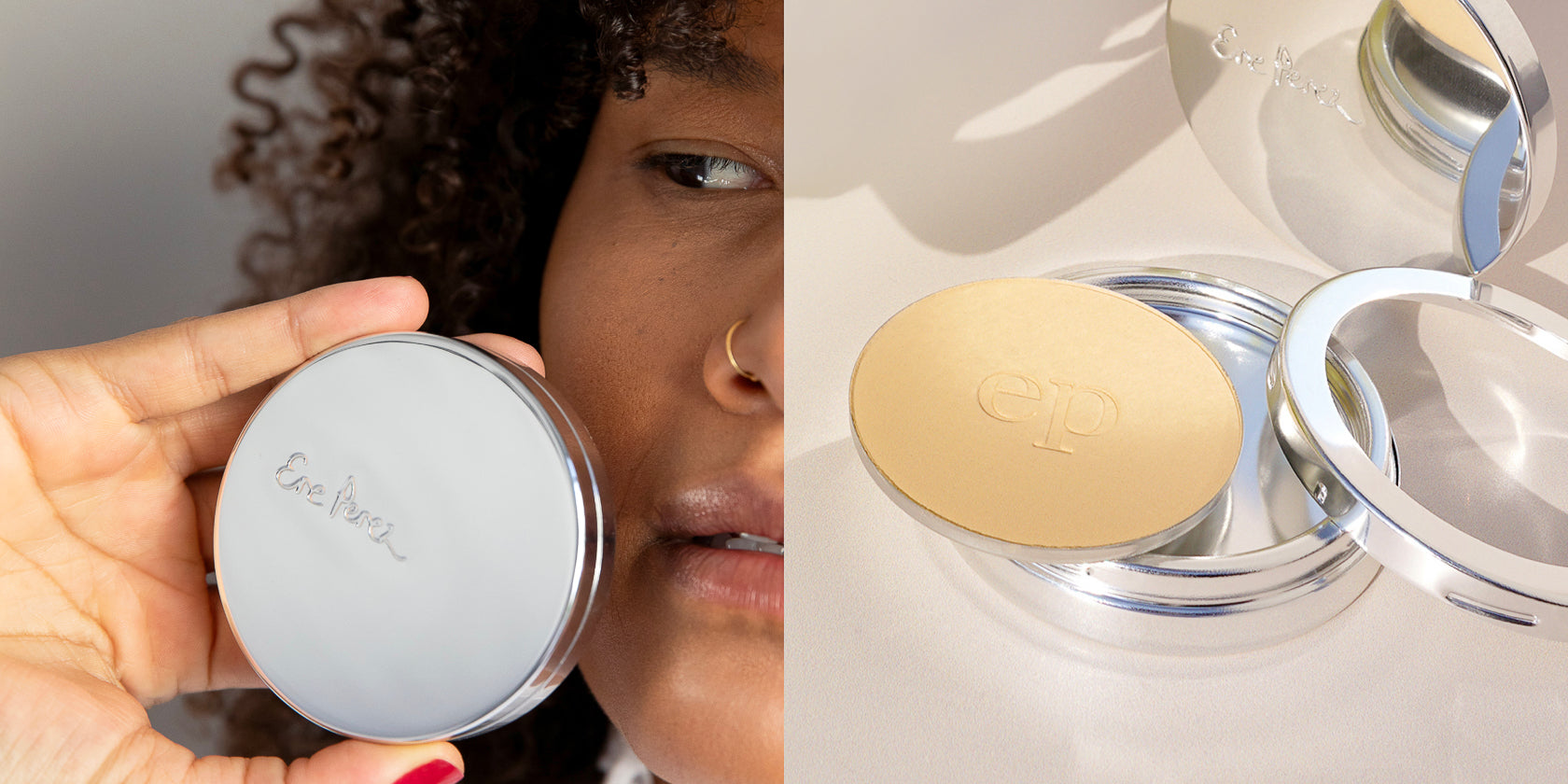 all about our new eco refillable compact

At Ere Perez, our packaging has evolved over time and many decisions – both big and small – have been made to make us more earth-friendly. To protect your makeup and the planet, we've now innovated a revolutionary, patent-pending Makeup-Wheel Refill Case that is destined to change the game in the world of sustainable beauty!

The sleek, reflective Makeup-Wheel Refill Case is the first of its kind — a mono element, made with one single material; 100% aluminium!  A world first, free from all hard-to-recycle materials, like glues, magnets, mirrors, paint, labels, hinges and plastics.




During the recycling process, traditional compact cases have to be disassembled in order to separate all these single-use materials for recycling. But we've simplified the traditional makeup compact and cut back on what isn't needed to minimise our environmental footprint and look after our planet. Aluminium is endlessly recyclable, never losing quality along its journey, and repurposed again and again.

The Makeup-Wheel Refill Case is a beautiful, durable and refillable statement piece for a lifetime of enjoying Ere Perez natural & cruelty free pressed powders.

Start your makeup wheel journey with our Corn Setting Powder and Tulum Rice Powder Bronzer.


New to our pressed powders? Here's the rundown!

Ere Perez Corn Setting Powder has a new & improved gluten free skin-loving formula, safe for sensitive skin. This super finely milled, 'barely-there' powder creates an invisible veil, on top of your fav foundation or worn alone. It's lightweight, breathable and undetectable on your skin, designed to effortlessly reduce oil, stop shine, and remove redness, without clogging your pores!

Tulum Rice Powder Bronzer is a beauty bag multitasker, giving you a golden year-round summer glow. The two shades allow customisable colour, leaving skin with a velvety matte finish and a hint of shimmer. A touch of vitamin E and chamomile add to the calming and brightening effect of this formula, whilst breathable all day long.

Best yet, simply refill when your product runs out — easy, simple, all while minimising waste!

1. Remove lid
2. Place refill in base tray
3. Close the lid that doubles as a mirror!
4. Gently press and screw the lid clockwise to place the inner ring to hold the product (the ring is placed inside the lid)
5. Gently pull the lid up and enjoy!

You'll see more of our natural and sensitive safe face powders available in the Makeup-Wheel Refill Case later in the year.

To us, clean beauty means more than formulas: it means product packaging, shipping and all elements of what goes into taking raw ingredients to your beauty cabinet. We invite you to come along on this eco-lution journey with us!