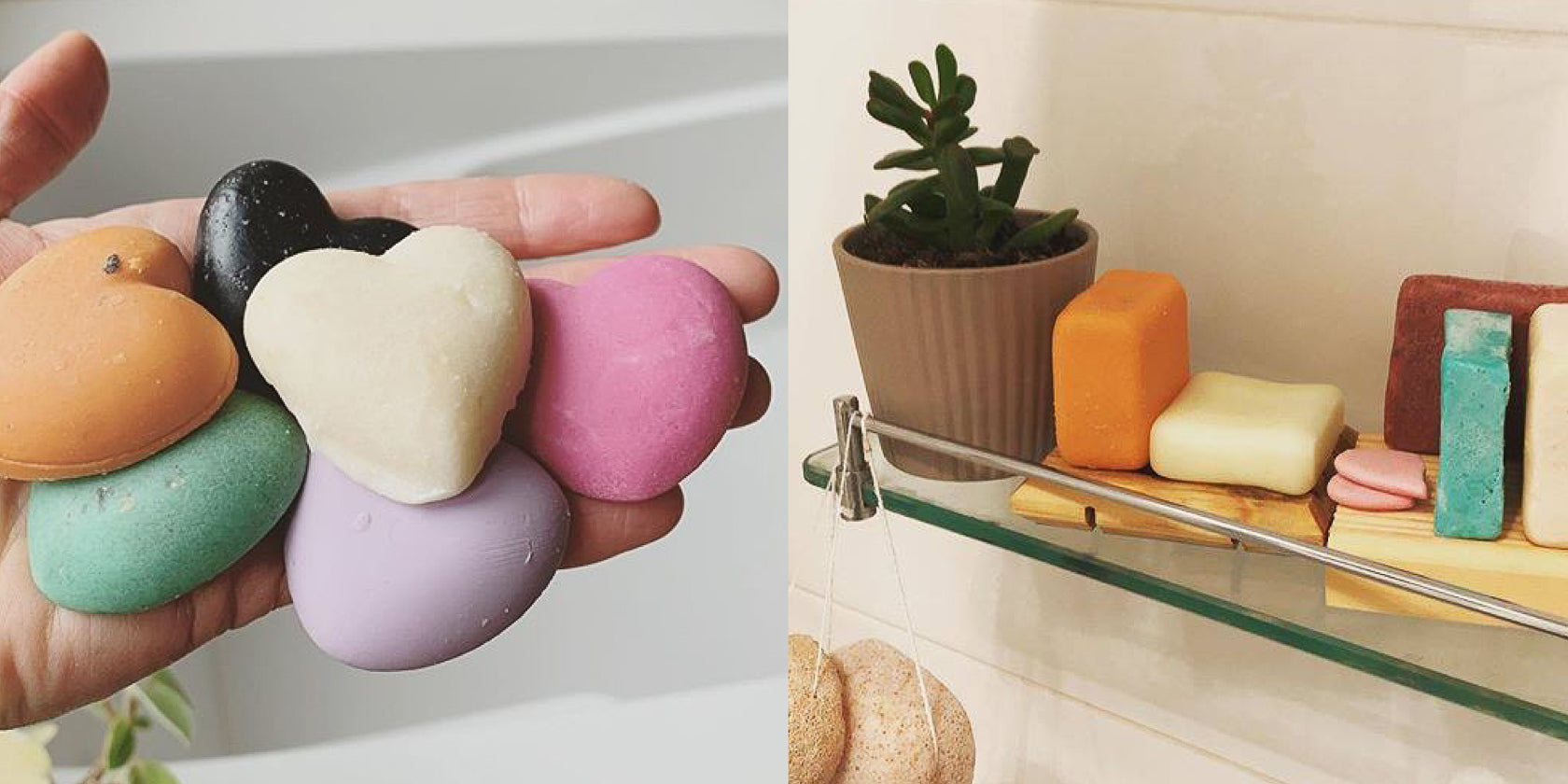 switching to shampoo bars

The idea of switching to a solid shampoo bar can seem a bit daunting, especially when you're so used to squirting out a dollop of your favourite liquid product each time you hop in the shower. We get it, but it doesn't have to be a weird concept. Once you've realised all the goodness we pack into every shampoo bar, and how easy they are to use, you'll be pleasantly surprised at the silky soft locks you're rocking thanks to solid shampoo.

Our shampoo bars truly deliver when it comes to shiny, happy, healthy hair. But if you're still feeling a little unsure on whether a solid shampoo is right for you (or know someone who is), check out our top six reasons for making the switch today!

1. They just feel really great
You'll fall in love with the creamy, soft lather of our shampoo bars. They foam up just as well as a bottled shampoo, leave your scalp cleansed, hair feeling silky soft and looking oh-so shiny. There's something really special about using such a feel-good product with so many amazing benefits coming into play. They truly are a game changer. 

Ethique's are the highest rated shampoo bars on Amazon, and you can check out our (many!) five star reviews under each individual product on the website. 
If you're still not completely convinced to #giveupthebottle, our hair minis might do the trick! They're a miniature heart-shaped version of our full-size shampoo bars. Depending on the bar, you'll get around 5-10 washes which give you a pretty decent trial. Our best-selling hair sampler pack features 5 of our most popular shampoo bars and conditioners and depending on where you live, we offer free shipping when you add this sampler to your shopping cart. Too easy! 
We could honestly talk about our shampoo bars forever (they're just really awesome), so if you're still not convinced and need help picking the right bar, you can always chat with our friendly miracle workers on on email or social media. We love nothing more than helping our customers find their perfect match, so feel free to reach out anytime.

2. They're good for your wallet
Our clever little bars may seem more expensive than other shampoo brands but in reality, they aren't. Each bar of shampoo (and conditioner) lasts for an average of 80 washes which equates to around NZ$0.27 per wash for a shampoo and NZ$0.31 for a conditioner. Some of our wonderful customers even say their shampoo and conditioner bars last for 6 months to a year! They're power-packed full of concentrated, ethically sourced ingredients, so a little goes a long way. If you look after them right (keep them dry in between washes) you'll find they last ages. Read our top tips for caring for your bars here.

Save money, while saving the planet from single-use plastic. It doesn't get much better than that!




3. A shampoo for every hair type
We're proud to have 12 different solid shampoo options to suit all hair types from oily, balanced, dry, flat or sensitive. They lather amazingly, are pH balanced and will leave your hair soft and manageable. We even have a purple shampoo and conditioner range for those who want to keep their blonde or silver hair nice and sparkly, as well as unscented and sulfate-free bars!

4. Kinder on the environment
You can be sure that our bars are kind to the planet. We're climate positive (that means we offset more carbon than we emit), certified palm oil-free, vegan and cruelty-free. When you choose to switch to one of our solid shampoo bars, you're saving over 700ml of water (the amount it takes to manufacture plastic for one standard 350ml plastic bottle) PLUS the water that would normally make up ~65% of those liquid shampoos. Switch from bottle to bar and you're not only ditching plastic, but also saving water along the way. 

5. We care about people 
From our team at HQ, to the wonderful local groups we work alongside, to the people who produce our amazing ingredients. Direct trade is a big part of our business philosophy - we source many of our ingredients directly from the growers to ensure they are paid a fair price and that the money stays in their communities. Our delicious organic coconut oil, for example, comes from a woman's cooperative in Samoa - you'll find its hydrating properties in our Frizz Wrangler shampoo bar, amongst others. When you're buying an Ethique bar, you're helping support fair trade businesses and families in places like Samoa, Rwanda and Ghana. We wouldn't be where we are without our people. 

6. Compostable, plastic-free packaging 
If you're looking for a 100% plastic-free option, you've arrived! Our solid bars are packaged in home compostable packaging which breaks down into nutrients for your garden, compost or house plants. Even our little tamper seal stickers are made from home compostable cellulose!




Thankyou
Ethique 
@ethiqueworld
Image credit: @bellfamilylife @katunya1122