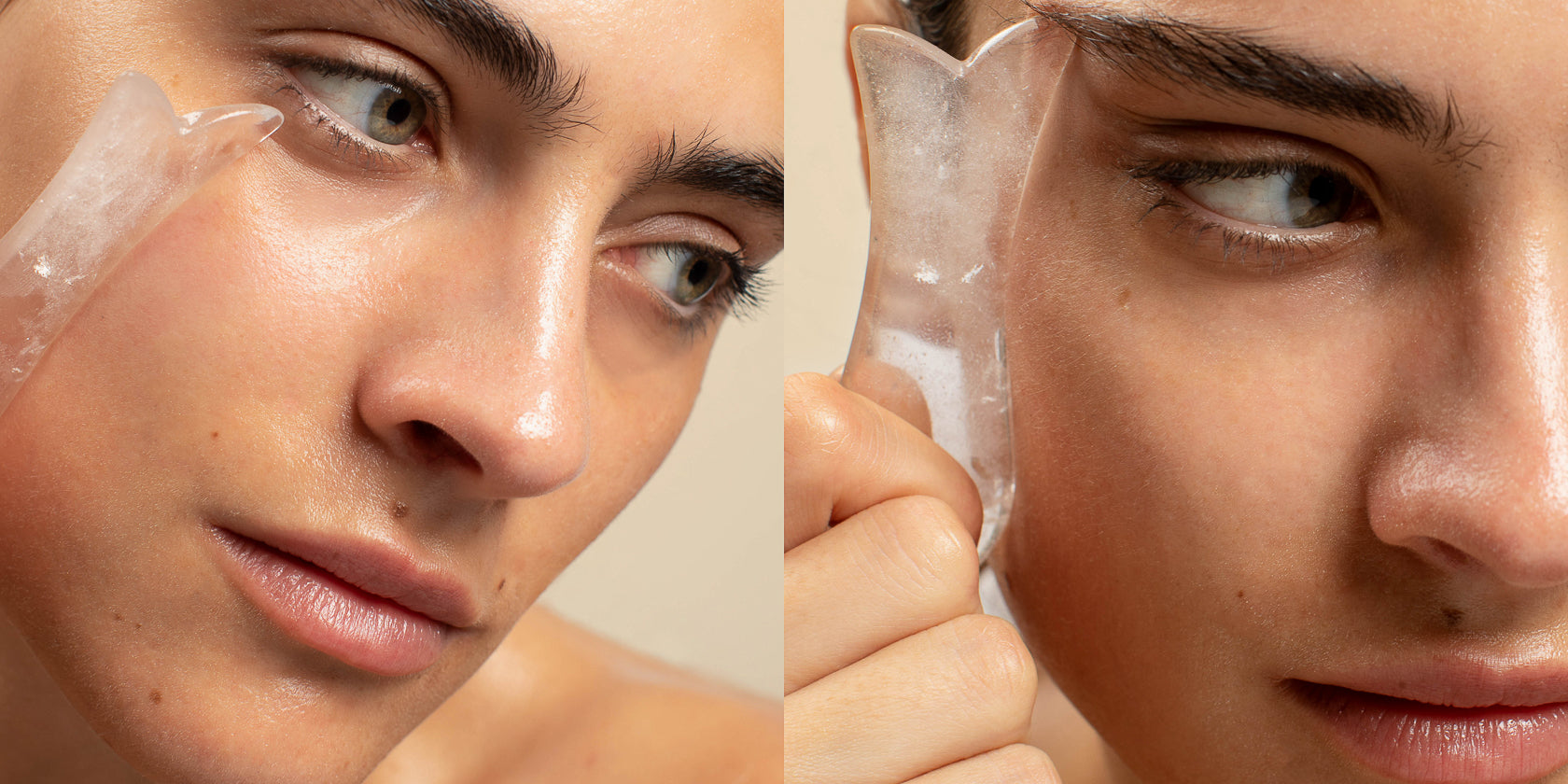 face stone massage from home - the ultimate in self-care
With so many of us working from home right now, it's easy to let routines and self care slide. Whether you're time and space poor juggling work and children, or maybe spending a little too much of the day on your own, there are all kinds of reasons you might de-prioritise pampering. But fight the urge – because it's at these times that factoring in self care into your regular routine is the most important! 

Enter the Quartz Sculpt & Lift Face Stone – one of the most useful tools to have in your beauty arsenal right now. This sturdy little gemstone is your key to unlocking the health and beauty benefits of Gua Sha, a traditional Chinese technique that's even more ancient and ubiquitous than acupuncture. 

Taking even just one minute of your day, every day, to apply Gua Sha principles and massage your face with the quartz sculpt and lift face stone will improve circulation in your face, giving you firmer, more radiant skin, plus the ultimate relaxation ritual. 

Essentially it's a soothing face massage and gentle face lift all in one, and you can do it yourself, anywhere, anytime. 




Here's what you need to know...

The backstory

Gua Sha is an ancient Chinese healing technique traditionally applied to the entire body, which involves a pressured scraping technique using a smooth tool to invigorate blood flow, stimulate lymphatic drainage, release toxins, break down muscular tension and ease chronic pain. 

This natural, alternative therapy is the real deal: numerous medical studies have confirmed its positive therapeutic effects, and it is used commonly right across Asia. 

It has become increasingly popular in Western beauty regimes in the past few decades, specifically when applied to the face. Gua Sha is particularly effective on the face, as it encourages lymphatic movement and drainage in an area that doesn't usually have a lot of muscle movement. 

Traditionally Gua Sha can be quite intense  – even painful – and leave behind bruising. But don't stress, the face stone massage techniques in modern beauty regimes are a much gentler application of the same principle. It might not rid you of chronic pain, but it will improve your skin, soothe your senses and leave behind a healthy flush. 

The benefits

A face stone massage using Gua Sha principles has a stack of benefits that even go beyond skincare. 

Regular and correct use of your quartz stone will:
• reduce puffiness
• stimulate circulation
• promote collagen production

Which means your skin will look and feel:
• firmer
• sculpted
• radiant

We also encourage you to make a little ritual of it. Take a few minutes every day to be present as you pamper. The stone tool feels absolutely amazing on your skin and enables the perfect DIY face massage. Once you're familiar with the technique, the process can be extremely meditative and soothing.

How to do it

Correct technique and consistency is key!

We didn't just carve authentic clear quartz into this gorgeous whale-tail shape for kicks. Each contour is carefully shaped to align with facial contours, giving the perfect amount of pressure as you massage in gentle sweeping motions, and maximising benefits for the skin.

So take a moment pre-massage to familiarise yourself with the following diagrams and steps, and the movements will quickly become second nature...


1. Cleanse face and hands. 
2. Apply serum or natural oil to your face & neck to help stone glide over skin. We recommend our Australian Blue Cypress Face Nectar for the face, and Papaya SOS Marmalade and Cranberry Lip & Eye Butter on the soft skin around eyes and lips.
3. Forehead:  Use the long edge, horizontally sweep up from the start of your eyebrows out to the hairline. Move up the forehead and repeat.
4. Under eyes: Hold the stone vertically, use the tail tip to apply pressure and sweep from the inner corner of the eye to the hairline. 
5. Cheekbones: Sweep underneath your cheekbones, and direct it toward your hairline. Do this holding the face stone vertically and using the tail tip to perfectly sweep the area. 
6. Lips: Hold the face stone vertically and glide the tail tip over your lips back & forth 6 times. 
7. Jawline & Chin: Use the long edge of the face stone to sweep upwards from the centre of your chin, out to the ears to contour the jaw. 
8. Neck: When you've finished the face, sweep the long edge of the face stone from under the chin down the neck to continue the drainage process. Move around, in downward motions, each time starting at the top, until the whole neck has been massaged.



Tips:

We recommend using your face stone daily for 1 minute. And once a week for 3-5 minutes. 
- Apply light pressure over the face to avoid bruising. 
- You may appear blushed on your cheeks, meaning the process is working. 
- Keep your stone clean and protected in the cotton carry pouch it comes with. 
- Place tool in fridge before use for a great cooling effect on skin.