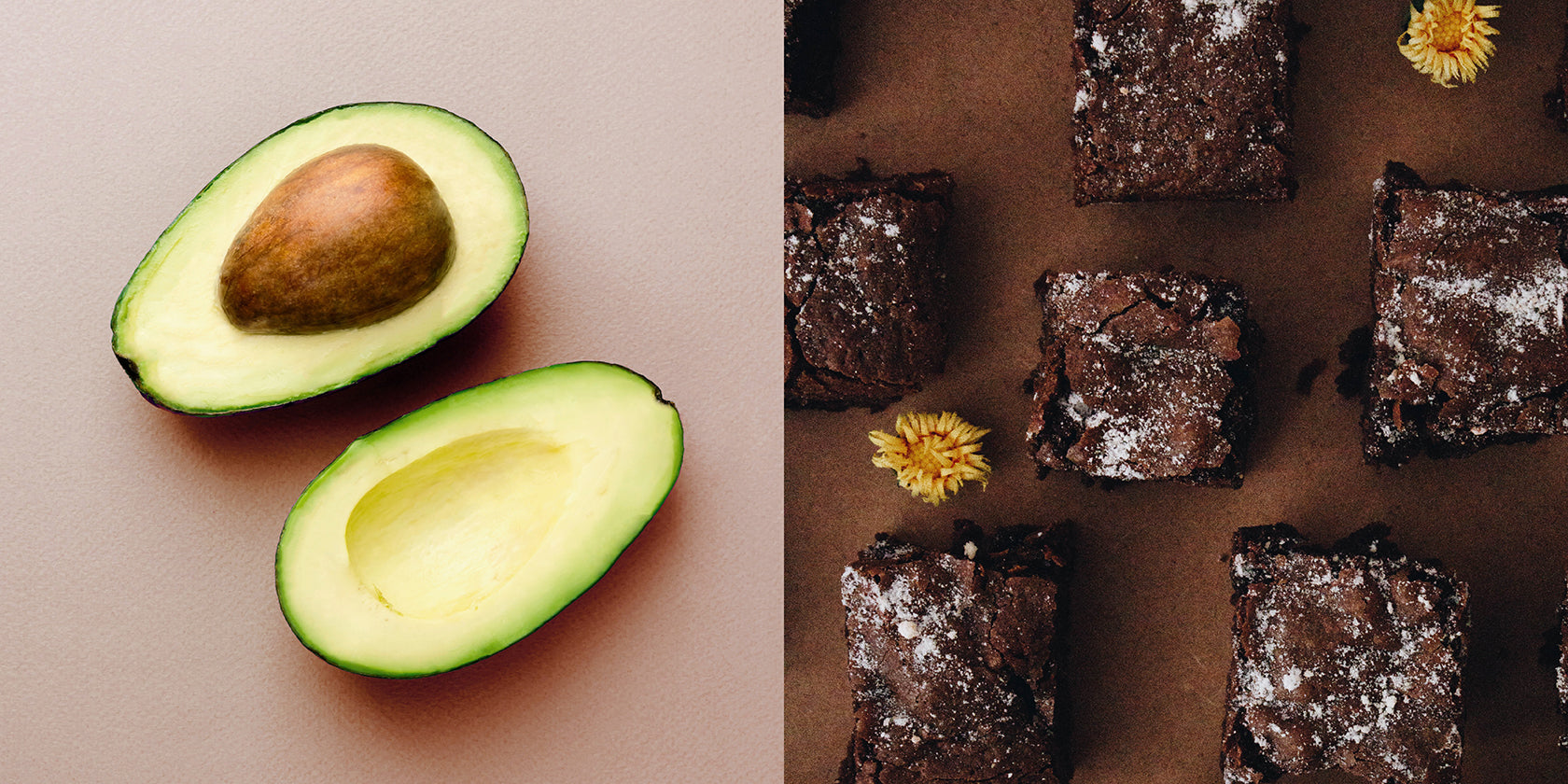 Just like a classic brownie, but a whole lot more nutritious!
How do you make chocolate brownies just a little bit less naughty whilst still tasting just as rich and heavenly as ever? By adding avocado! You may think that chocolate and avocado should never be put in the same sentence, but we're here to tell you it's a game-changer. It's time to mix up your avo toast and try our avo brownies instead!
Loaded with fibre, healthy fats, powerful antioxidants and an abundance of nutrients, avocado is a fantastic superfood that will do your insides a world of good. The best part? You can't even taste it! The avocado helps create the irresistible fudgy texture that we all love without interfering with the deliciously rich chocolate flavour. 
So when you feel like you need a treat but are trying to eat clean, whip up a batch of our avo brownies to munch on throughout the week without the loads of sugar and preservatives that are in your typical store-bought treats. You can thank us later!
Ingredients
◦ 
1 ripe avocado (about 7 ounces; ½ cup mashed)
◦ 
½ cup cacao powder (or cocoa powder)
◦ 
1 cup coconut sugar (or brown sugar)
◦ 
1 teaspoon baking powder
◦ 
¼ teaspoon fine sea salt
Method
1. Preheat the oven to 160ºC and line a 9-inch square baking dish with baking paper.
2. Mash the avocado in a bowl with a fork until fairly smooth or whiz up in the food processor.
3. Combine the avocado, cacao powder, aquafaba, coconut sugar, almond butter, baking powder, vanilla, and salt in a food processor and process until smooth.
4. Pour batter into the pan and bake for 45 minutes, or until the centre of the brownies looks cooked-through and are firm when giving the pan a gentle shake.
5. Set aside to cool completely so that you don't get an overpowering flavour of avocado. You can either wait 2 hours for them to cool or place them in the fridge if you simply can't wait that long!
6. Slice into small squares and serve. As this recipe is flourless and creates an extra-fudgy brownie, it's normal if you find that they stick to the knife a little.
7. Store on the counter for up to 2 days or in the fridge in an airtight container for up to one week.
Happy baking!
by lexi daniels
via https://jameswellnesscentre.com/fudgy-avocado-brownies/