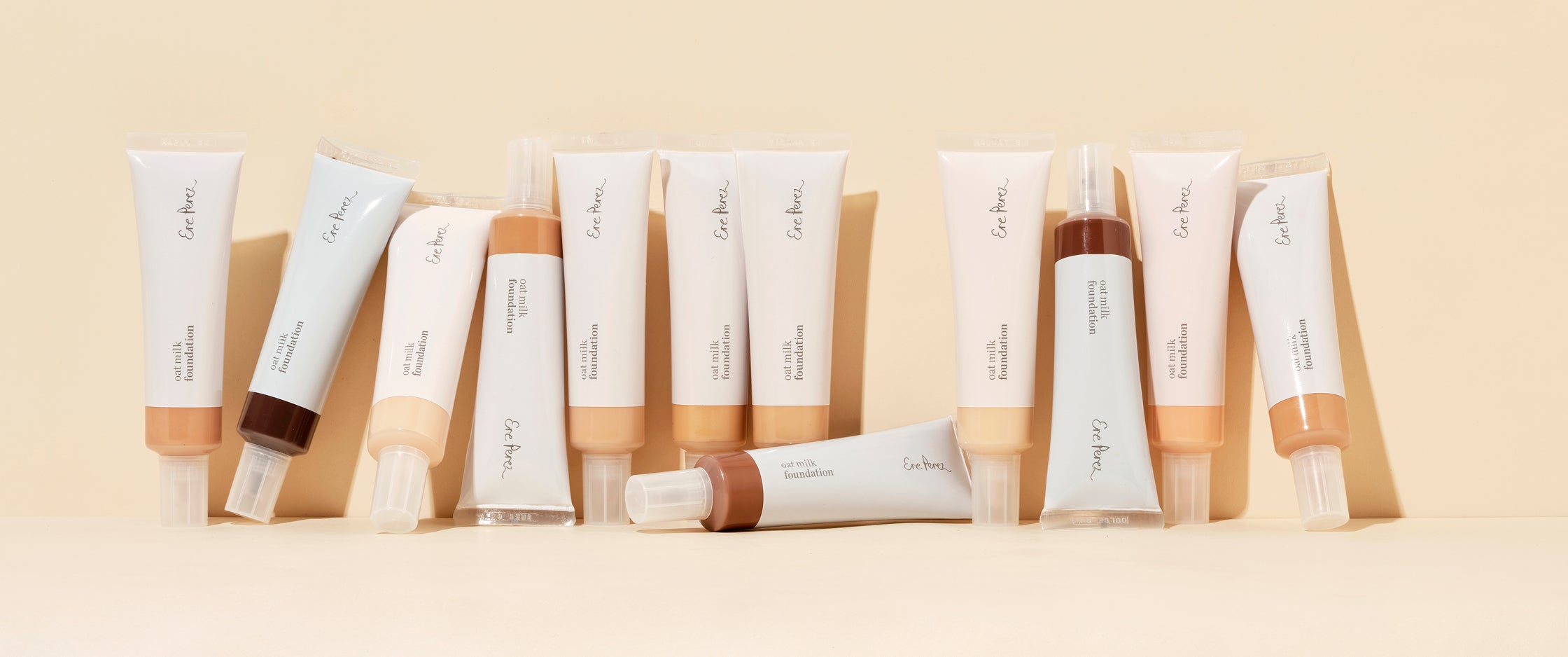 global cult-favourite foundation
Beauty trends come and go but some products prove to stand the test of time. Finding the perfect foundation is tricky. One that hydrates skin, reduces imperfections and lasts all day. 

Featured in world known Harper's Bazaar, Vogue & loved by beauty editors and influencers alike, Ere Perez Oat Milk Foundation is one that really is bulletproof! It helps blur imperfections, evens skin tone & gently brightens complexion to suit all skin types & sensitive skin. 

Our best-selling & beloved Oat Milk Foundation features botanical ingredients such as oat milk, peach & vitamin E to help nourish your skin throughout the day. Formulated with a powerful blend of antioxidants helps nourish your skin throughout the day. 
Oat milk is the star ingredient in our best selling foundation – and for good reason. Oat milk delivers a healthy boost of vitamins and minerals to the skin. A natural antioxidant, gently removing dead skin cells & helps balance pH levels in the skin. Combined with natural peach and vitamin E to hydrate and promote your healthiest skin yet. 

This foundation is for a fresh, dewy finish that melts effortlessly into your skin. It's buildable, weightless formula is free from impurities so your skin is still able to breathe. No cakey faces here! There's a reason, or three, that it's a global best-seller! 

Oat Milk Foundation is
now available in 12 flexi-shades.
NOUGAT – cool ivory  - 
new
LATTE – porcelain tones 
HONEY – butter cream 
MALT – neutral beige 
VIENNA – soft flax - 
new
CHAI – natural wheat  
MAPLE – pure tan 
CARAMEL – warm golden   
BREW – dark toffee 
MOCHA – rich chestnut  
DOLCE – deep  cocoa  - 
new
ESPRESSO – dark truffle - 
new
If you are unsure which is the right one for you, try our shade finder. Match with an exisiting foundation or let us help you find the perfect match for your skin tone! 

We've made the decision to package Oat Milk Foundation in  post-consumer recycled (PCR) tubes! These tubes are shorter,  but still hold the same volume as before. We innovate for a better beauty industry.  

Like all Ere Perez products, the Oat Milk Foundation is thoughtfully formulated with animals in mind. Vegan and cruelty free with no hidden nasties. Our makeup contains skincare-infused ingredients that will not only make your skin flawless on the outside, but nourished from the inside too.