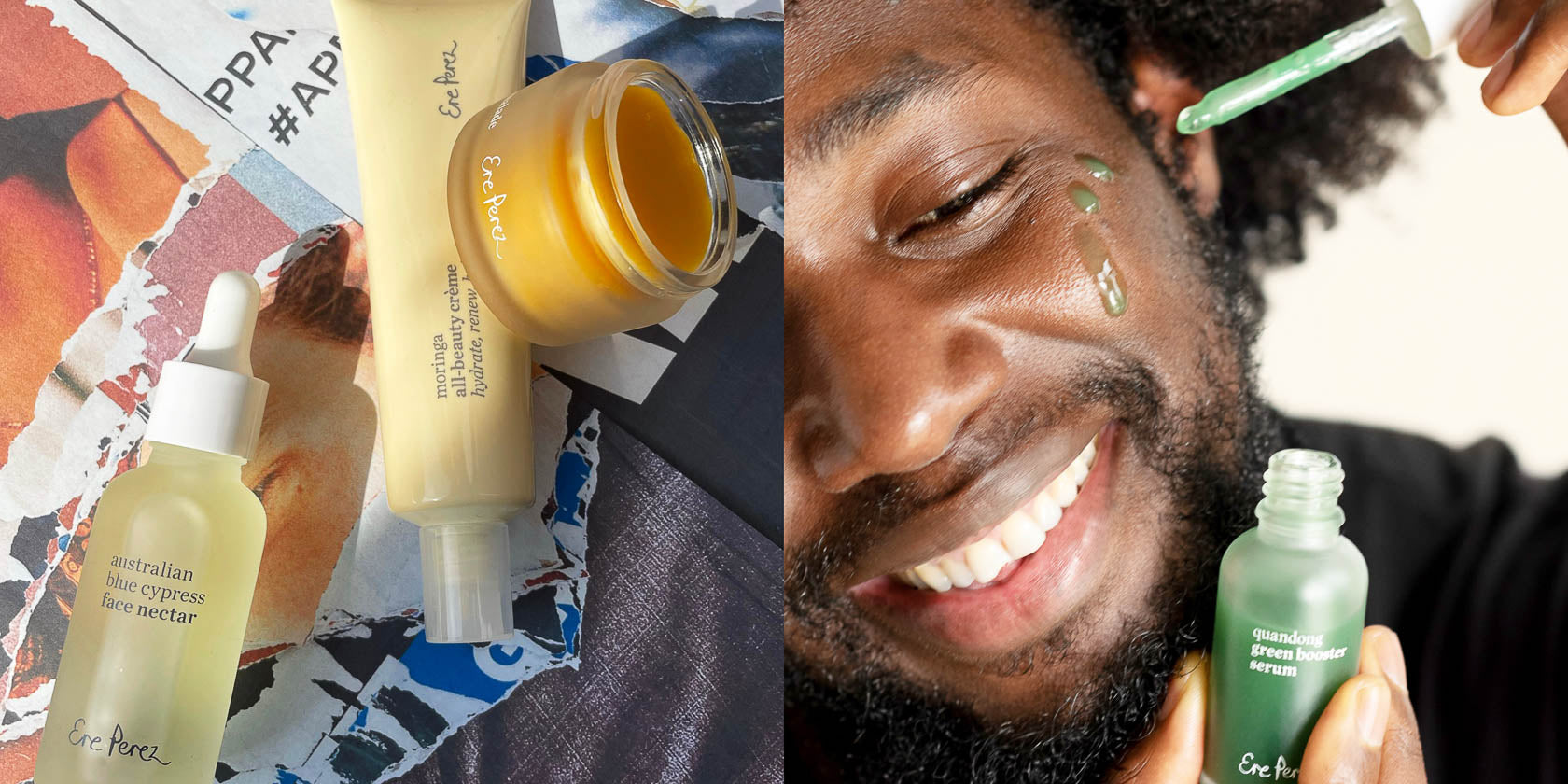 men's skincare gift guide
For the skincare enthusiast or just getting started, Ere Perez natural skincare is created for all faces and all complexions.

Discover botanical skincare that's low maintenance, zero artificial fragrance & incredibly hydrating for him.

Shop multitasking formulas that hydrate, repair and nourish - no matter his skin type. Or grab Hydration For Him - a curated skincare pack for men - made for sensitive skins, dryness & combats the signs of stress and ageing. From cleansing to grooming - we've got him covered.
Moringa All-Beauty Crème
Why he'll love it:
An everyday essential moisturiser for all complexions. Lightweight texture with a barely there, fresh scent!

Why his skin will love it:
Featuring moringa, known to accelerate cell renewal with potent vitamins A and amino acids. Boosting youthfulness with apricot kernel oil to firm and tone. Plus powerful antioxidants, and vitamin E to encourage a healthy complexion. 



Quandong Green Booster Serum
Why he'll love it:
A shot of nutrient filled goodness that calms inflammations, balances oily or acne-prone skin and combats dryness!

Why his skin will love it:
An antioxidant-rich blend of superfood ingredients to encourage a youthful glow and bring dull skin back to life. Plus hydrating hyaluronic acid and lactic acid to help promote skin renewal & collagen production. The bottle of nutritive goodness powerfully delivers essential enzymes and vitamins straight to the skin. 



Hydration For Him
Why he'll love it:
Take the guesswork out of skincare with this everyday hydrating skincare pack, perfect for all skin types. Featuring 3 best selling skincare products.

Why his skin will love it:
Daily moisture and grooming heroes for him. Hydrate, repair and nourish skin and hair. Combat lines, dryness and radically improve skin texture. 


Papaya SOS Marmalade
Why he'll love it:
A personal skin superhero to hydrate and nourish face, body & hair. Perfect as a beard balm and natural aftershave! It also can be used to soothe spots, bites & abrasions. Great for the whole family!

Why his skin will love it:
The Papaya SOS Marmalade is like rehab for your skin and hair. It protects, nurtures and repairs skin, FAST. It features a blend of three super oils; chia, coconut and hemp which work together to hydrate, reduce irritation, and regenerate the skin's protective layer.
Can't choose? 
Let him explore the range, grab him a gift card!