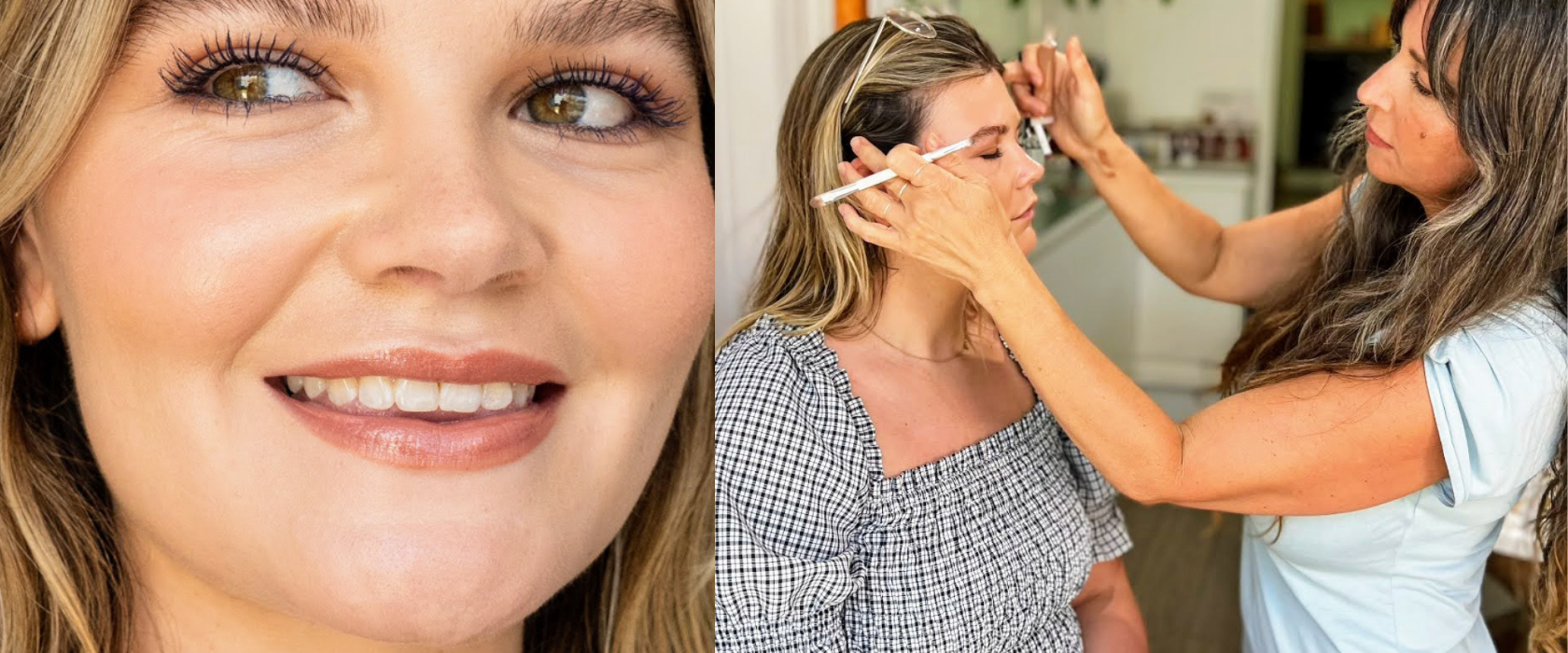 q&a with professional mua jenna anton
From runway show to A-list Vogue cover shoots, celebrity makeup artist Jenna Anton is an icon in the makeup industry. Known her for effortless makeup looks, Jenna highlights conscious beauty, focusing on natural makeup products, with all intention of honouring every person in her chair.

Jenna's work has been shared in the likes of Vogue, Harper's Bazaar, Allure and Vanity Fair with a client list equally as impressed, including Gisele, Jodie Comer and Andie MacDowell.

Upon sitting down with Jenna, it is evident that she has an unmatched passion for her craft. In this exclusive interview, Jenna shares intimate details of her unconventional beginnings, growing up in a cult, what continues to inspire her, and her story of self-discovery as the clean beauty artist she in today.

We also opened up questions to you our followers, via Instagram, to ask Jenna her favourite tools of the trade, the makeup trends she predicts for 2023 and the best to stop the dreaded mascara panda eyes!

How did you become a makeup artist?
This is a very layered subject, and a story of self-discovery.

My mum was a drug addict and homeless. I transitioned out of a Cult and thrust into the world when I was 12, never having socialised, so you can imagine it was quite jarring but also very exciting. I entered high school at 13, very shy, crooked teeth, and a foster kid - all shameful things for a young adult - so I was looking to re-invent myself. I began to find an alter ego to identify with, and that's where makeup came in and saved my life.

I would spend 2 hours before school doing my makeup. Finding a new found confidence in myself and my skills, I was able to build up my self-esteem.

How did makeup artistry become your full-time job?
I was working 3 jobs, 80 hour weeks, at the age of 22, all in the name of survival! And after all my years of growth, I became irresponsible for the first time in my life and began experimenting with drugs and partying. And I think it was the best thing I ever did!

I grew so much, and set off on a path of discovery, realising there had to be more to life than simply working to survive. In that two-year period I decided to figure out my purpose in life. What my strengths were, what I wasn't willing to compromise, what inspired me, and what I was willing to do every day - even if I didn't get paid.

Through this process of elimination it became so clear - I'm going to be a fashion makeup artist!

What inspired you and continues to inspire you? 
What continues to inspire me is my mission to have every woman and person feel beautiful in their own skin. A life where they can live authentically and share their true gifts and purpose.

I love to help bring awareness to why we wear makeup and to choose to do so from a place of intention, self-expression, and playfulness! To open up the conversation of Beauty within our relationships and to highlight brands, like Ere Perez, who are creating innovative products and have a positive impact on the beauty industry. This and so much more inspires me every day!




What prompted you to start a holistic approach to beauty and how do you define it?
After 20+ years in the industry and witnessing the change in a direction I don't align with, I felt a calling to go back to my roots as a naturalist as an effort to honour myself and my relationship with makeup. 

How much has the beauty industry changed since you became a professional makeup artist?
Change is one thing in life that is constant, and the beauty industry is no different.

I welcome change as it's part of the human experience. It fuels my passion to know I am influencing in a direction that supports each woman to own their unique beauty!

Your most memorable job.
In March 2021 I fulfilled a life-long dream to work in Costa Rica on the cover of Vogue with Gisele Bündchen. Gisele is passionate about environmental issues, and the message of sustainability, and Costa Rica is an incredible place, passionate about protecting and preserving nature.

What makeup trends can we predict 2023?
I don't subscribe to makeup trends. I believe the best trend is to do makeup that highlights your natural beauty, that has you feel embodied, empowered, self-expressed! 


Your go-to makeup look for summer?
Sun-kissed dewy skin, with flushed cheeks. Gorgeous freckles, a wash of rosy colour on the eyelids, and a coat of mascara.

How do I start to apply makeup? I'm a teenager.
Keep it simple! Focus on highlighting either your eyes, lips, or cheeks. Let your eyebrows be natural & wild! No need to tweeze or trim, natural brows keep a sense of youth, especially as you age. 

Enjoy your young fresh skin keeping it to a minimum, and use this time to learn about skincare and creating good habits around that. 

What's the best way to cover dark spots/acne marks? Starting my switch to clean products.
Congratulations on making the switch! Covering dark spots/acne marks should be the last step when doing your skin. 

First, blend a sheer layer of the Oat Milk Foundation all over to even out your skin tone. Then any darkness or marks that are still showing through, use a concealer and a small brush to spot treat those areas, gently blending into the foundation. Make sure to set with a translucent powder to set the skin and diffuse the sheen where the spots are. 

Do you prefer a brush or sponge to blend the foundation?
I use both! I like a sponge if I want to dilute a formula to create a sheer look. And a brush is ideal if you like to blend. Play around with both techniques and see what feels most natural. 

Best tips for how to contour your face, whilst looking natural?
Personally, I don't love the word contour or how it's described in the makeup industry. I like using 'light and dark' to create depth in the face. I like using two tones of Oat Milk Foundation to create dimension on the face. Start with the deeper tone, and blend the lighter shade in into the dark.

I get foundation creasing around the nose, how do I prevent that?
I often leave the nose fresh which makes your skin look more natural. I don't tend to apply foundation to the nose as that's where the pores are the largest. Use a clean sponge after application to remove the excess foundation before setting with powder.

How do I stop mascara from rubbing off under my eyes? 
The Avocado Waterproof Mascara has amazing staying power, so start there. And also, set under the eyes with a setting powder to absorb the natural oils that cause the mascara to mix and melt into. If you tend to be prone to this, you can also carry around a q-tip and clean off during the day if need be. Also, maybe avoid wearing bottom mascara!

How do I use blusher/bronzer on aging oval faces?
No matter your face shape, always use bronzer where the light naturally hits your face, which is usually on forehead/cheekbones/nose/chin. I like to top off the apples of the cheek with a rosy blush blending right into the bronzer.

How can I help my bright lipstick last all night?
Once your lipstick is freshly applied, separate a tissue to one-ply, gently placing over the lips - without removing the colour - and add a 'brush-full' of translucent loose powder over the tissue to set your lipstick.  You can also apply the lipstick, blot excess off, and reapply.

How do you achieve the perfect wing, with hooded eyes?
There is no such thing as a perfect wing for hooded eyes. The best advice is to apply with your eyes open to see exactly where the line will lay. I also prefer using a pencil & powder instead of a liquid liner so it can look a little diffused and not so defined. 

Top 3 makeup products you couldn't live without.
Ere Perez Avocado Waterproof Mascara, Jojoba Eye Pencil – Stone and the Oat Milk Foundation.

What is it you love about Ere Perez Natural Beauty?
Ere Perez was the first clean beauty brand I tried when I began the switch from conventional to clean products. Having been around for over 20 years, I know the brand has been working on innovative formulas which supports the efficacy of the products.

What are your favourite Ere Perez products?
My favourite EP products are Oat Milk Foundations, Jojoba Eye Pencils, Vanilla Highlighters and all the brushes! Having recently tried some of the new skincare products, I have a feeling a few of those will become my favs too!

If I were to buy one EP thing, what would you suggest?
Hmmm… that's a hard question! My personal favourite product is Jojoba Eye Pencil in the shade Stone! It's the perfect shimmery taupe liner that looks beautiful on everyone and is neutral enough to make it easy to work with. 



 Thank you Jenna!
jennaantonmakeup.com