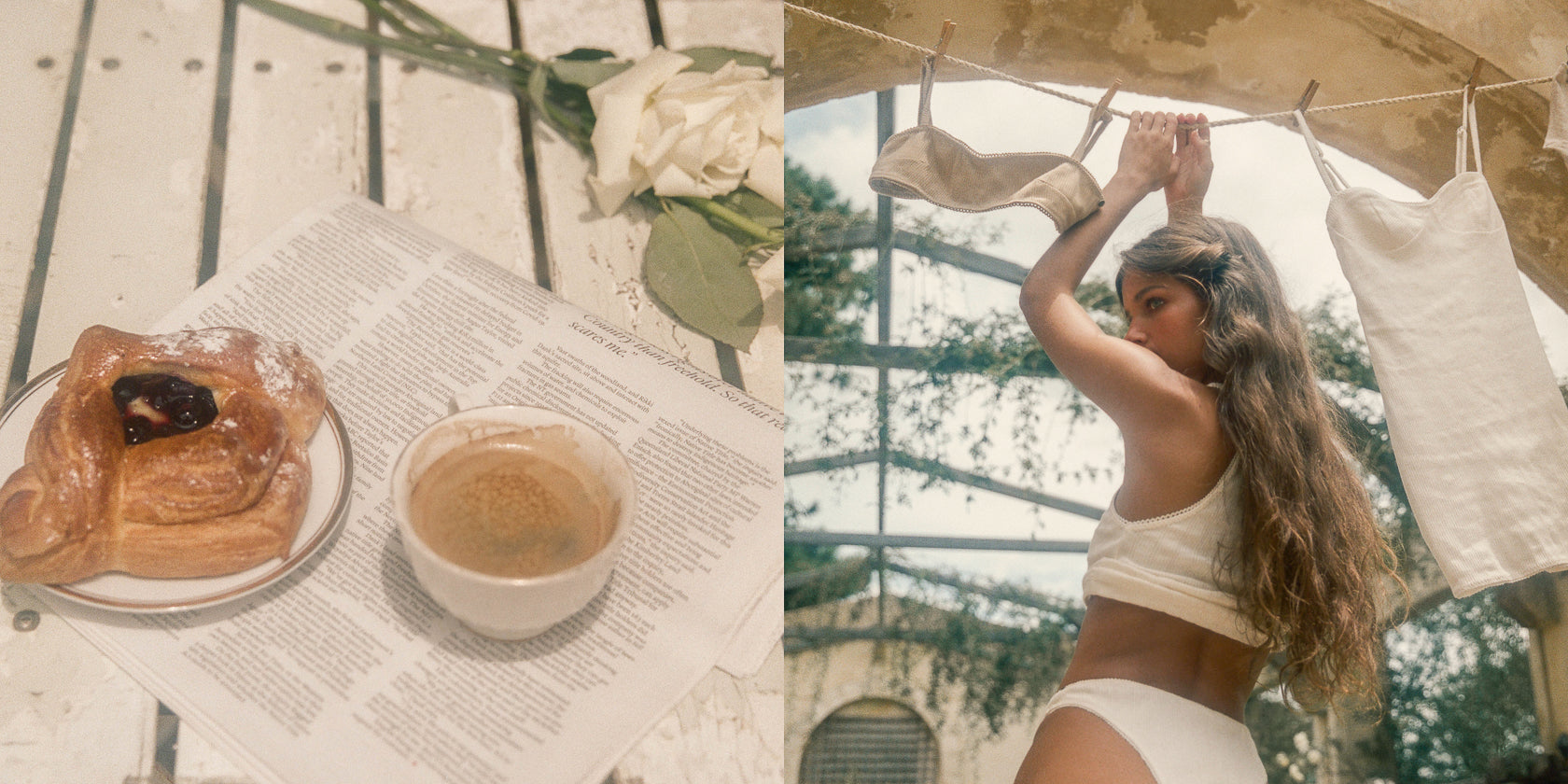 in conversation with sarah lamkin, co-founder of miyako

Tell us about what you do:
I look after the PR/Marketing for Johansen Official, dabble in a little freelance content creation, and of course run Miyako with my bestie!

And a little about your brand:
Miyako is a women's lingerie label that celebrates the female form, featuring flattering silhouettes inspired by times gone by.

How did you get started:
Cliche as it may be - I've always adored every aspect of fashion! I was that little girl playing dress-ups with my sisters, walking around in mum's high heels and smothering on her lipstick. As a teen I enjoyed sewing and dreaming up my own creations, and always envisioned having my own label.
Fast forward 7 years of working for various labels, I noticed a gap in the market and saw the chance to start my own brand. With lingerie as the focus, I asked my best friend Charlotte to join me and the rest is history!

Talk us through a day in your life:
My day always starts with coffee! Haha If Zac hasn't already left for work, we'll enjoy the morning together with our dog Frida. We're lucky to live on some beautiful bush land, just south of Byron among the Jali lands. It's a very pleasant place to wake up.

I'll then either head to work for Johansen, or get stuck into Miyako or some content creation. Sometimes I'll head into Byron to meet up with friends for brunch, or motivate myself for a Pilates class! In winter, the days are much shorter, so we tend to have dinner at home early, or if we're feeling lazy grab takeaway and watch the sunset by the ocean. I usually catch up on a few extra things like editing or emails at night, then unwind by reading a book or watching a mind-numbing TV series.

As a founder, where do you look for inspiration:
I've always been inspired by the past. Whether that be from old school films and magazines, or 90's supermodels off-duty looks. Nature has also become a big component of my influence, whether it be colour or textures.




Talk us through your creative process:
Since Charlotte and I work from different states, we'll catch up and chat through design ideas, inspiration, and trends we're loving either by phone or Zoom. We'll also refer to our previous ranges, and our most popular styles, to inform what we develop for new collections.

I then pull all of our inspiration together and create a moodboard so we both have an idea of where we'd like to take the range. Instead of hand sketching, I prefer to draw up all of my design ideas on illustrator. Once we've finalised the range, I'll create tech packs and send these off to the factory. All-in-all, it's a lengthy - but really fulfilling process! 




What's your proudest career moment:
Launching Miyako was definitely one of my proudest career moments. We had a lot of set-backs in the beginning (doesn't every small business owner?!), so we both felt a sense of relief launching. Delving into a sustainable range this year has also been such a success, and something we were very proud to share with our customers. 

Outside of Miyako, I felt incredibly proud to watch a range I helped create on the runway at MBFW a few years back.

What does beauty mean to you:
Beauty to me is confidence in your own skin. It's honestly something I'm still working on, but there's something so beautiful in those who completely embrace who they are.

And finally (as at EP we are always thinking about skincare & beauty) what are your top three beauty products and what if you could share a single piece of beauty advice, what would it be:
1. The perfect cream blush - as it can double as a lippy.
2. Moringa All-Beauty Crème by Ere Perez of course! I pair mine with the Australian Blue Cypress Face Nectar. 
3. I also love a BHA liquid exfoliant too as it's helped me combat acne.

Less is more, I always end up loving my make up more when I don't overdo it.
Thank you, Sarah Lamkin
miyako-official.com
@miyako.official