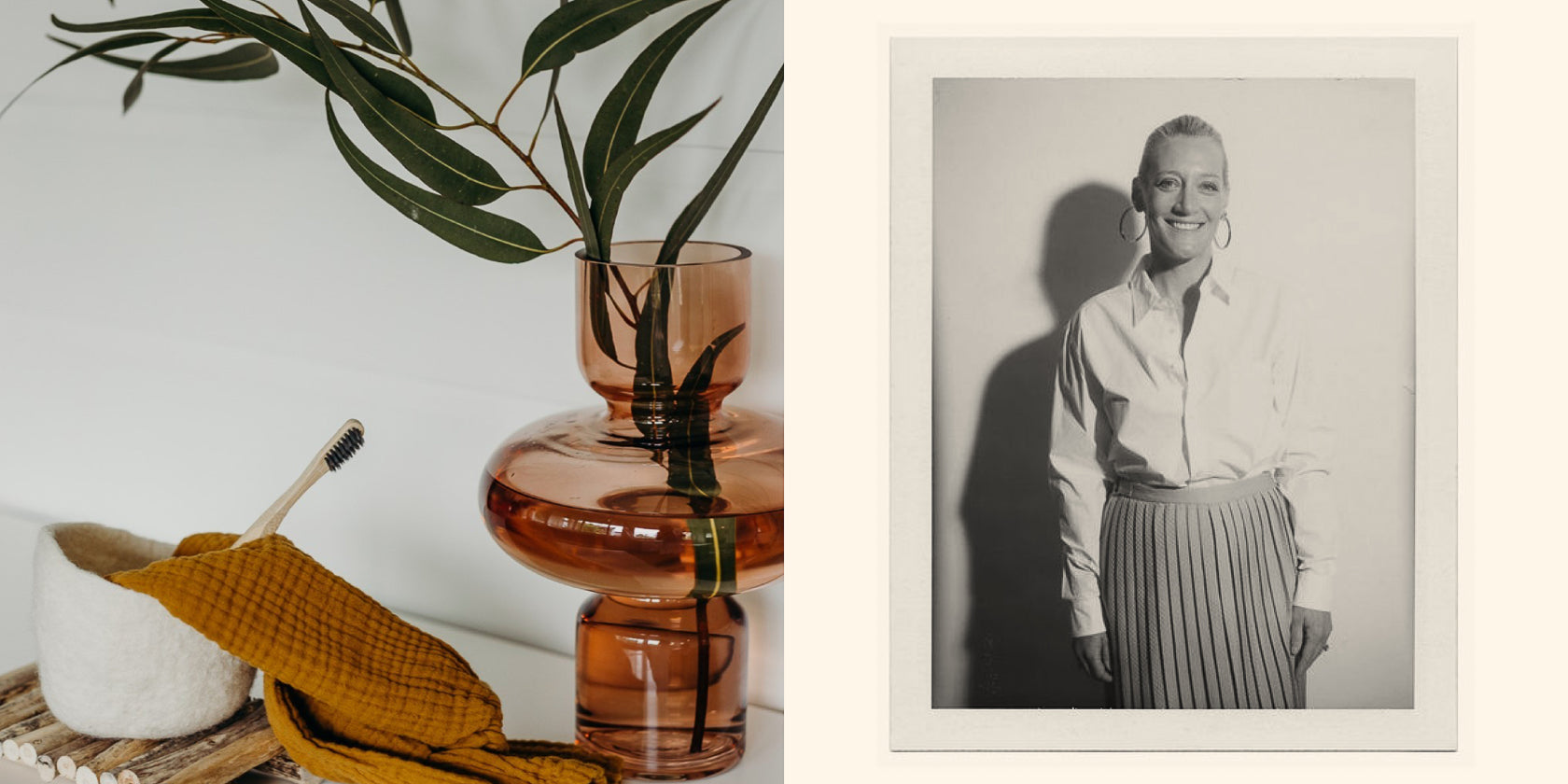 in conversation with tash scutts, founder of lovebyt

You know how passionate we are about natural and clean cosmetics, we LOVE botanical ingredients and believe they are the best for beautifying our skin. We are just as passionate about living a natural lifestyle, from how we shop, how we clean to what we wear, natural is best. 
We sat down with Tash Scutts, founder or Aussie oral beauty brand to hear more about why choosing natural products for our mouths is just as important as choosing natural for our skin. 

Tell us about what you do:
I am the founder and CEO of LOVEBYT – an Australian made natural oral beauty brand.

And a little about your brand:
LOVEBYT is an Australian owned and made oral beauty brand. Our ethos is to create oral beauty products that are not laden with chemicals. They effectively clean and protect our oral cavity by using a high-end blend of premium natural botanicals. We also wanted to produce a product that you would be proud to display on your bathroom bench.

How did you get started:
We started by studying what goes into toothpaste. We researched all the different ingredients that make up toothpaste. E.g. Abrasives to polish away plaque, humectants to keep the formula from drying out, surfactants to give the formula bubbles, preservatives to stop bacteria growing in the tubes, pros and cons of fluoride. It was once we studied these, we realised that the tube of toothpaste you pick up without questioning at the supermarket was a concoction of very nasty, harsh and dangerous chemicals. We knew then there was a great opportunity to make a natural toothpaste that could clean and protect our teeth from plaque effectively. From there we employed a cosmetic chemist to create three natural toothpaste formulas. Cinnamon & Clove, Peppermint and Charcoal & Mint.

Talk us through a day in your life:
I set my alarm four mornings a week at 5.30am to get up and attend an early morning gym class. I'm back at home by 7am. I've already listed my jobs for the day from the previous day and I set down to work in my home office by 8am. My day starts with answering emails, then it will vary with aspects of sales, marketing, product development, cash flow management, predicting sales and weeks cover arranging photo shoots and website development. As a new business I am across all aspects.




As a founder, where do you look for inspiration:
Talking to people gives me great ideas and inspiration. I have two young adult daughters who are very health and style conscious. They are always coming up with new inspiring ideas and connections to help grow the business and keep it exciting.

Talk us through your creative process:
When I am developing a new product, I look at other well-established brands to see how their new products are presented. For example, when I was developing LOVEBYT's peppermint mouthwash, I did hours of research in stores to see how other products presented on shelves and how to make the range cohesive. This is the first step. We went through many incarnations of the product before we arrived at the decision on the mouthwash bottle and label. The actual formula is way more scientific. It has to be researched and tested for around six months before we can sign off on the actual ingredients. After the product formula and aesthetics are finalised then the creative process around launch and marketing starts. There is an enormous amount of research that goes into the visuals and how we would like to present the products to the market.

What's your proudest career moment:
Being picked up by Ron Herman stores in Japan in Feb 2021. We had been working on this for two years. Ron Herman loved our product but without a distributor they were not able to stock the brand. This was because to sell toothpaste in Japan, there are many strict government requirements. Once we started working with a Japanese distributor who was able to get the toothpaste tested and approved for sale, we were able to move forward with discussions with Ron Herman. In February this year I received a very frantic call from my Japanese distributor to say that Ron Herman wanted to stock LOVEBYT and we had a two-week window to get stock delivered. We moved heaven and earth to get the stock to them in time. It was hard work, but our persistence paid off.

What does beauty mean to you:
Beauty to me is someone who portrays happiness and health. It's clean teeth, healthy skin, nails, and hair. A person who presents themselves with confidence is also beautiful.

And finally (as at EP we are always thinking about skincare & beauty) what are your top three beauty products and what if you could share a single piece of beauty advice, what would it be:
I was recently introduced to Ere Perez Quandong Green Booster Serum. I love the moisture boost I receive from this product. It feels very nourishing. My skin glows after I use it.

Ere Perez Cacao Lip Colour in Hoopla.  I use this for lips and cheeks. The colour is subtle but has enough pigment to give my lips and cheeks a healthy glow.

LOVEBYT Charcoal & Mint Toothpaste for a deep cleanse that also helps whiten my teeth naturally.

A single piece of beauty advice is to protect your face from the sun. I always wear foundation, a hat or sunscreen. The sun is the most damaging element. You have to start protecting your skin from a young age. 


--
Receive a FREE Lovebyt gift! When you spend $125+ at ereperez.com
AU orders only. For a limited time until stock lasts.


Thank you, Tash Scutts
lovebyt.com
image credit: @love.byt