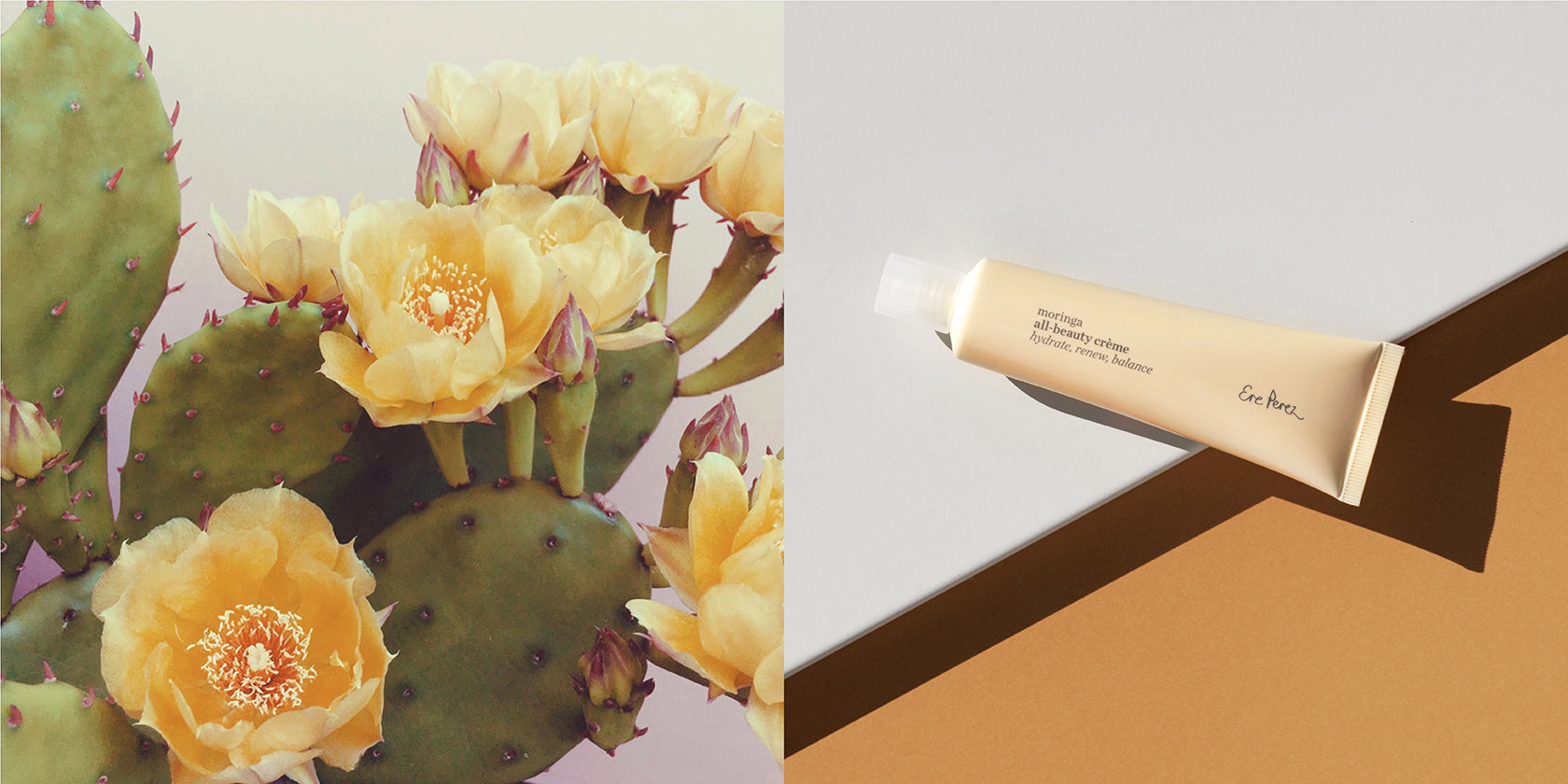 prickly pear is an all-star ingredient
From spinach leaves to camellia and jasmine, we love skincare products that are loaded with botanical ingredients to help us improve texture, hydration or luminosity. One ingredient that is quickly gaining traction, especially in Australia, is prickly pear. It's also widely known as 'paddle cactus' and looks exactly as the name suggests - large and flat, with spikes - and is generally found in areas that experience high heat, such as deserts.
Despite its intimidating appearance, this clever ingredient has been used for centuries in Mexican culture, especially in everyday foods like soups and salads. In fact, the plant is usually referred to as opuntia and is so widely-respected, it even appears on the Coat of Arms of Mexico!
Our obsession with the ingredient doesn't stop there; prickly pear seed oil, sourced from the small black seeds of the cactus, can actually work wonders on our skin. Here are the reasons to try prickly pear seed oil:
Prickly pear seed oil is packed with fatty acids
Did you know that up to 88 percent of prickly pear seed oil is boosted with fatty acids such as oleic and linoleic acid? Together, they act as lipids for your skin, which can make it feel softer and improve its ability to be more elastic. Plus, it can up your skin's barrier function, which leads to better moisture retention and greater protection from environmental damage.
On top of that, linoleic acid is brilliant at preventing the natural oils in your skin from hardening and blocking your pores, making it a no-brainer for those with combination and oily skin to use on a daily basis. It can also encourage skin healing, such as on minor burns and cold sores.
Prickly pear contains lots of antioxidants
Another star quality of prickly pear seed oil is its composition of antioxidants. The special oil contains high levels of betalains (which are usually found in other plants such as acai and beetroot), and offer skin protection against free radicals, which are usually a leading cause of ageing.
Prickly pear seed oil features high levels of vitamin E
If you're after a natural source to seriously nourish skin, look no further than prickly pear seed oil. In fact, it contains some of the highest levels of vitamin E compared to other botanical ingredients, and is top-performing when it comes to keeping skin nourished for hours.
Prickly pear seed oil is super gentle yet hard-working
One of the best traits about prickly pear seed oil is that it's suitable to use on all skin types, including oily and sensitive. Prickly pear seed oil also offers up incredible anti-inflammatory properties, so it's ace at calming irritation for acne-prone skin.
Yep, prickly pear seed oil really can do it all, and we're absolutely hooked. Ready to try it for yourself? Discover the clever ingredient in our moringa all-beauty crème, which is packed with prickly pear seed oil, along with apricot, cornflower and moringa seed extract. Together, these ingredients can keep skin hydrated all day long and make your complexion look really fresh and dewy.