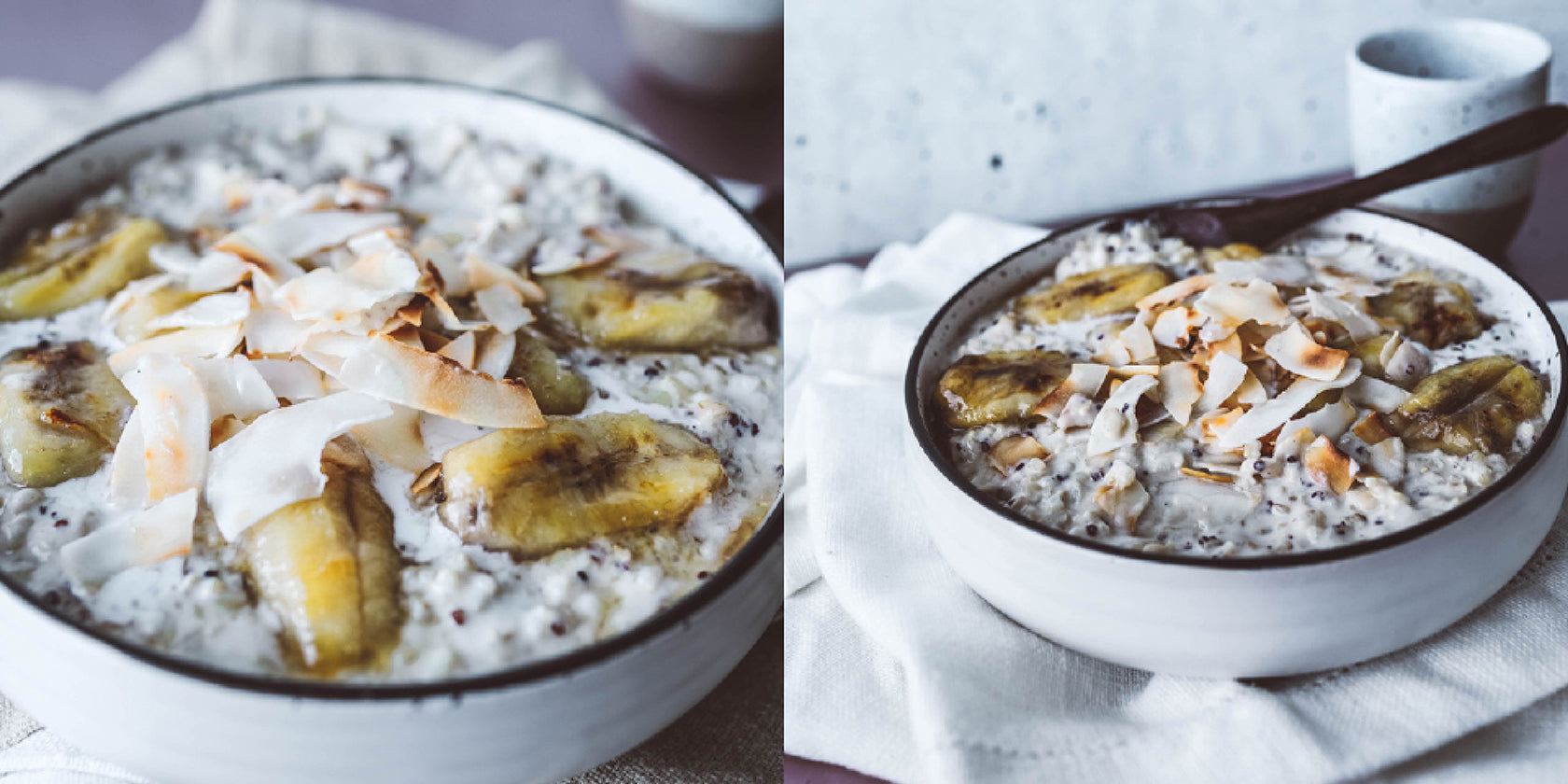 simple slow cooker rice pudding
This slow cooker rice pudding is made using rice, coconut milk and patience. The end result is a creamy beautiful pudding that you can pop on overnight and wake up to the most heavenly smell filling your house and then your belly. 
My partner especially loves his rice puddings, but what I don't love about them is the amount of sugar that normally accompanies them. This recipe has no refined sugar and uses plant-milk rather than cow's milk. So it's great for those who have intolerances or allergies. The recipe only needs 6 base ingredients, and you can play around with the toppings depending on what tickles your fancy. 
One of my fondest memories of us eating rice pudding was actually in Paris. Right next to le Louvre, after a huge meal, we decided we couldn't leave without having dessert, so we opted to share. What came out was quite literally the largest serving of rice pudding I have ever seen. It was creamy, delicious and everything we could have hoped for, but afterwards I felt quite sick from the amount of sugar I had consumed! Nothing that a long walk home couldn't fix though. 
Now this is just the base recipe, but there are literally hundreds of different toppings and flavours you can add to this. In Paris we had chocolate and candied hazelnuts, in Singapore it we had lime, coconut & mango and then you have the classic of raisins and vanilla. 
Ingredients 
◦ 1 tablespoon of melted coconut oil 
◦ 200g rice (brown, quinoa & rice blend, white) 
◦ 1L plant based milk (I used a combo of coconut & almond) 
◦ 1 heaped tablespoon vanilla extract (or 1 vanilla pod deseeded) 
◦ 1 heaped tablespoon mixed spice 
◦ 1 heaped tablespoon rice malt syrup 
◦ 1 cinnamon quill 
You will need 
◦ Slow cooker 
◦ Patience 
Instructions 
1. Rinse your rice under cold water
2. Lightly grease the inside of your slow cooker with the coconut oil 
3. Pop all ingredients into the slow cooker, stir to combine thoroughly
4. Cook on low for 4 hours or high for 1.5 – 2hours. 
5. Check halfway through the cooking process, give it a good stir, if it needs more liquid, add in some water or additional plant-based milk.
6. Serve with one your favourite toppings!