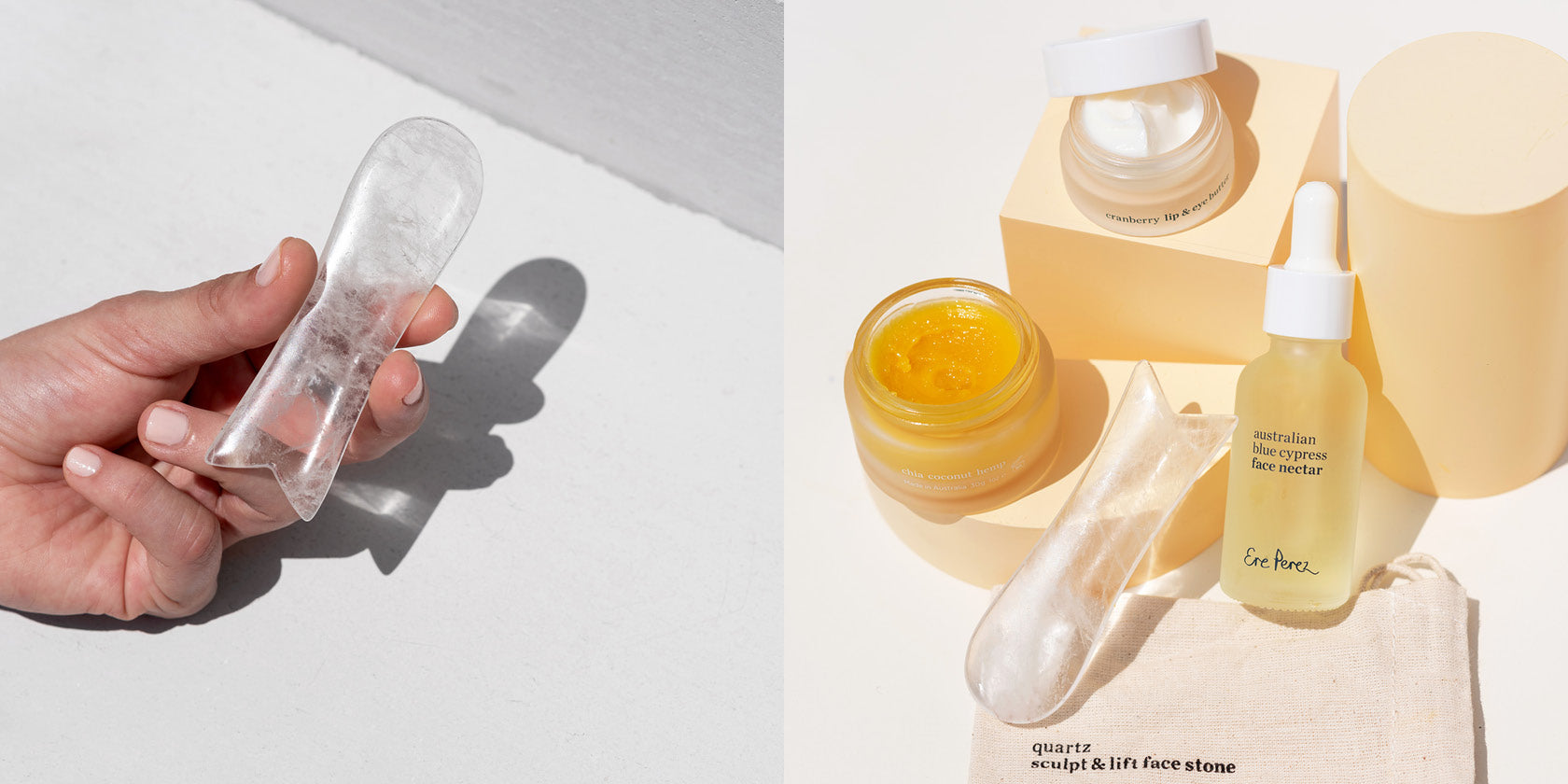 quartz lift & sculpt face stone how-to
If you missed out on our much-loved quartz sculpt & lift face stone, they are back! This little beauty sold out faster than we could have imagined – and we are thrilled to have her in our hands again. Crafted from natural clear quartz and harnessing the healing powers of Gua Sha.
What is Gua Sha? 
A traditional Chinese technique of face massage. Gua Sha is known to decrease puffiness, promote anti-ageing, improve elasticity, oxygenate skin, detoxify and rebuild collagen. You can give yourself a natural instant facial lift! Results are visible with regular use. You'll notice dewy youthful skin and the self-massage can become a relaxation ritual.  
Get the ultimate natural facial:
Our face stone works by pressing lightly against the skin and massaging with gentle sweeping motions. Whether you're getting back out in the world or still living in lockdown, our self-care beauty ritual stone is just what you need to increase relaxation, release facial tension and boost your complexion.  

We recommend prepping skin with our australian blue cypress face nectar, papaya sos marmalade and cranberry lip & eye butter on the soft skin around eyes and lips.
1. Cleanse face and hands. Apply serum or natural oil to your face & neck to help stone glide over skin. 
2. Forehead:  Use the long edge, horizontally sweep up from the start of your eyebrows out to the hairline. Move up the forehead and repeat. 
3. Under eyes: Hold the stone vertically, use the tail tip to apply pressure and sweep from the inner corner of the eye to the hairline. 
4. Cheekbones: Sweep underneath your cheekbones, and direct it toward your hairline. Do this holding the face stone vertically and using the tail tip to perfectly sweep the area. 
5. Lips: Hold the face stone vertically and glide the tail tip over your lips back & forth 6 times. 
6. Jawline & Chin: Use the long edge of the face stone to sweep upwards from the centre of your chin, out to the ears to contour the jaw. 
7. Neck: When you've finished the face, sweep the long edge of the face stone from under the chin down the neck to continue the drainage process. Move around, in downward motions, each time starting at the top, until the whole neck has been massaged.
beauty tips:
- We recommend using your face stone daily for 1 minute. And once a week for 3-5 minutes. 
- Apply light pressure over the face to avoid bruising. 
- You may appear blushed on your cheeks, meaning the process is working. 
- Place tool in fridge before use for a great cooling effect on skin. 
GET YOUR STONE