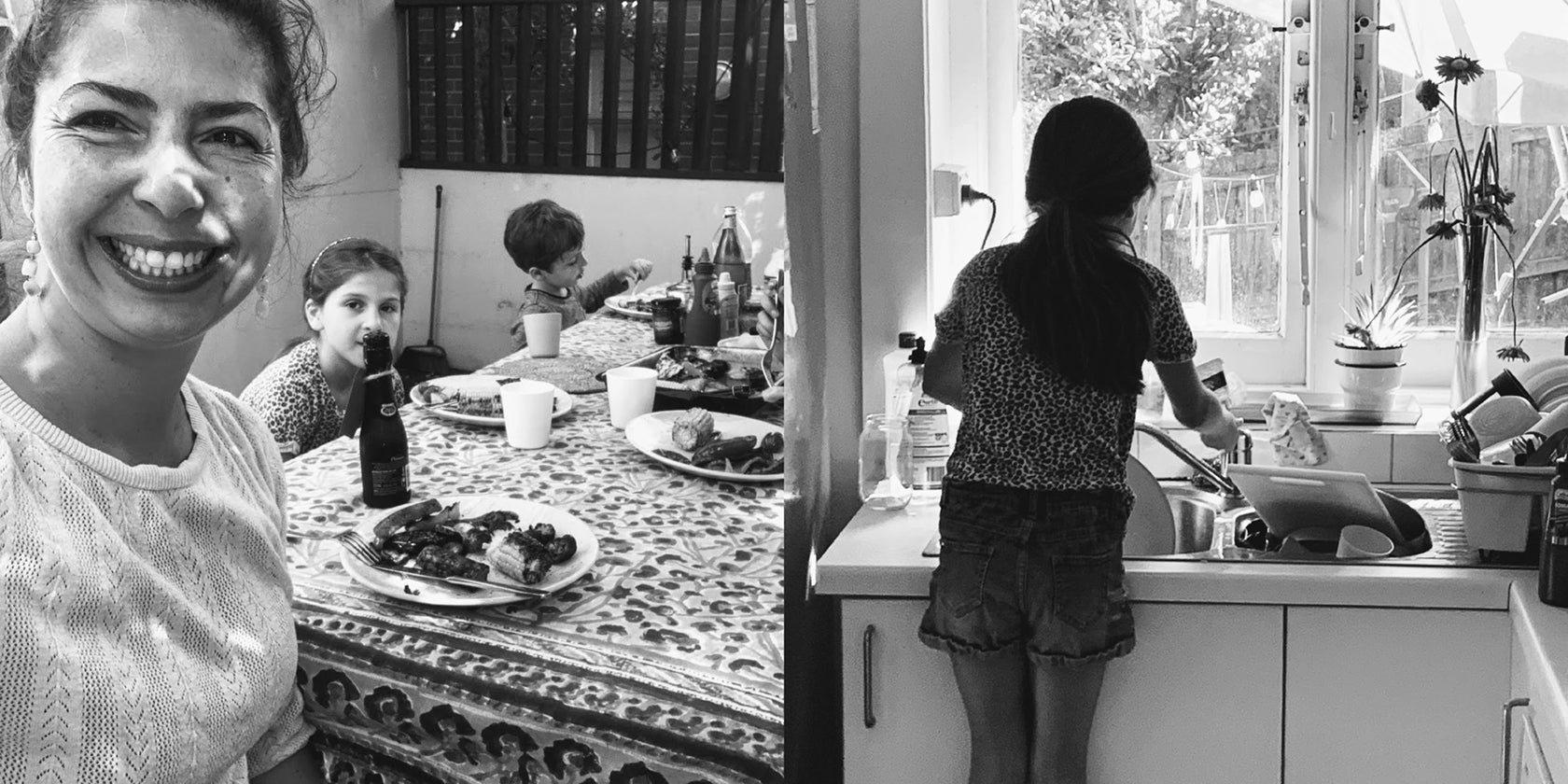 Staying at home is an act of love. Love for ourselves. Love for our families. Love for our communities. It is an act of love to slow down and calm our pandemic. This is not easy – but it is possible. I've been at home for 30 days with my husband and three kids, here are some tips for all of us to get through this:
◦ 

Start the day like normal:
Get dressed! If you wear makeup in the world – wear it at home! Self-pampering rituals can make us feel like we are coping.  
◦ 

Reconnect:
My husband Juan and I have time to reconnect. Now we light candles at dinner and really talk. After 20 years married – it's time to get romantic at home again – all we have is each other! 
◦ 

Un-dust:
Find boardgames and grandma's recipes! 
◦ 

Teach the forgotten basics
: Remember simple things like cleaning windows, cooking, sewing, gardening if you can. My 8yr old is doing the dishes, my 4yr old might learn how to read in the 30 days we are here! And my 10yr old is finally playing the piano & singing at the same time. House chores are a great way to keep the family playing and moving.
◦ 

Time to try new things:
Like new recipes, writing or practicing yoga or pilates. Or just simply have a bath if you have one and never use it, like me. Make beauty recipes at home like a body scrub with sugar & lemon! 
◦ 

Give:
Foot massages, even to your flatmates! 
◦ 

Detox:
Letting go and accepting this time is powerful. We can detox our homes and our inner lives. No matter what – there is a reason to smile and declutter our negative thoughts when they overwhelm us. We then have space to create a better future.
◦ 

Embrace:
Let's be resilient and adapt to change. We still have so much to be grateful for. Every day is a new day. And the gift it to actually wake up every morning.
◦ 

Have faith:
Connect spiritually and have faith. Humanity was made with love and love will save it.
Yesterday was history, tomorrow is a mystery, today is a gift. 
Love, Ere.