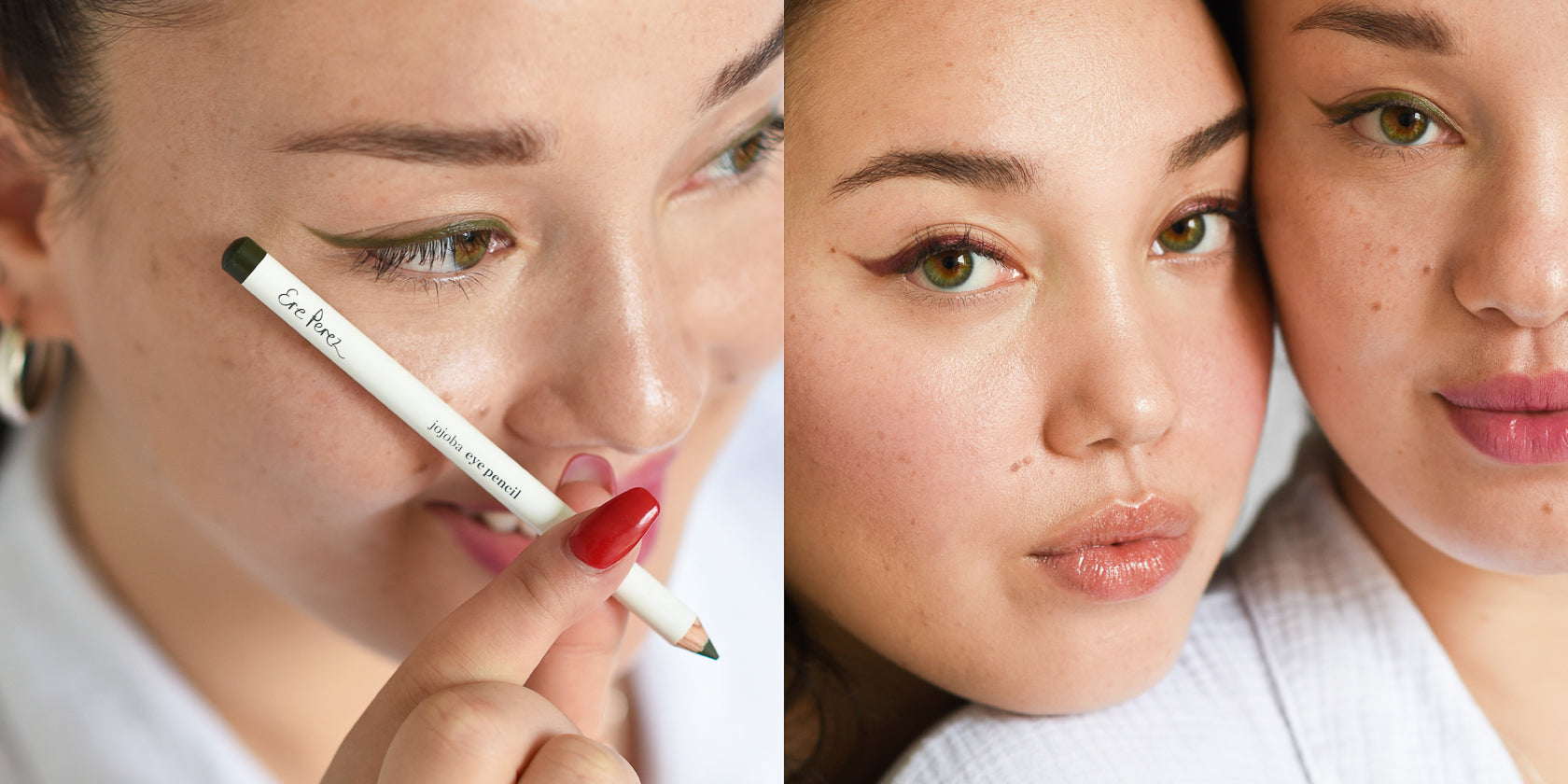 how to create a winged eyeliner look

Hi beauties, I'm Bruna, makeup artist at Ere Perez and I'm here to tell you how I created this stellar natural look with the fun colourful eyeliners. The first thing to do to achieve a natural look is to know how to prepare the skin for a light finish and natural glow. 

Skin Prep
1. To get a more natural base and glowy look I prepared the skin with a few drops of the Australian Blue Cypress Face Nectar and mixed a little moisturiser (Moringa All-Beauty Crème) with the Oat Milk Foundation. It gives skin a dewier, natural finish.
2. As I wanted less coverage, I skipped the concealer and just applied a little more foundation under the eyes.
3. But if you want more coverage, one way to give the concealer a more natural finish is by preparing the skin under the eyes.




Now for the icing on the cake! 

Define Eyes
With the Jojoba Eye Pencil in shades forest and copper I created a beautiful wing eyeliner and I'm going to show step by step how is the best way to achieve this look. You will need the eye pencil in your favourite colour, the Eco Vegan Smudge & Shade Brush and the Arnica Concealer.




1. Rest your elbows on a stable surface to better control your hand movements.
2. Create a thin line starting from the inside corner of your eye to the outer corner.
3. Using your eyebrow as a guide, extend the line towards the crease.
4. To improve the finish and create a very thin ending, use the brush with concealer to clean the outer corner under the wing. 
5. For a last longer eyeliner, apply a layer of Corn Translucent Powder on top of the line and reapply the eyeliner. 




Recreate this look on insta & don't forget to use #epandme on socials if you do this look! 

Bruna
xx