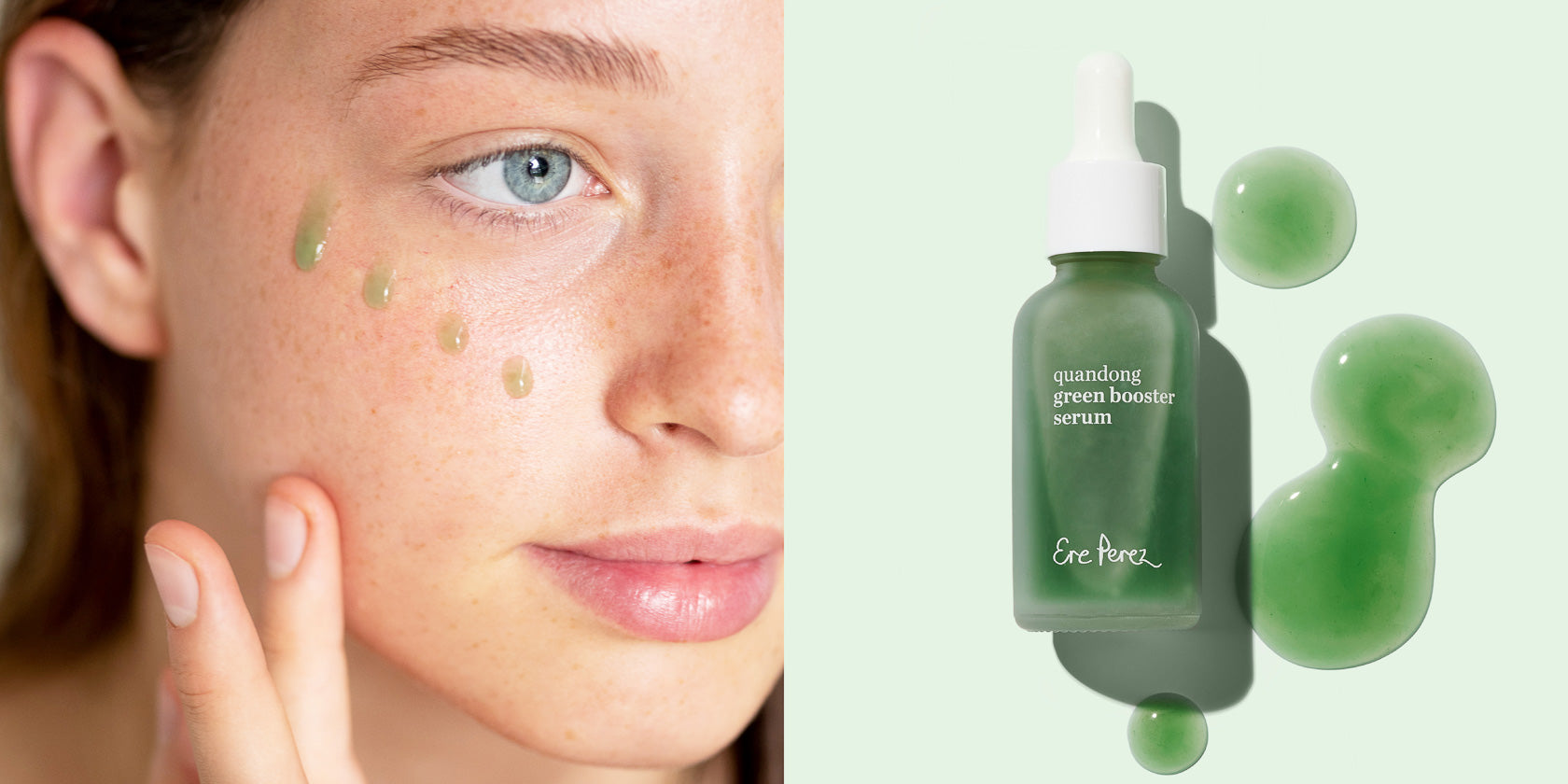 meet our best-selling face serum

Boosted with more potent botanicals than you can say without drawing breath, Quandong Green Booster Serum is the answer to so many of your skin concerns. Made in Australia with a cocktail of green goodness boosted with vitamin C, this serum will help you combat dryness, acne, sensitivities, and a range of other skin-plaints. There is no better serum for a natural glowing complexion. Plus it is vegan & cruelty free. We like to say we have our daily green smoothie for a healthy body and apply this green serum for healthy skin! 

So what's in it?
First and foremost – you need to know about QUANDONG. This amazing Australian plant grows in desert regions and is a powerhouse of vitamin C – containing twice the amount of an orange! This fruit has been important to indigenous people due to its nutritious and medicinal properties. It gives skin a boost of antioxidants and magnesium and protects against the elements. It is radically anti-ageing, reduces inflammation and hydrates skin too.
…and what else?
RASPBERRY SEED – high in vitamin E, antioxidants & essential fatty acids, keeps skin moisturised.  
SPINACH – improves skin tone, rich in vitamins A, B, C & E, destroys free radicals, soothes dryness.
HYULARONIC ACID – diminishes fine lines, improves skin elasticity, promotes firmness & collagen production.
CHLOROPHYLL – vitamins A, C, E & K, soothes sensitive skin, reduces breakouts & sin damage, tightens skin & addresses age spots.

Learn more about why we select each plant-based skin-loving ingredient that goes into our skincare & makeup! 

How do I use this wonder serum?
** Quandong Green Booster Serum is like a vitamin bomb for your skin and can be used day or night. 
* Gently rub 1-4 drops of serum into your face, neck and décolletage after cleansing and toning, avoiding the eye area.
* For an extra layer of nourishment, allow to dry then follow with Australian Blue Cypress Face Nectar.
* If you are looking for a wow eye cream, cranberry lip + eye butter is so nurturing for delicate skin and is packed full of amazing ingredients like cucumber, green tea, shea butter, resveratrol & hyaluronic acid. (Apply before your green serum to let it really sink in around lips and eyes!)

Find out more about our quandong green booster serum HERE.