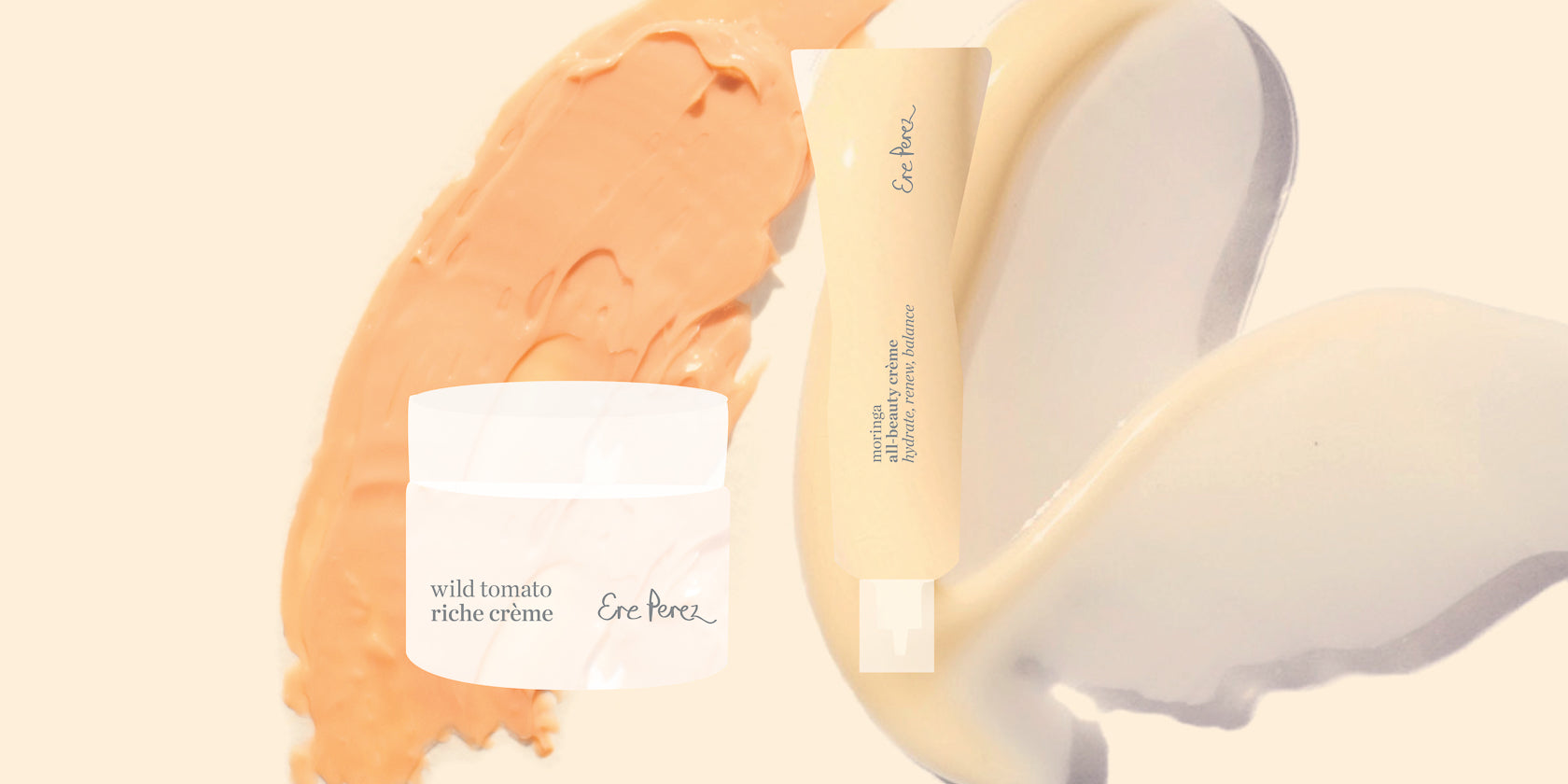 wild tomato riche crème vs moringa all-beauty crème

If you haven't yet seen our latest EP skincare family member, where have you been?

Formulated by Ere herself, with her mother's botanical influence, the Wild Tomato Riche Crème is an ultra-luxe multi-use face crème that brilliantly restores & quenches dehydrated, fatigued skin. Read more about out our latest sustainable skincare star here.

Since we launched the rejuvenating Wild Tomato Riche Crème we've been asked "how does this compare to the Moringa All-Beauty Crème?" and "which moisturiser is better for my skin?"

So… What's the difference between Moringa All-Beauty Crème and Wild Tomato Riche Crème?

The Moringa All-Beauty Crème was formulated with all skin types in mind. An all-round lightweight beauty cream that adds lustre, bounce and moisture to the skin, prepping for makeup as well.

New Wild Tomato Riche Crème is an ultra-luxe multi-use face crème that restores dehydrated, fatigued skin and helps reduce fine lines and pigmentation. Used as a rich daily moisturiser or twice weekly as a hydrating face mask.

So which moisturiser should I be using?

It goes without saying that no two persons skin types or needs are the same. Depending on your skin concerns, your age, the climate where you live, your skin may need a different combination of ingredients and skincare.

Choosing the right ingredients will give you the results you are looking for. Most skin types will benefit from active ingredients like vitamins A, C and E, lycopene, hyaluronic acid, lactic acid, both products can be of benefit to you.

This should help:



So if your skin is particular sensitive or on the oily side, Moringa All-Beauty Crème is soothing on the skin, as well gentle but hydrating. If skin is on the drier side or mature end, Wild Tomato Riche Crème would be a great fit, particularly in the evenings, or even just as a twice-weekly treatment mask.

If you are consciously making more eco decisions, both products have sustainably sourced ingredients but the Wild Tomato Riche Crème pips it to the post with it's 100% plastic free packaging! Made from glass & aluminium, the entire packaging can be sustainably recycled from home. Even the extra liner, under the lid, is aluminium! A world first!

If you're still confused you can always head to your nearest Ere Perez retailer to try first hand, or email our friendly customer service team, who are always here to help.

The EP skincare family is expanding. Join our newsletter here for updates in our latest launches, coming soon.