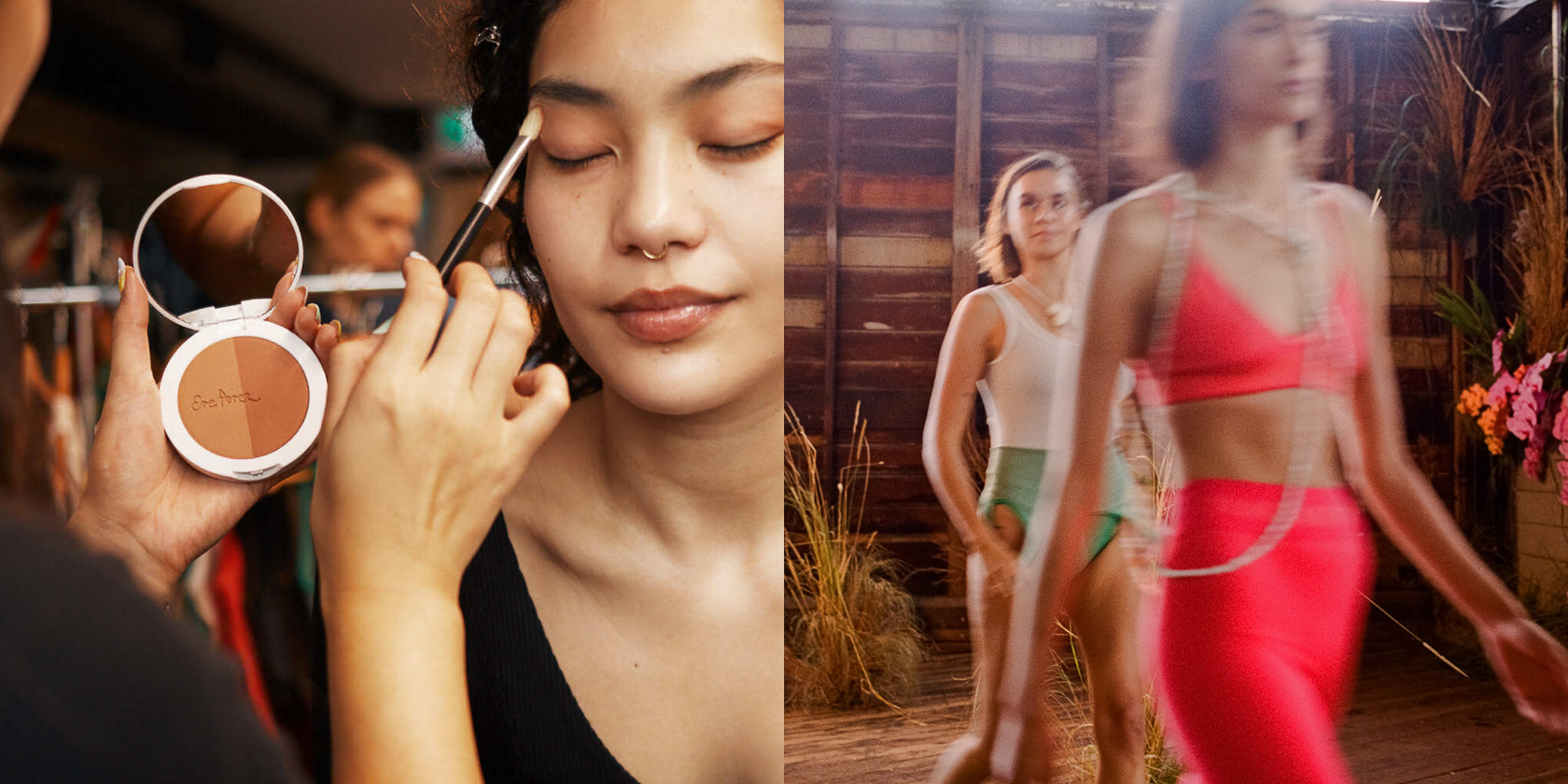 backstage beauty at the nagnata runway

We were thrilled to be the chosen beauty brand for NAGNATA's recent new collection preview 'Movement 010' at the beautiful Bangarra Dance Theatre.

We are all about sustainable & vibrant beauty, and we're obsessed with Nagnata's bold colours, sustainable ethos and celebration of diverse culture.  The dream new collection left us breathless! We loved how our plant-based beauty blended with their textures on and off the runway.

SHOP THE RUNWAY EDIT

Here's how MUA @clairethomsonmakeup created these gorg looks! 

"We started with a beautiful semi-matte skin, with flushed cheeks and bronzey accents. We prepped the skin by removing any makeup with the lovely and gentle Ginkgo Micellar Water then primed the models faces with the luxurious Moringa All-Beauty Crème, massaging into the skin and boosting circulation. Lips were moisturised with Cranberry Lip Balm, letting the eyes and the cheeks be the feature.

We then used the Oat Milk Foundation to suit his or her tone. We concealed any redness with Arnica Concealer in the models tone. Brows were lightly filled with Argan Brow Hero or Aloe Gel Lash & Brow Mascara sweeping upwards and outwards.




Rice Powder Blush & Bronzer was washed over the lids from lash line to browbone giving warmth and depth to the eye. The same bronzer lined the lower lashes. Either 'Roma', 'Bondi' or 'Brooklyn', depending on their colouring. 


Lashes were curled, two coats of black Natural Almond Mascara combed through between coats for the top lashes. Bottom lashes were either in 'Black' or 'Mauve', with three coats for the bottom, making them a bit clumpy and coloured liner (depending on the colour of their outfit) was used on the lower lash line, smudged into and below the lashes, to pop the eye. We used the Jojoba Eye Pencil in 'Opal' with those who had black on lower lashes, and 'Agate' on the Mauve lashes.

Cheeks were contoured with the same Rice Powder Blush & Bronzer as on the eye, adding definition and warmth to the face. Carrot Colour Pot was used high on the cheekbone in an arc around the eye to add a sunkissed more exposed flush. The colour was selected depending on the individuals skin tone and outfit."


Thank you, Nagnata, @nagnata_
MUA: Claire Thomson, @clairethomsonmakeup
Photography credit: Yasmin Suteja, @yasminsuteja
Caroline McCredie, @carolinemccredie